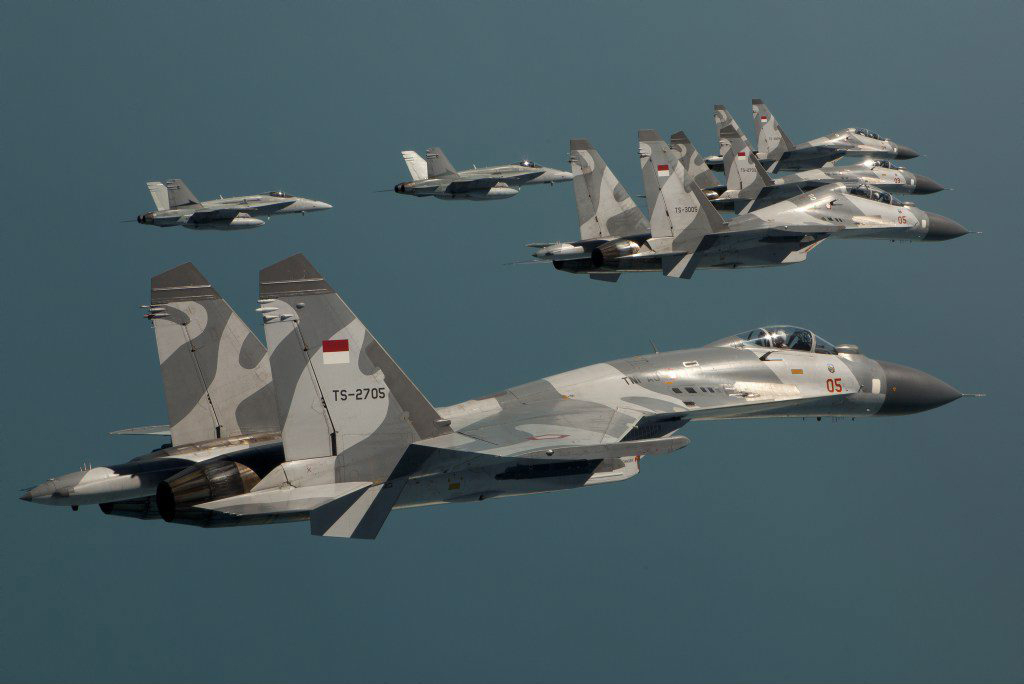 Indonesia's front-line jet fighters have just arrived in Australia to take part in Pitch Black 2012, the largest multi-national biennial air combat exercise held downtown, which officially kicks off on Jul. 30. The arrival of the once top-secret Sukhoi Su-30s, at their first deployment abroad, marks the beginning of a new era in the Australia and Indonesia relations, after defense cooperation between the two nations stalled on the East Timor crisis.
The formation of two Su-30s and two Su-27s of the Indonesian Air Force (TNI AU)  was welcomed by a flight of F-18 Hornet of the No. 77 Squadron of the Royal Australian Air Force that escorted the Indonesian planes to Darwin airport, in the Northern Territory.
The four Russian fighters (of a fleet made of 10 Sukhoi-27s and four two seater Sukhoi-30MK2 jets, with six more on order) attending the bi-annual will have the opportunity to train with the RAAF assets, performing dissimilar air combat training within the Australian and Indonesian airspace.
Exercise Pitch Black 12 will be held until Aug. 17 and involve 2,200 personnel and up to 94 aircraft from Australia, Indonesia, Singapore, Thailand, New Zealand and the United States.
Image credit: © Commonwealth of Australia  
Related Articles