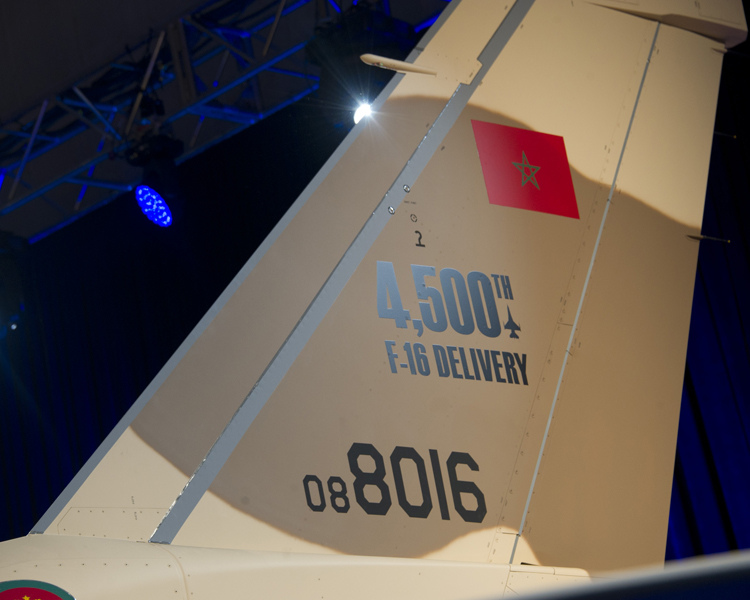 With a ceremony for employees, customers, former executives and elected officials, including U.S Rep. Kay Granger and Fort Worth Mayor Betsy Price, Lockheed Martin celebrated the 4,500th delivery of the F-16 at its Fort Worth production facility, in Texas, on Apr. 3, 2012.
The 4,500th example is a F-16 painted in desert camo and is a Block 52 model destined for Morocco.
The first production orders for the F-16 date back to 1975. Since then the Fighting Falcon (nicknamed "Viper" in the fighter pilots community) has been produced in partnership with 5 countries and sold to a grand total of 26 countries.
The Fort Worth company has a further 70 F-16s on order book, planes destined to Morocco, Turkey, Egypt, Oman and Iraq, which should keep the production line open until at least 2016.
Lockheed Martin, that has recently announced a new variant, the F-16V, including a new glass cockpit, a new mission computer and data-link architecture, as well as a brand new active electronically scanned array (AESA) radar, is hoping to surpass the sales figures for the F-4 Phantom which stood at 5,195 many of which were replaced by the F-16.
Image credit: Lockheed Martin
One of the highlights of the ceremony was a video of an interview with retired test pilot Phil Oestricher, who also attended the ceremony, which included footage of the January 1974 accidental first flight, when Oestericher took the plane airborne during a high speed taxi test after encountering severe control problems. The video below (although not being the one showed at the ceremony) shows that first flight test "accident".
Written with Richard Clements

Related articles