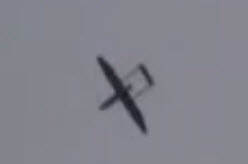 Update Feb. 26 22.22 GMT
The following screenshot comes from the footage recorded few days ago in Kafr Batna, a small suburb of Damascus, Syria, and uploaded on Youtube. I've already mentioned it in my post about the drones activities over Syria, however, someone suggested the UAV that can be seen overflying the clashes is not an Israeli but a Syrian 'bot made in Iran.
Whereas Israel can count on a wide variety of drones, some of which are particularly famous (as the "Heron"), Damascus is known to be equipped with just a few types of robots. Among them, the Iranian made Mohajer 4 and Ababil and maybe also the Mirsad-1 that Hezbollah has used to violate the Israeli airspace in the past.
After analyzing the image I've come to the conclusion that the one overflying Kafr Batna could be a Syrian (or Hezbollah) Mohajer 4.
Here are the spefication of this drone (credit here):
Length: 3.74 m
Wingspan: 5.3 m
Height: NA
Empty Weight: NA
MTOW: 210 kg
Payload Weight: NA
Cruise Speed: 200 km/h
Endurance: 3 hr
Range: 150 km
Ceiling: 4.57 km
Powerplant: NA
Here below you can find two images of the Iranian-made Mohajer, from the type's Wiki page.
What's your opinion?
Image credit: via Wikipedia