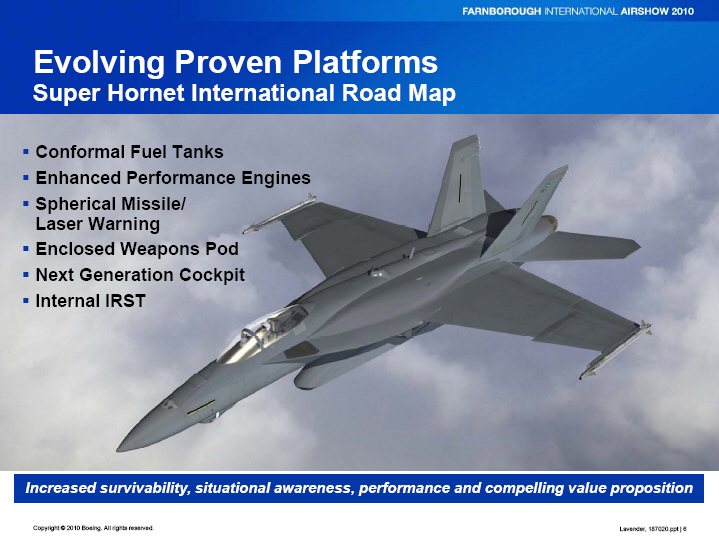 The F-18F Super Hornet was one of the highlights of the recent Farnborough 2010 not only because the multi-role aircraft displayed during the Air Show, but also because Shelley Lavender, Vice President and General Manager Boeing's Global Strike Systems unveiled the new Super Hornet International Road Map, a disclosure that may indicate that slippage in the F-35 program has encouraged the company to market the Super Hornet more aggressively in order to persuade some countries that are evaluating the F-35 to opt on the F/A-18E/F.
The upgrade equip the Super Hornet, whose effectiveness in combat has been proven in years of operations in Irak and Afghanistan (that I was able to witness in October 2009 during my visit to the USS Nimitz involved in combat operations in support of Enduring Freedom) with conformal fuel tanks, enhanced performance engines, enclosed weapons pod and other systems. The modifications, include:
Conformal Fuel Tanks
Enhanced Performance Engines
Spherical Missile/Laser Warning
Enclosed Weapons Pod
Next Generation Cockpit
Internal IRST
that could be retrofitted to any Block II aircraft. The most interesting change is a stealth-configured weapon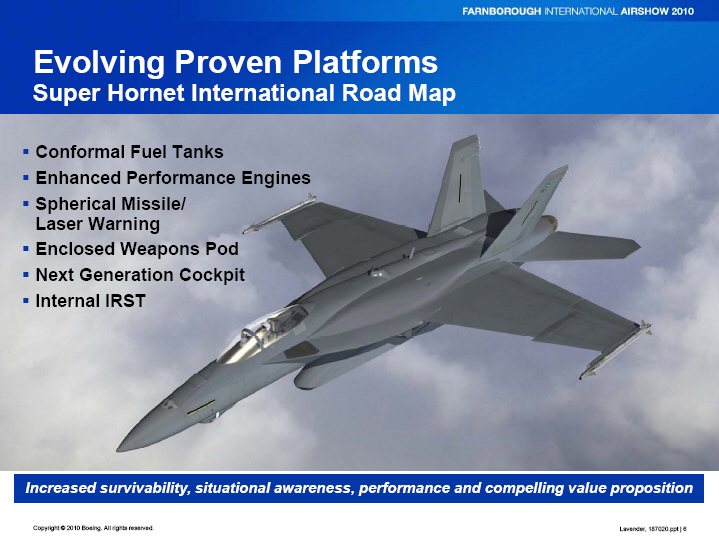 pod designed to accommodate a range of weapons, including four AMRAAMs, or a mix of two Mk82-class bombs and two AIM-120 missiles. The external pod would help to reduce the Super Hornet's RCS (Radar Cross-Section) by removing missiles and bombs from external underwing pylons. Furthermore, the internal IRST (Infra-Red Search & Track) is another interesting upgrade. IRST offers a passive way to locate and target enemy aircraft – one that won't trigger radar warning receivers. When coupled with medium-range IR missiles an IRST system offers a fighter both an extra set of medium-range eyes, and a stealthy air-to-air combat weapon. For instance, the Italian F-2000s are equipped with the IRST.
So far the systems that provide long range thermal imaging against air and ground targets was integraded in the Super Hornet in quite an unusual way: modifying a 480 gallon centerline fuel tank to carry 330 gallons of fuel + the IRST system. This approach would allow refits to 150 existing Super Hornets even if the drawback was that a centerline tank with IRST needed to stay on the airplane in combat, compromising its aerodynamic performance and radar signature (fuel tanks are often jettisoned in combat to improve manoeuvrability).