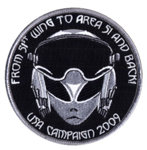 The 10 Italian AMXs that had departed from Istrana on Aug. 1 to attend both the Green and Red Flag in Nellis, returned to their homebase (after a fuel stop in Lajes) on Sep. 8.
The aircraft involved in the detachment were:
MM7114 "51-52"
MM7129 "51-54"
MM7151 "51-51"
MM7165 "51-47"
MM7169 "51-66"
MM7174 "51-60"
MM7186 "51-50"
MM7191 "51-45"
MM7197 "51-46"
MM7198 "51-44"
The following article, published on the Nellis AFB website provides some information about the Italian partecipation in the Green Flag excercise:
Green Flag provides Italian Air Force new insight on close air support

by Capt. Teresa Sullivan
Nellis Air Force Base Public Affairs

8/25/2009 – NELLIS AIR FORCE BASE, Nev. — Italian Airmen sharpened their close air support skills in realistic combat conditions here during their first-ever exercise appearance at Green Flag West Aug. 9-20.

Nearly 180 Italian Airmen from four different squadrons comprised the "Reparto Autonomo Volo," or Autonomous Flying Wing, at the 549th Combat Training Squadron, where pilots, maintainers, support and Joint Terminal Attack Controllers participated in full-spectrum training integrating with both U.S. Air Force and Army forces otherwise known as Green Flag West. Their goal was to get an education on close air support and irregular warfare conditions currently found in Iraq and Afghanistan.

"If we were to deploy in the future, we must be prepared for situations such as this," said Col. AArnn Pil. Giorgio Foltran, commander of Italian Air Force detachment. "It is great to work with the Army and Air Force and it is important for us to do this training now with everything going on in theater. This is a great opportunity for us and I'm absolutely happy for our pilots and JTACS to train with U.S. forces."

Conducted by the 549th Combat Training Squadron at Nellis and the 12th Combat Training Squadron at Fort Irwin, Green Flag West provides a realistic close air support training environment for Airmen and Soldiers preparing to deploy in support of combat operations in Southwest Asia. Aircrews, working closely with Air Force joint terminal attack controllers embedded with the 3rd Infantry Division, protect 6,000 Soldiers and 400 armored and support vehicles from an opposing enemy force in a 1,000-square-mile combat environment.

The Italian contingent deployed to Nellis with 10 AMX surface attack aircraft used for battlefield interdiction, close air support and reconnaissance – appropriate for today's warfare in Southwest Asia. They also brought six JTAC Airmen to practice coordinating air attacks alongside their U.S. Army counterparts. The unit spent most of their days flying up to 16 sorties, coordinating air attacks with MQ-9 Reapers and MQ-1 Predators from Holloman Air Force Base, N.M., Creech Air Force Base, Nev., and the California Air National Guard.

"Anytime you can get a coalition pilot or JTAC talking with a U.S. pilot or JTAC on the radio in peacetime it's a good training experience," said Lt. Col. John Walker, 549th Combat Training Squadron commander. "It requires a lot of coordination and it's difficult, but two weeks of 'difficult' will make exercise participants better in the AOR (area of operations). This exercise will help to form a solid doctrinal foundation for them build upon."

One pilot recalls a highlight of the exercise.

"I flew a mission where I worked with guys that were firing mortars and using helicopters to attack a target. This meant we had to attack the target in a very coordinated fashion," explained 1st Lt. Marco Fagiani, an AMX pilot based out of Istrana Air Base, Italy and native of Rome. "The challenge was in the coordination. As pilots we had to attack the target at a very specific time to de-conflict with the mortar attacks and helo attacks. The American JTAC lased our bomb on target and it hit the target. It was a successful mission and it's the first time I've done something like this along with U.S. forces."

Not only were there numerous tactical successes, the Italian Airmen gained from the realistic training scenarios during Green Flag West.

"One of the amazing things about Green Flag is the ranges," said Capt. Davide Dentemaro, AMX pilot also based out of Istrana AB and native of Bari, Italy. "You have actual cities and villages with people just like in Iraq and Afghanistan. Here you train CAS and you don't simulate anything. You actually see from your canopy what you would see in combat. You see friendlies and enemies. It's the best realistic training."

In order to participate in Green Flag West, the Italian pilots had to be combat ready, have 150 hours in the cockpit and 500 hours as a fighter pilot at a minimum and all Airmen had to pass an English test at the embassy.

Most of the Italian Air Force pilots conducted their undergraduate pilot training at locations such as Sheppard AFB, Texas.

"The Italian pilots are familiar with U.S. flying operations. They even conduct their pre-flight briefings and debriefs in English while here," explained Colonel Walker. "They are extremely focused on the details and when they're not flying they're still involved learning and observing. They're true professionals."

Now that Green Flag is over, the Italian Airmen are participating in Red Flag 09-5 which runs through Sept. 4.
The following hi-definition video shows the aircraft launching and recovering during a Red Flag sortie in the Nevada ranges:
[youtube:http://www.youtube.com/watch?v=7TDeQxzNIGg]
Noteworthy, for the Nellis detachment OKB01 created a set of brand new patches for both the squadrons involved.