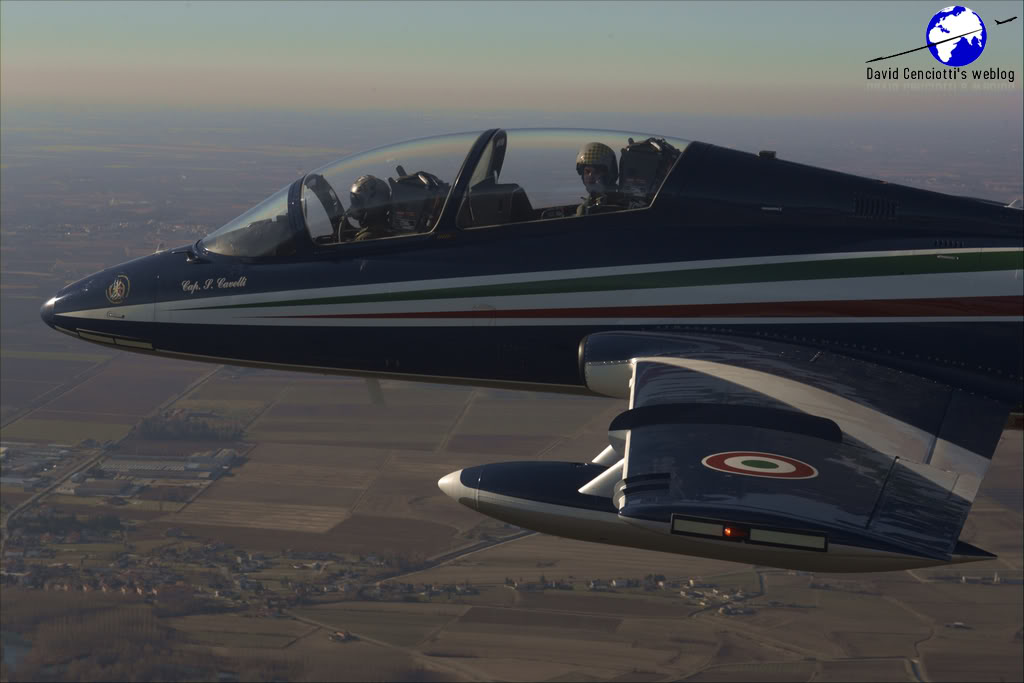 Even if the Giornata Azzurra, the annual Open Day of the Aeronautica Militare (Italian Air Force, ItAF) held in Pratica di Mare, was cancelled because of budget constraints, the Frecce Tricolori calendar, recently unveiled by the ItAF here: http://www.aeronautica.difesa.it/sitoam/default.asp?idSez=3623&idArg=&idNot=24430&idEnte=1674 seems to be quite interesting, with the partecipation to a few foreign events.
In 2009 airshow season, the Frecce Tricolori display team will attend the CENTENARY AIR DAYS at RNAS Yeovilton (Jul. 10-12), the Royal International Air Tattoo 2009 at RAF Fairford (Jul. 15-20), MAKS 2009 at Zhukovsky, Moscow (Aug. 18-23) and the Dubai Air Show (Nov. 15-19).
Dealing with the Italian airshows, the 10 aircraft of the Frecce Display Team, will attend the 50th Anniversary of the AWTI (Air Weapons Training Installation) at Decimomannu airbase on Sept. 25 and the airshow for the 100th Anniversary of the first flight in Cameri on Oct. 4.
As usual, the Frecce's display season will begin on May 1 at the team's homebase, Rivolto, in North East Italy. That is the base where the 313° Gruppo Addestramento Acrobatico trains during the "Winter" season, the period of the year which goes from the end of November to May 1st. The Winter season is used to prepare the Summer's airshows. A lot of things must be done in these months. Each year, two new pilots join the team. The newbies, that are attached to the Gruppo during the Summer and fly most of the airshows in the backseat, must be trained for the following airshow season during the Winter one. They start flying in 2 ships formation and gradually gain the experience and skill to fly with the rest of the formation. The newbies fly a lot in the Winter season: a couple of sorties each day is required to get them ready to the May 1 event, when the first display open to the public is performed. Obviously, the first "assignment" within the formation is in one of the much simple positions: Pony 7 (3rd left wingman) and Pony 8 (3rd right wingman). From there, with the experience, they will be able to reach the 3 most important positions: Pony 1 (leader of the formation), Pony 6 (first slot, leader of the second section) and Pony 10 (solo). During the Winter Season airframes that were more stressed (the "10" is the one suffering much G forces), are moved within the formation to position where they will be less fatigued.
In Jan. 2006 I went to Rivolto airbase to visit the Frecce Tricolori and to report about the Winter Season and the training activities performed by the pilots of the display team. Here's the full article (in Italian) that I wrote for Rivista Aeronautica: Alla scoperta delle Frecce Tricolori. During the visit, I had the possibility to fly with Col. Tarantino (who was "Pony 0", the Commander of the team) an acrobatic 2 ships training mission. During the flight I had the possibility to pilot the MB.339, performing formation looping, roll over, etc. and then I was showed by Tarantino some famous maneuvers, like the Lomcovak and the Tail Slide. During the orientation mission, flying with Maj. Cavelli in the other aircraft was the photographer of the Frecce who took the following interesting pictures of my experience with the Italian display team.
The full selection of pictures can be seen in my photogallery, at the following address: lowpassage.com