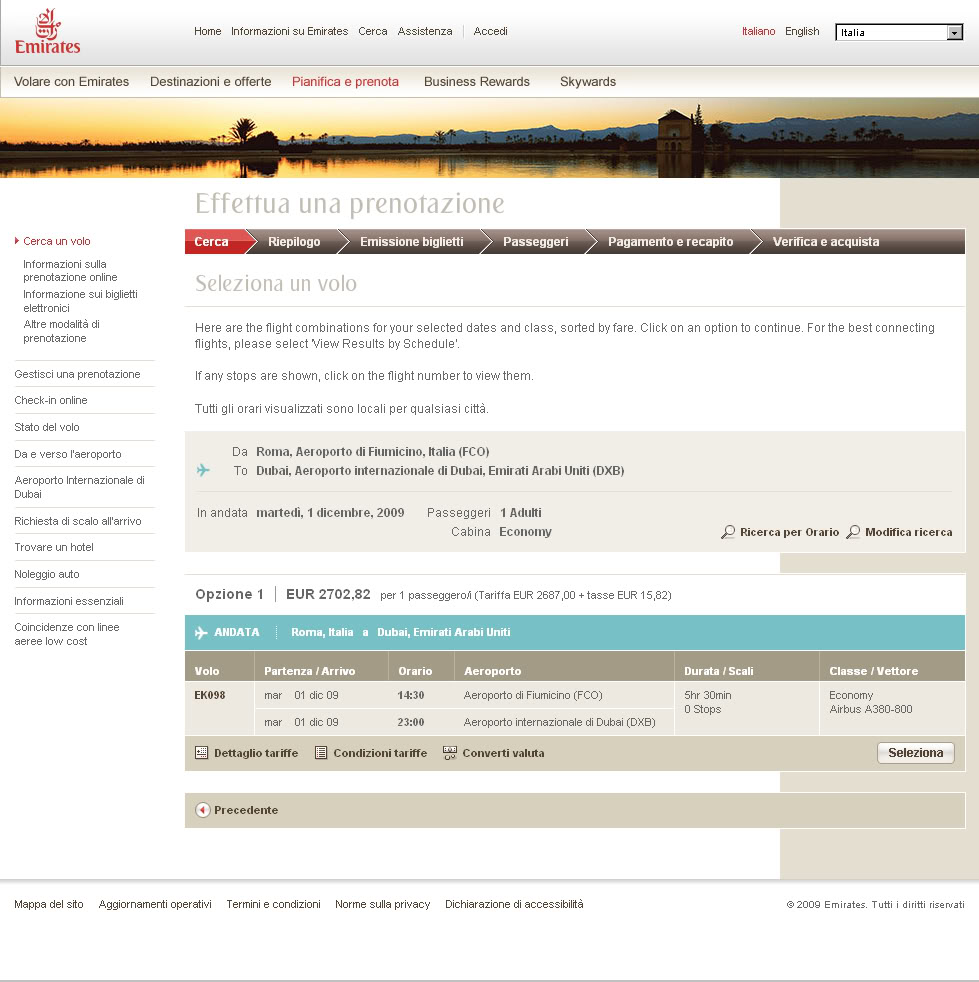 One of the highlights of the 2009 for Rome Fiumicino airport is the expected upgrade of the Emirates EK097/098 DBX-FCO-DBX daily routes from the Boeing B777-300 (B773) to the Airbus A380-800 (A388) effective from Dec 1, 2009. With this upgrade, Rome is going to be the second destination in Europe to receive the "giant" aircraft. So far London Heathrow, with Emirates and Qantas A380s was the only airport in Europe to receive the biggest aircraft in Airbus family.
According to the Emirates.com website, the schedule is the following:
EK97 DXB FCO 09.25 12.45 daily – A380-800
EK98 FCO DXB 14.30 23.00 daily – A380-800
In other words: 5h 30m flight time with 1h 45m turn round.
The flights can be already reserved. I made a test, here's the screeshot: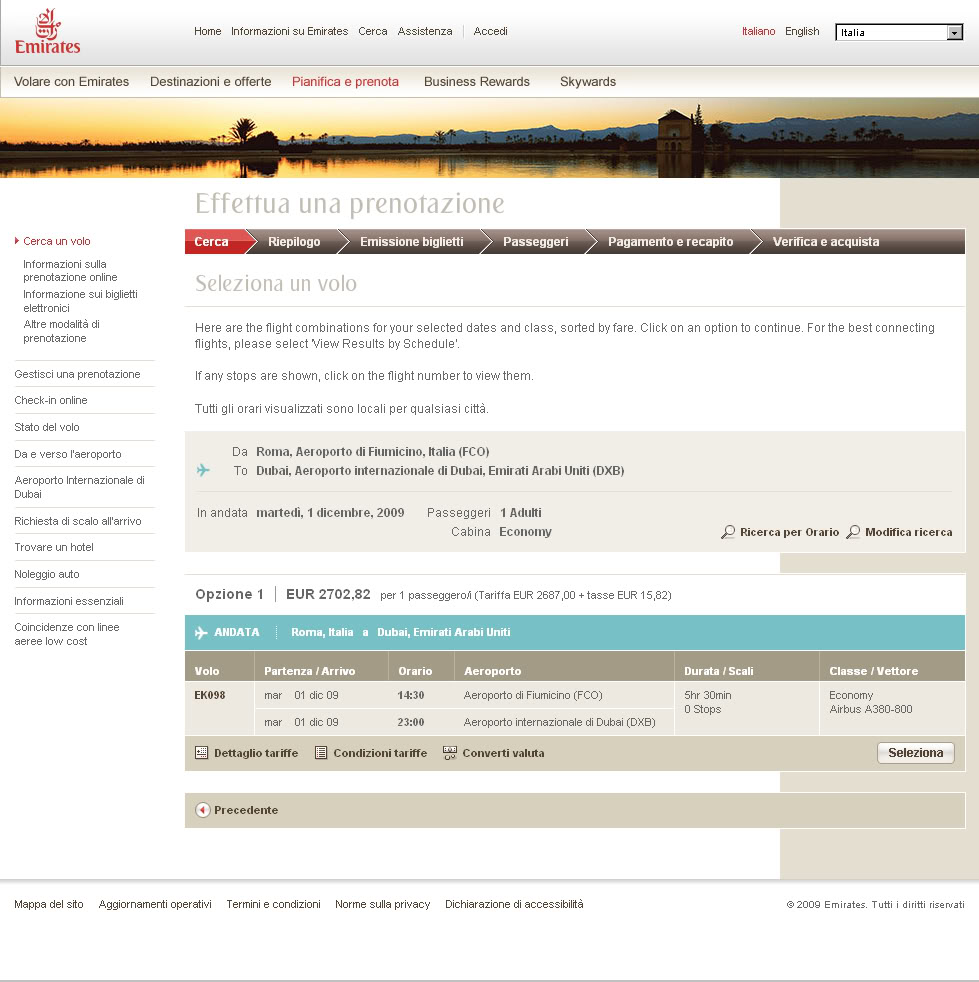 The configuration of the aircraft is unknown at present. Emirates has ordered 58 aircraft in three configurations:
489 seats / 3 classes
517 seats / 3 classes
625* seats / 2 classes (some sources reported 644, others 604).
So far, the EK201/202 on the very long range flight DXB-JFK-DXB is in the 489 seats configuration. Same for the EK001/002 of the DXB-LHR-DXB route. Since flight to Rome is shorter it is possible that aircraft in the 517 seats configuration (a long range one) will be used. The two class high-density layout should be used in short range flights.
The arrival of the Emirates A380 in Rome Fiumicino has various meanings: first of all, it reaffirms the interest of Emirates for the Italian market, especially now that Alitalia is so weak and with an uncertain future. Emirates can surely gain an important share of market, especially if Rome will be used as a sort of European hub for other intercontinental destinations that are not currently directly served from Italy. Emirates strategy could be to get passengers from Asia and the Gulf area to Dubai and to fly them to Rome. Same could be for passengers coming from NYC: with a single aircraft, Emirates could perform the JFK-DBX-FCO route with an efficient utilizitation of its A380 fleet.
Someone speculated that an increased capacity to Rome could be achieved with a second daily B777 flight to FCO, however there's a bilateral issue and the maximum number of weekly flights (7) has been already reached. Furthermore, the A380 has a strong image impact and must be considered as a part of a marketing strategy that focuses on Italy. In these days, an interesting ads has been broadcasted by all the Italian TV channels.
Second is that Rome-Fiumicino is ready (well, it will be ready by Dec 1 2009) to handle the A380. Actually, an A380 has not so many "needs" one might think: it is able to operate on a typical 45 mt wide runway and doesn't require an extended runway that does a 747-400. It is heavier than a Jumbo but its landing gear has 4 extra wheels that absorbe the weight reducing the stress on the underlying runway and taxiways. Fiumicino hasn't any taxiway passing above a bridge that would need to be strengthened. However, taxiways must be large enough to ensure that the outboard engines run above an asphalted surface in order to prevent injestion of foreign objects and consequent engine damage (FOD, Foreign Object Damage). At the gate, provided that the distance from the other stands is sufficient (the A380 has a wingspan of 79.8 mt/261 ft), in order to speed boarding and unboarding of passengers, double fingers would be ideal, even if I think that also the "normal" jetways can be used (with longer loading/unloading time). The aircraft is pretty tall, thus servicing vehicles able to reach the aircraft's top deck must be available. However, despite its colossal shape, the Emirates A380 makes less than half the noise of a 747 and uses 20% less fuel. Its environmental impact is low. Just have a look at the specification page on the Emirates page (http://www.emirates.com/nz/English/flying/our_fleet/emirates_a380/emirates_a380_specifications.aspx):
Most probably, a series of compatibility flights using an Airbus company A380 will be performed in the months preceeding Dec 1, has happened for the other airports expected to receive the aircraft.
Emirates A380 Environmental Facts

* The Emirates A380 burns up to 20% less fuel per seat than today's largest aircraft
* This is the most significant advancement in reducing fuel burn and emissions in four decades
* Low fuel burn means lower C02 emissions. The Emirates A380 produces less than 75g of C02 per passenger kilometre, almost half of the European target for cars manufactured in 2008
* Emirates A380s will progressively feature digital inflight magazines, entertainment guides and shopping catalogues, saving 2kg per seat or almost one tonne per aircraft
* Emirates A380s, which offers more space per passenger in all classes, will also meet ICAO's gaseous emissions standards by a substantial margin
* We will comfortably meet current Stage Three and proposed Stage Four noise level standards
* Our new Emirates A380 maintenance facilities in Dubai are state of the art, efficient buildings
* A380s feature lightweight materials that account for 25% of its structure
* Our emissions components – such as NOx – will be well under the regulated 'cap four' rule
* Emirates is working with Airbus to further reduce weight of our future A380s
* Larger aircraft mean less takeoff and landings (in passenger terms, some Emirates A380 versions would be the equivalent of flying up to seven smaller aircraft types)
* Emirates average fleet age is less than half that of many European airlines, meaning newer technology and efficiency breakthroughs characterise our aircraft.
Above, Emirates 777 taking off from Rome Fiumicino. Below, EK A380 pictures from Emirates Media website.