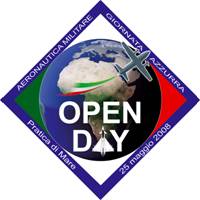 On May 25, Pratica di Mare airbase will host the most important ItAF event of the year: the Giornata Azzurra 2008. The Open Day is the only official air display of the Aeronautica Militare, held each year in the largest Italian airbase (with the only exception, every five years, to celebrate the anniversary of the Frecce Tricolori display team at their homebase in Rivolto). The list of the foreign attending aircraft is extremely interesting this year: the Romanian Mig-21 (both single and double seat), the Mirage 2000 of the Hellenic Air Force and the one of the EAU, the Danish F-16, the RAF Typhoon, the Turkish NF-5 and many others. In the last two editions a B.1B flyover was in the list of the air display even if the "Bone" never showed up at Pratica neither in static display nor performing the "advertised" fly-by. However, this year the B.1B presence is also confirmed by the ACC Aerial Events schedule (noteworthy, the flyover should be repeated in Berlin 26/5, Bratislava 31/5, Berlin again and Cognac on 1/6) and it is possible that the aircraft will attend the show during a routine Global Power peacetime mission. These kind of missions are used to demonstrate the global reach capability of the US bomber that often fly round robin sorties from CONUS (Continental USA) to Europe that can last close to 24-hours in duration.

The ItAF will display all the aircraft in its inventory. Among them, also the SH.3D used by the Pope, the KC-130J that was used by the RSV for the air-to-air refueling (AAR) qualification of the type with many types of receivers and the B-767 CTA used as a replacement of the B.707TT in the AAR tasks until the delivery of the new KC-767. According to the information reported by some spotters, the rehearsals of the RSV (Reparto Sperimentale Volo) have already begun. People around Pratica has been watching the display of the Tornado and Typhoon piloted by the Italian test pilots from the last week.
For updated information about the event, list of participating aircraft and media opportunities, I suggest visiting the official ItAF page of the Giornata Azzurra at the following address: http://www.aeronautica.difesa.it/ga08/.
Pictures of the Giornata Azzurra 2006 are available here.