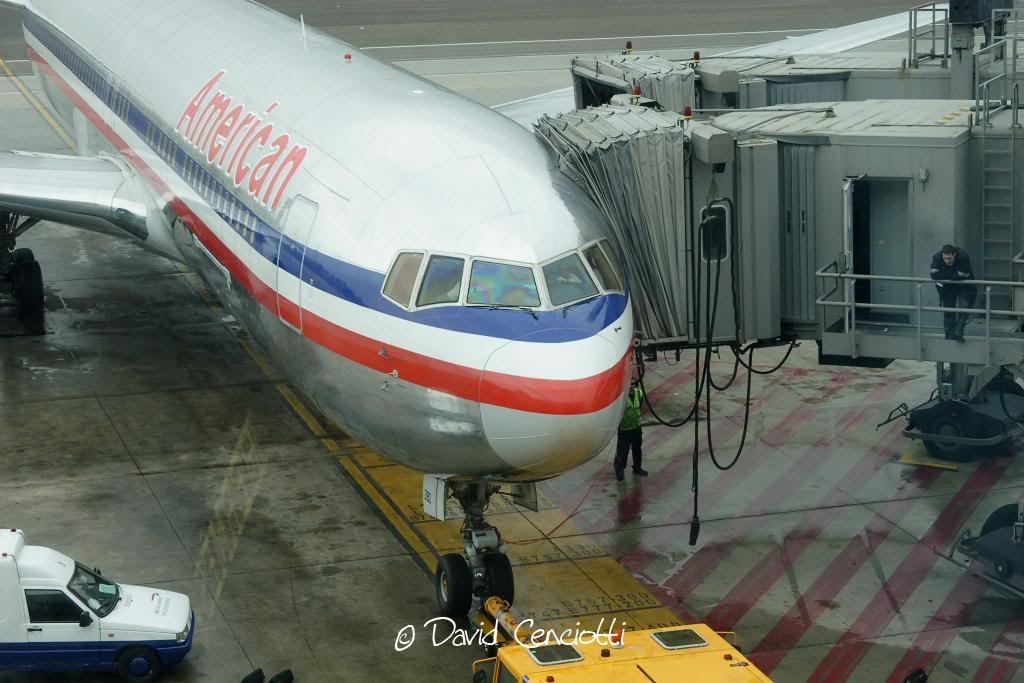 Wednesday, 27 February 2008
Rome Fiumicino (FCO) – New York John F. Kennedy (JFK)
Flight: AZ 610
Scheduled departure time: 13:50
Type of aircraft: Boeing B 767-343/ER
Registration: EI-CRM "Amerigo Vespucci"
Since I preferred flying directly to NYC, as I had already done in 2005, I had planned my trip as to fly the first leg to Newark and to return from JFK. I had booked 6 seats (me, wife, parents and friends) on AZ 644 (departing at 10.10LT and arriving at 14.15LT) towards the end of December, carefully choosing them according to my needs but, some weeks before departure, I got a phone call from Alitalia informing me that my flight to EWR had been canceled and I had to replan my trip with another flight. Since I was not willing to make any stop before NYC I had only another option: flying to JFK (the reason for flying to Newark instead of JFK on the first leg was also to visit again EWR). My option went on AZ 610, a flight departing later from Rome (13.50LT) but flying directly to JFK where I would land sensibly later (some 4 hours later). I had lost a few hours but at least I would have kept the advantages of a non-stop flight.
On Feb 27, I arrived at the airport quite early, checked in, got my boarding passes and went through the security check and customs clearance. Before reaching the departure gate, I had a breakfast, bought some magazine and did some shopping. I had also plenty of time to surf on the Internet and check my email thanks to the WiFi connection provided by one of the airport's Wireless LAN to my Nokia smartphone. We reached the departure gate using the skytrain some 30 minutes before take-off and isnce boarding was about to start the area was crowded. I regretted seeing that the aircraft for this flight was a B767 that has not received the new color scheme yet. Just a few minutes to have a look at the boarding of a Thai B747-400 and American Airlines B767, and I heard the first call for Alitalia 610.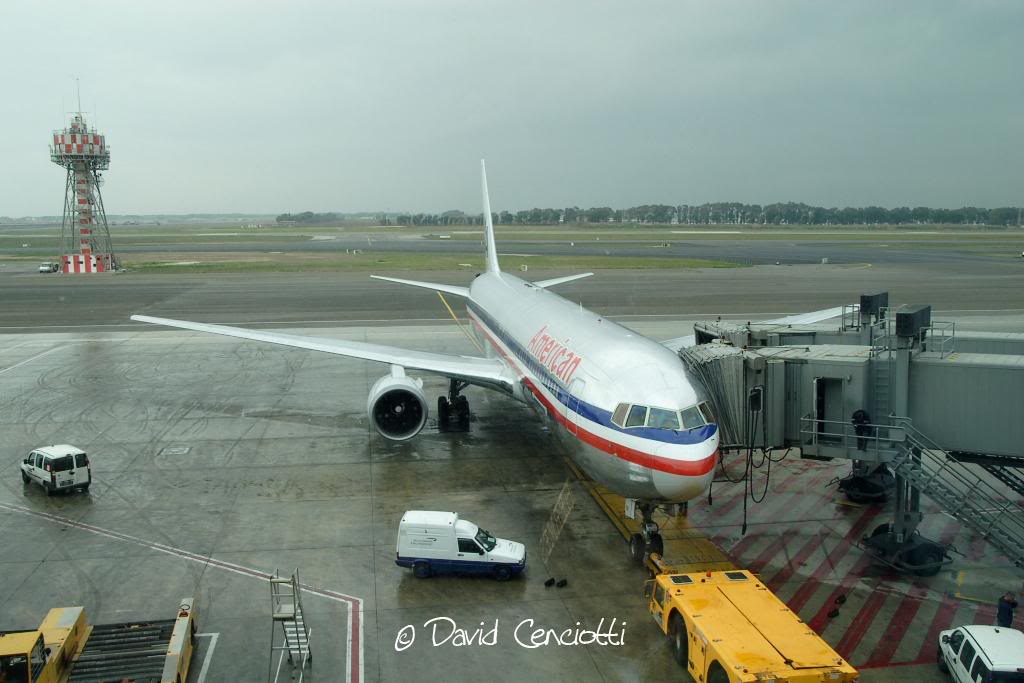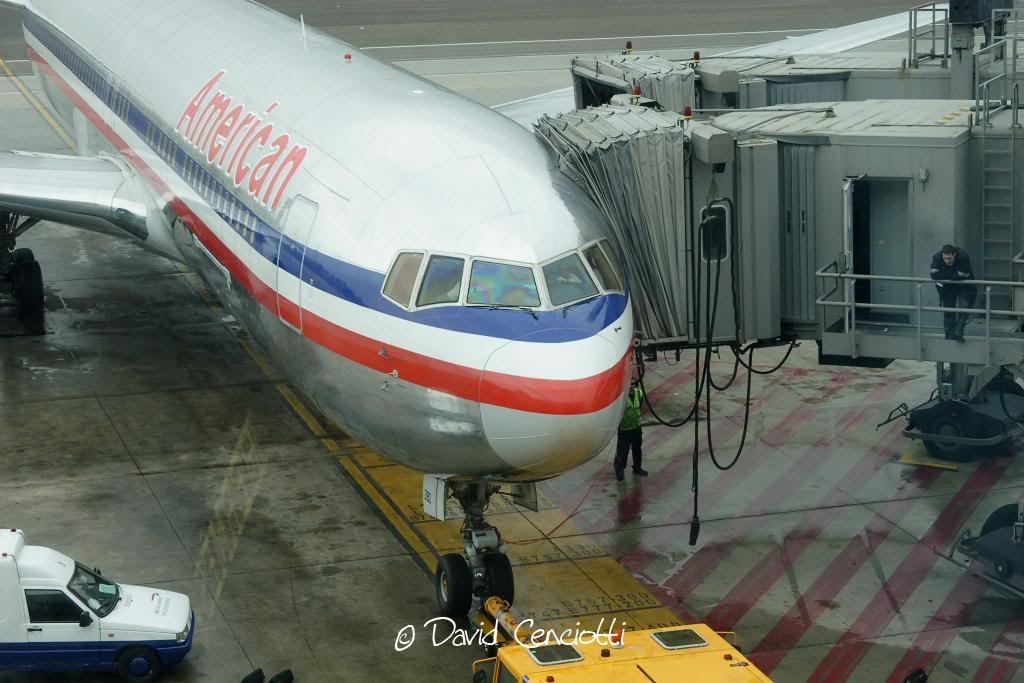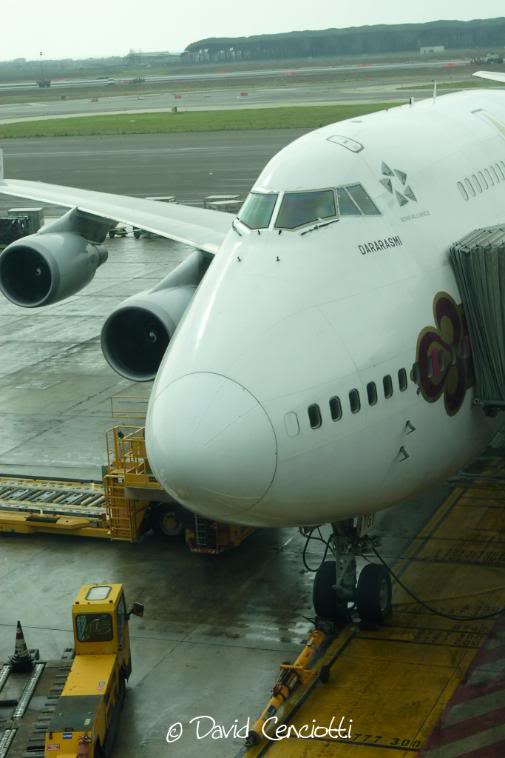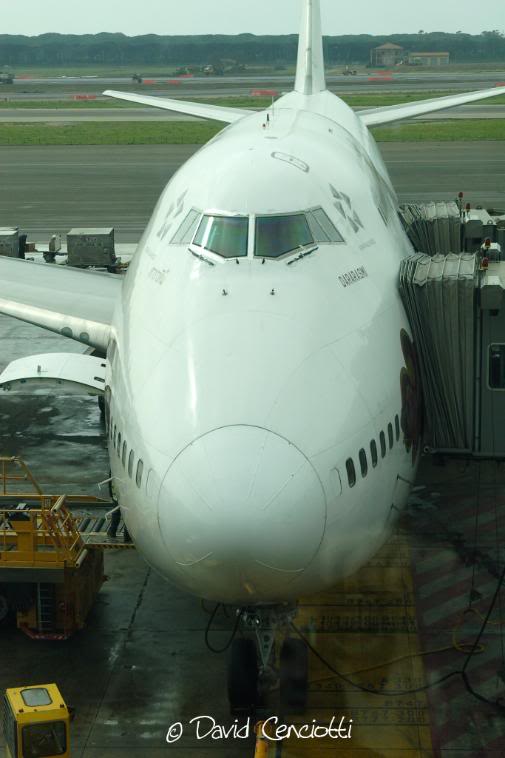 Boarding started some 20 minutes before take-off and was quite fast, since the aircraft was almost empty. I took an Italian newspaper, was pleased by the cabin crew and made my way towards my window seat or row 18 located in Economy a few rows past the Business class.
Push back, taxi and take-off from RWY 25 were extremely smooth and, shortly after departure, the flight attendants started to serve lunch. The lack of a PVT entertainment system made the flight somehow boring; furthermore, the movies were hard to hear with the earphones provided. Another unacceptable thing was that the air conditioning seemed not to work properly: at least 4 or 5 rows of the Economy Class flew for 10 hours in a tropical weather while the rest of the cabin had a fresh temperature. Even worse and really astonishing under a certain point of view is that, for the first time since I fly, pilots did not make a single announcement during all the flight. No presentation, no details about the flight time, weather, route, nothing.
Flight progress was available every now and then on the TV: the route we followed was quite straight. We overflew Sardinia, Barcelona and passed North of Santiago de Compostela before reaching the Atlantic Ocean heading more or less directly towards New York. According to FlightAware, we followed this route:
ESINO UZ924 KOLUS UM603 ALG UM601 VERSO UM601 BCN UN725 STG UM440 KOPAS 4400N 02000W 4400N 03000W 4200N 04000W 3900N 05000W 3800N 06000W SLATN N10A BERGH A300 OWENZ CAMRN CAMRN4
Weather was not very good and we encountered slight to moderate turbolence along the route. Head wind sometimes above 100 kmh made the trip longer than average.
Despite AZ610 was a complete day-flight, the cabin crew acted like it was night flight and switched off all the lights and asked passengers to close their windows shades. However, cabin temperature in my area was very hot and I could not sleep. Cabin crew was friendly and attentive but could not do anything about the failure in the air conditioning system. About 1 hour before arrival, we were offered a snack and hot and cold drinks and then cabin crew distributed the US immigration forms.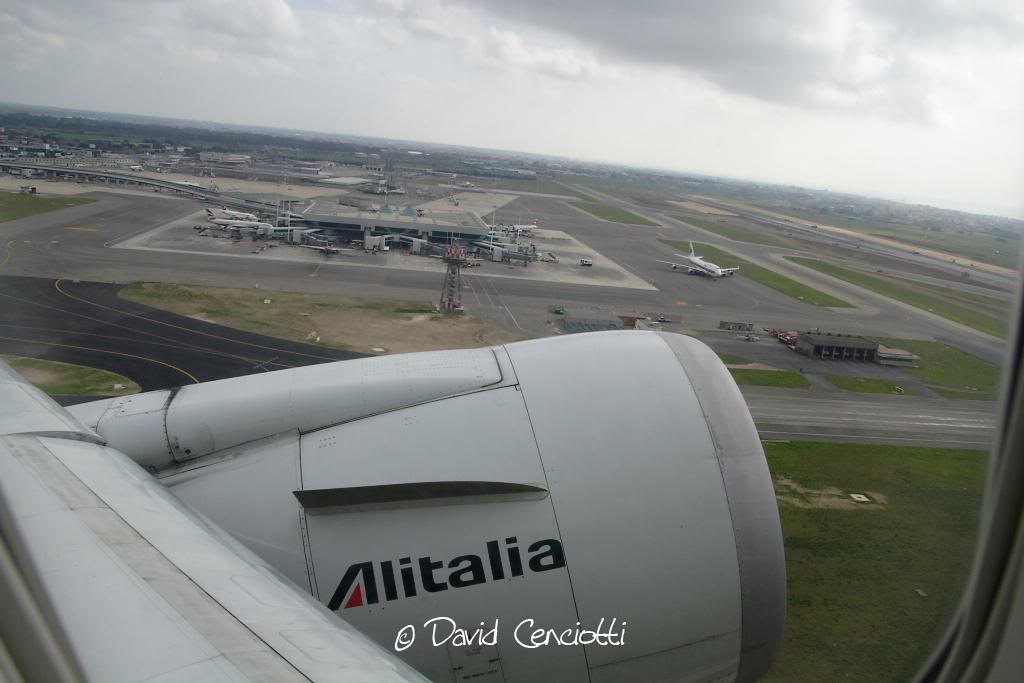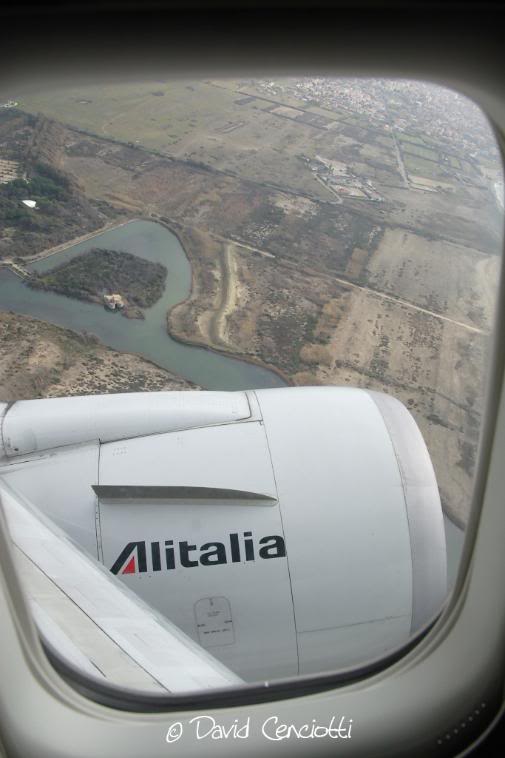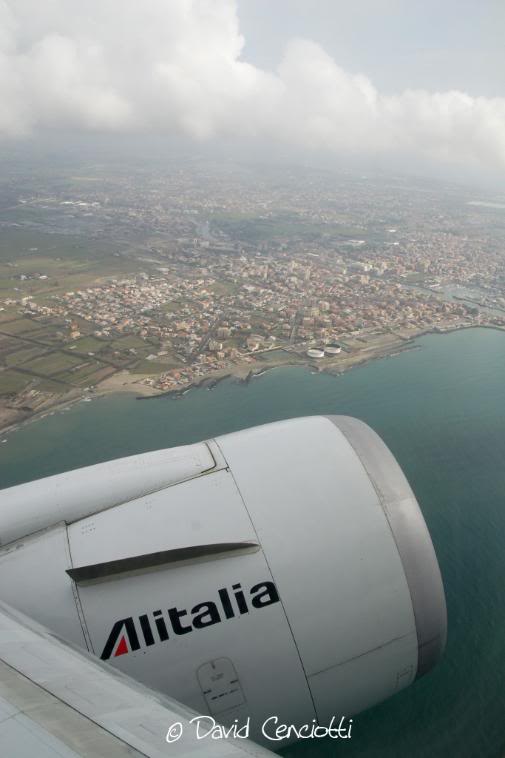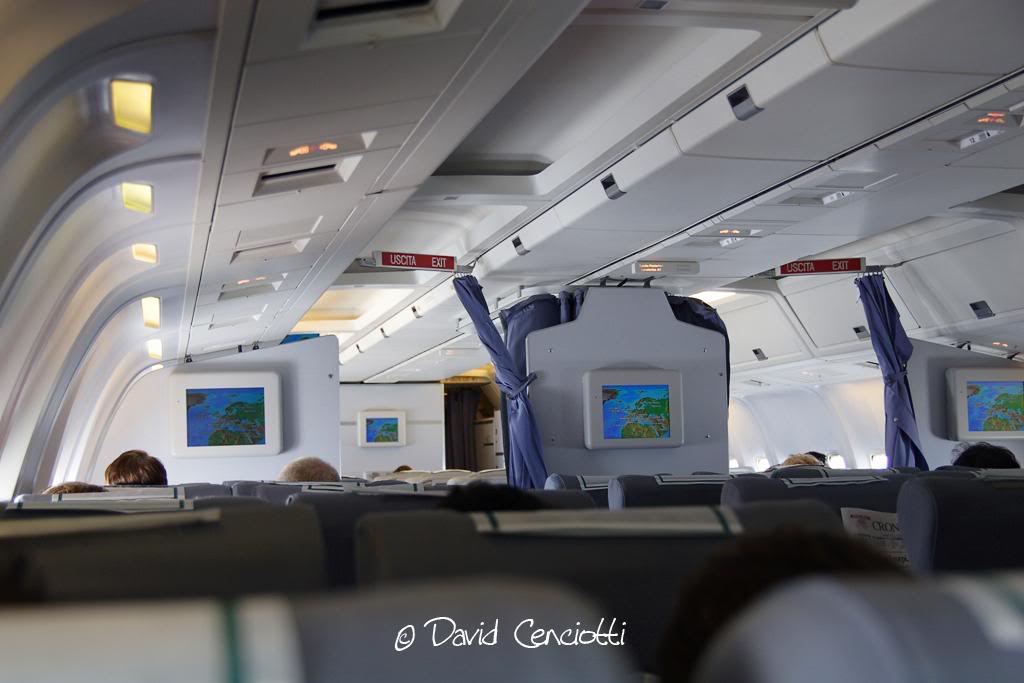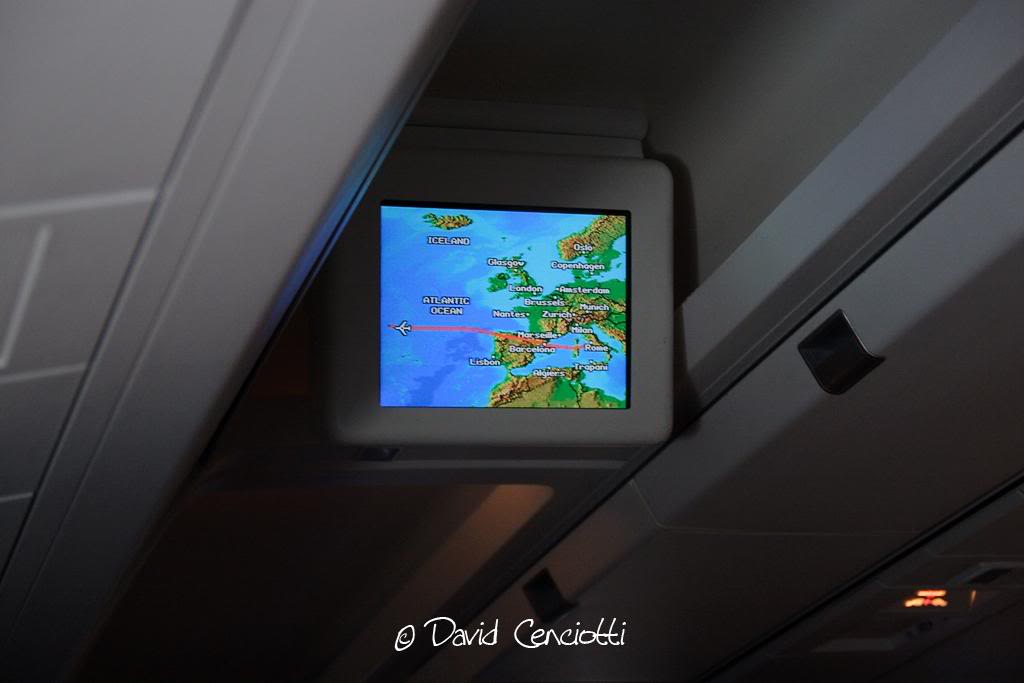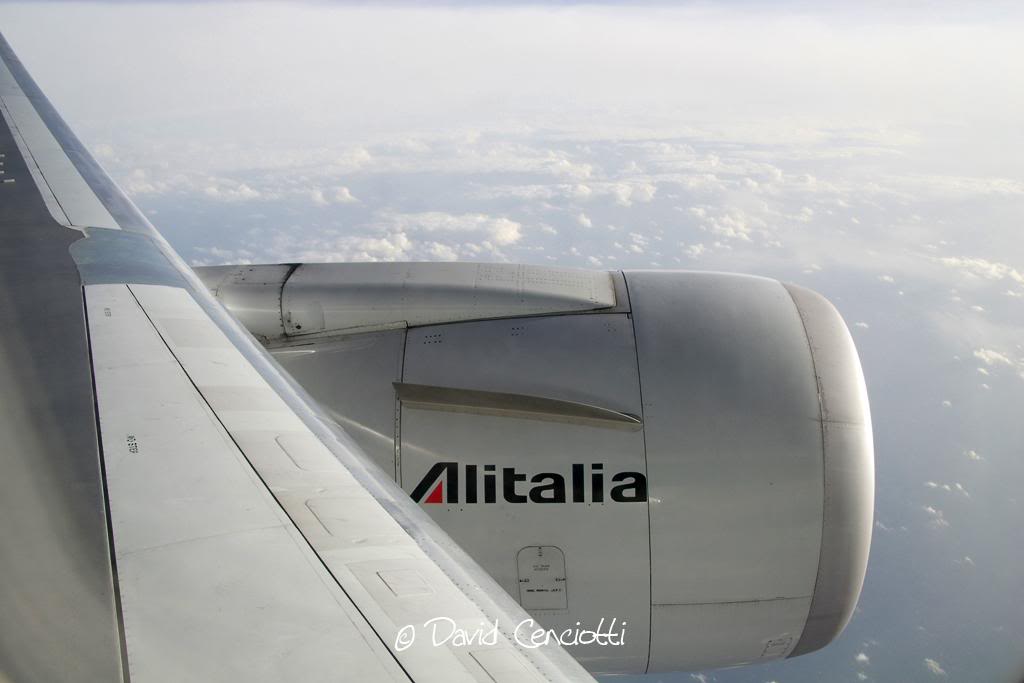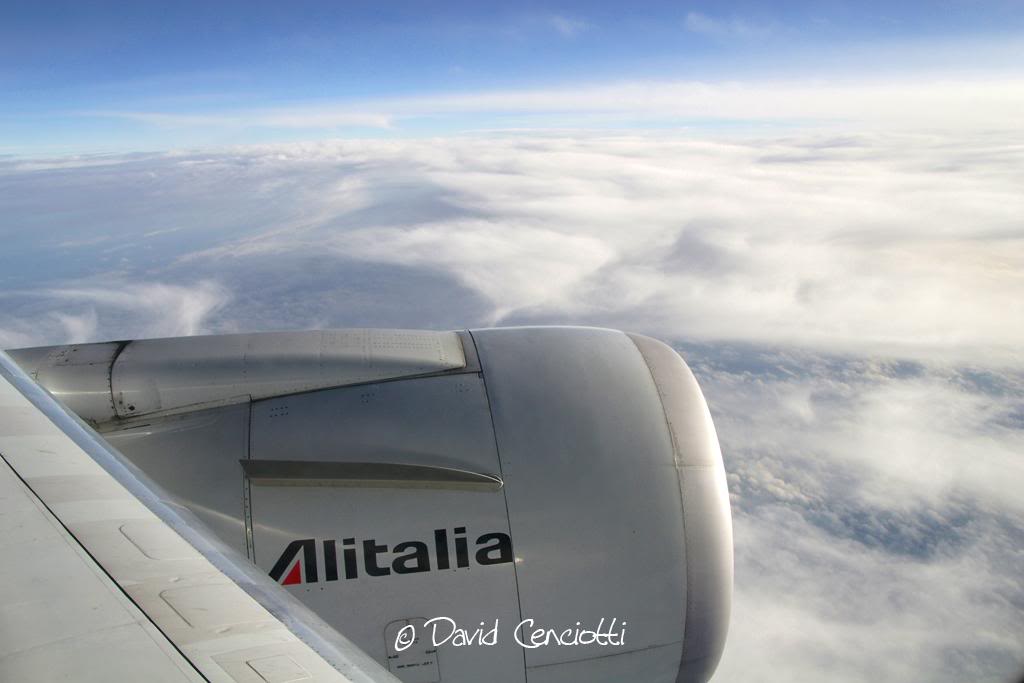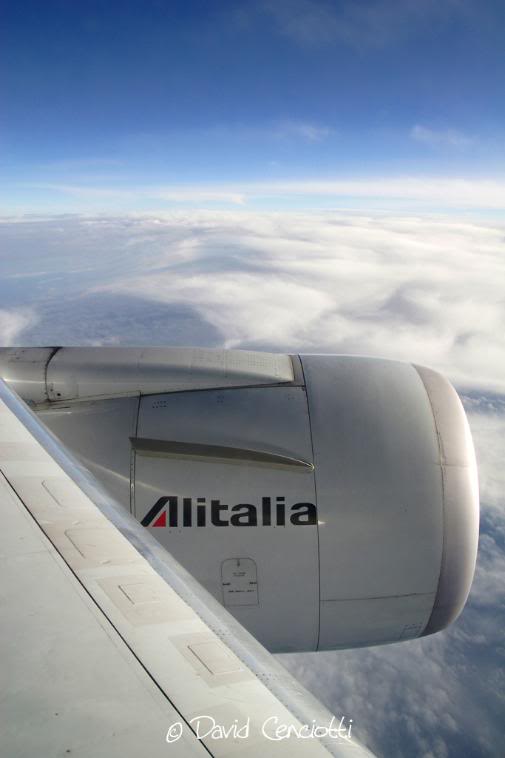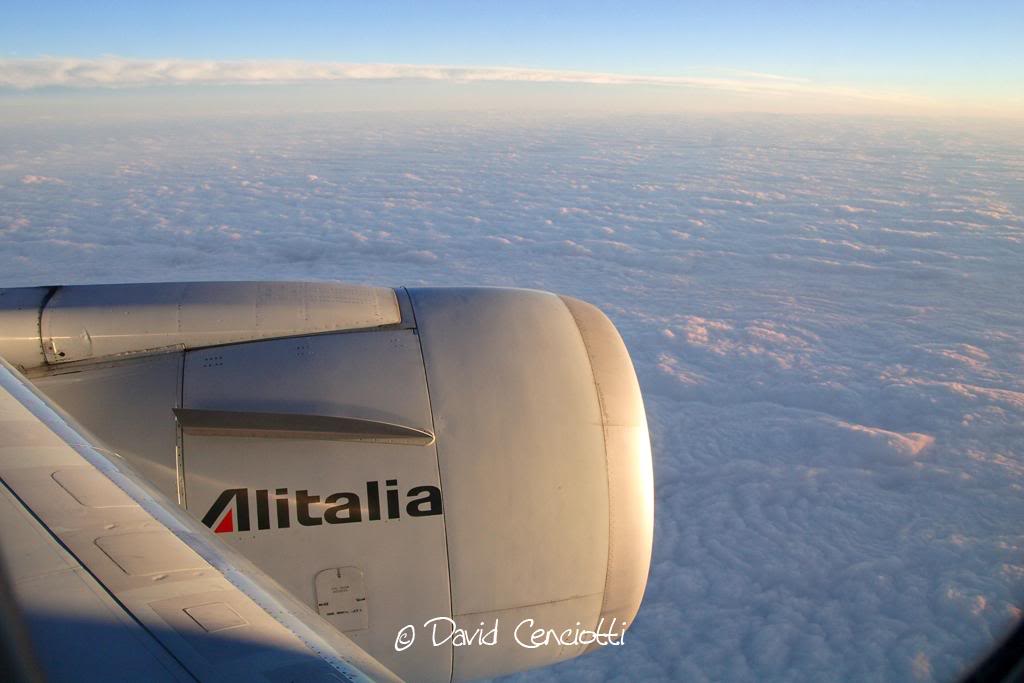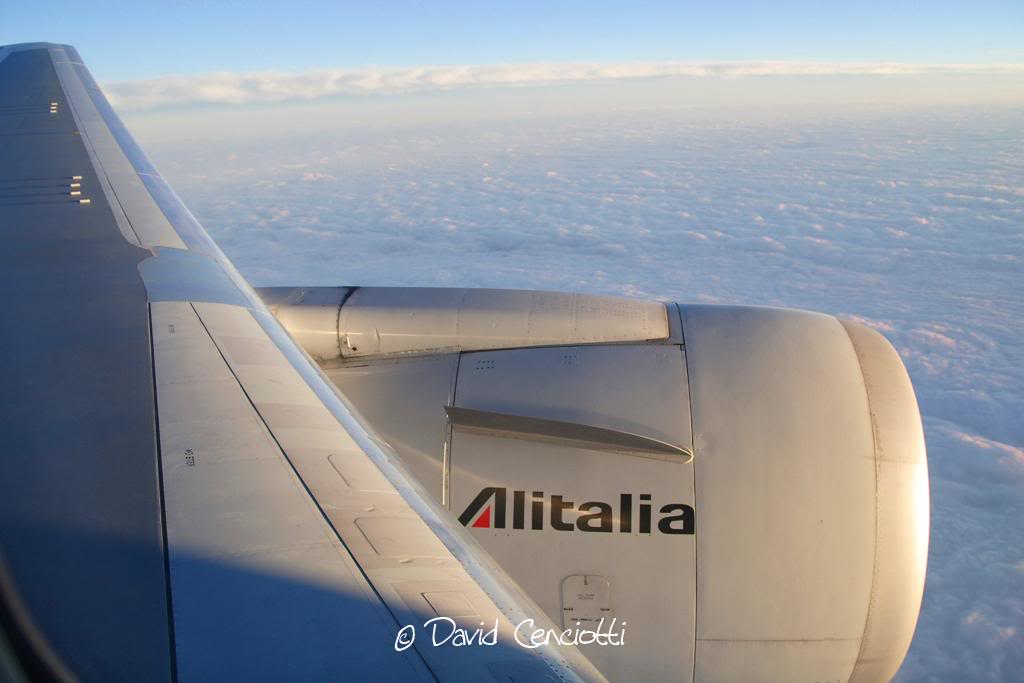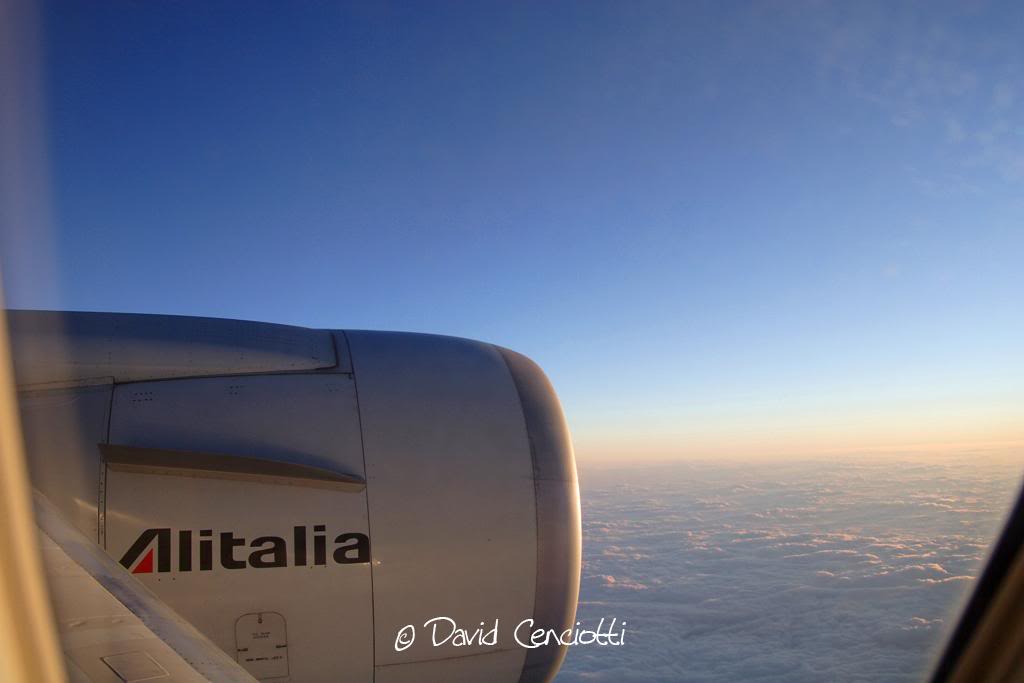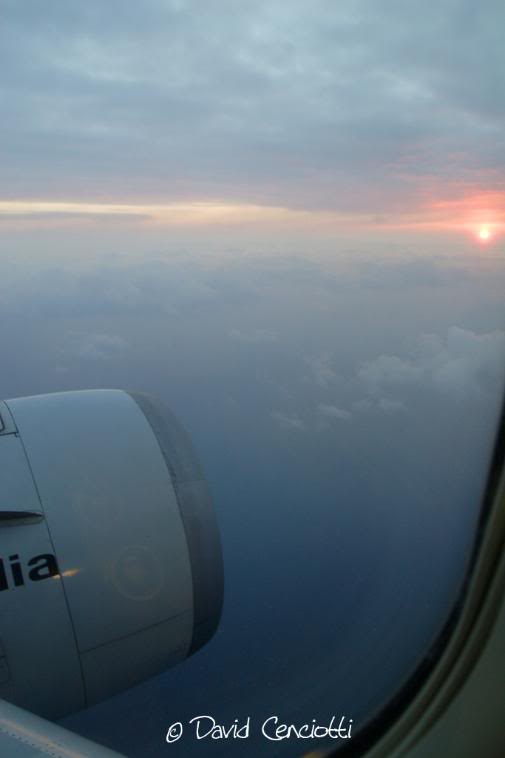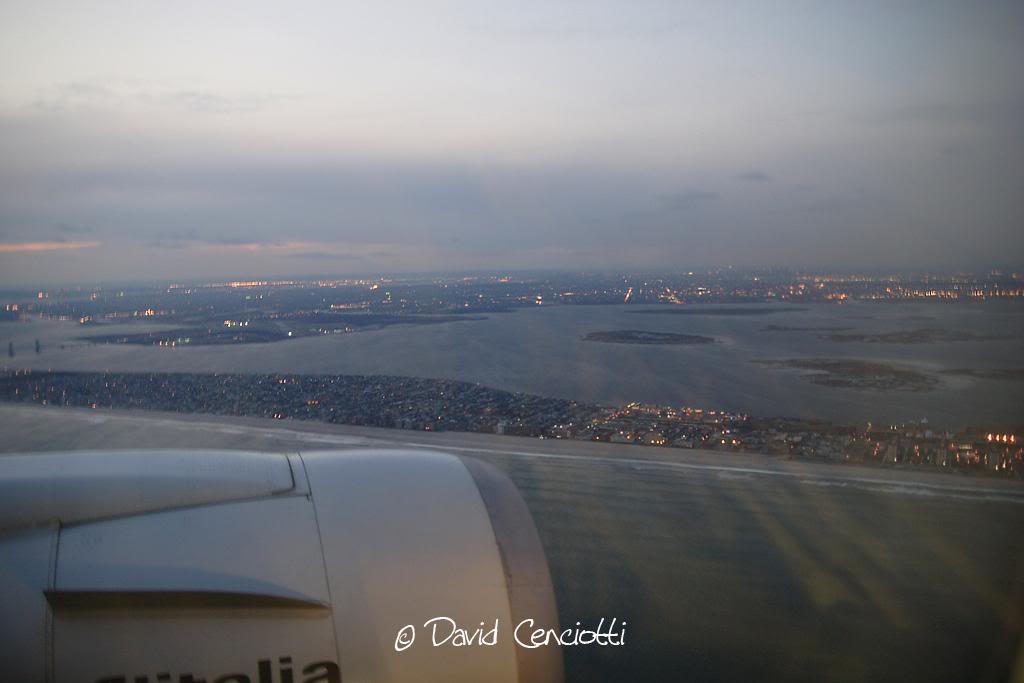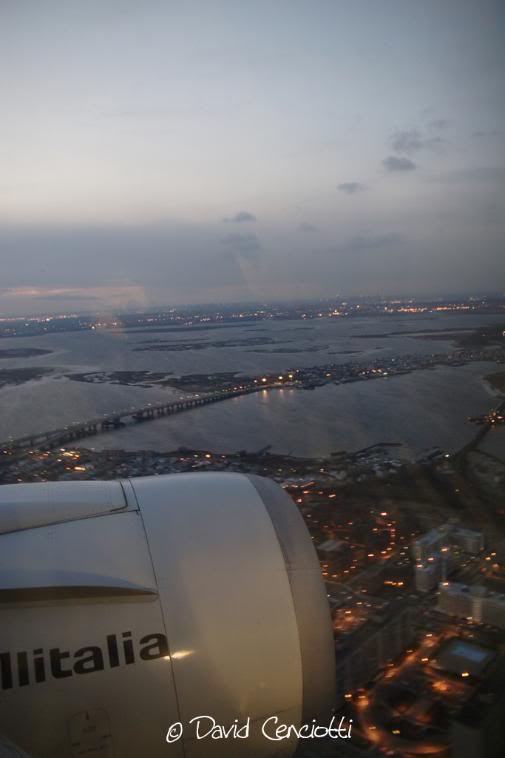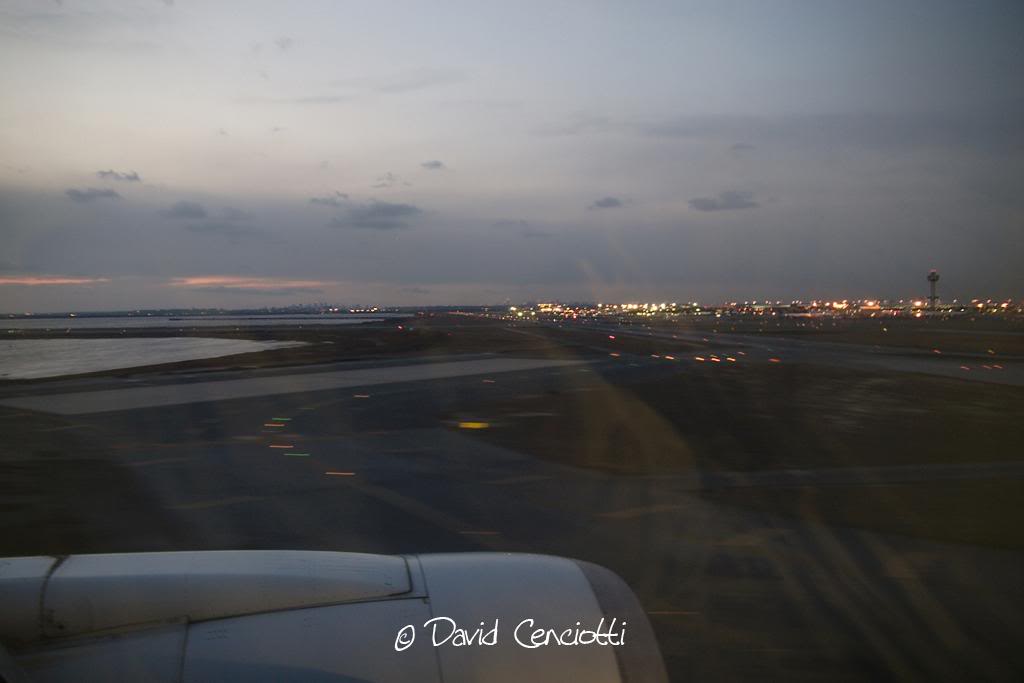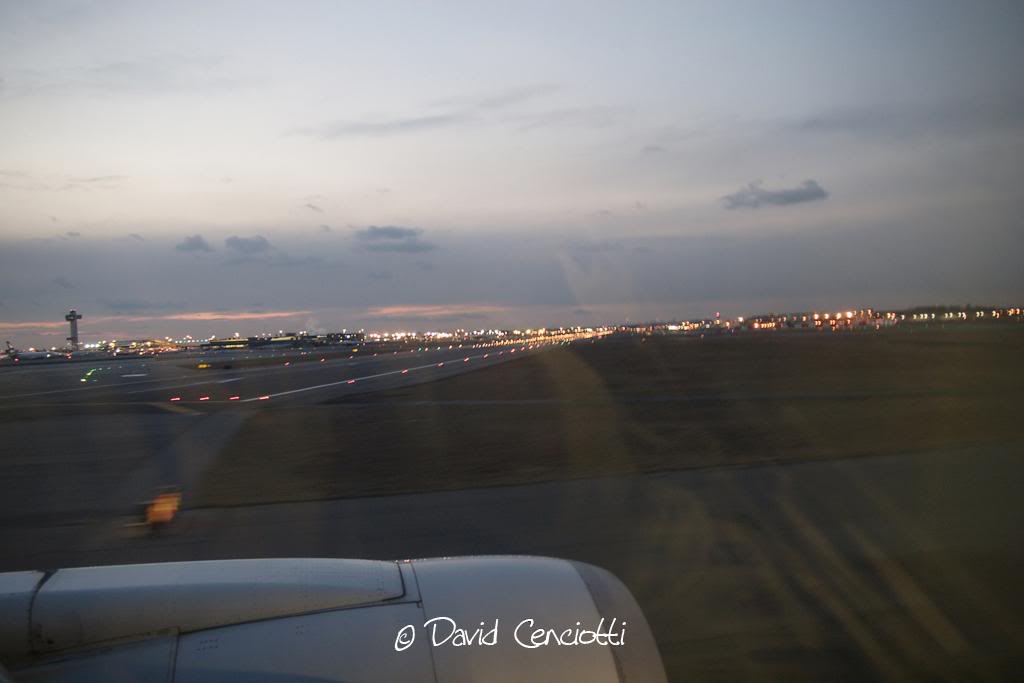 We landed at 18:00LT on RWY 04R and taxied for 11 minutes to reach the gate at Terminal 1. We taxied on RWY 31R (where we overtook a Finnair MD-11 taxing on the parallel B taxiway) and parked next to a Turkish A330.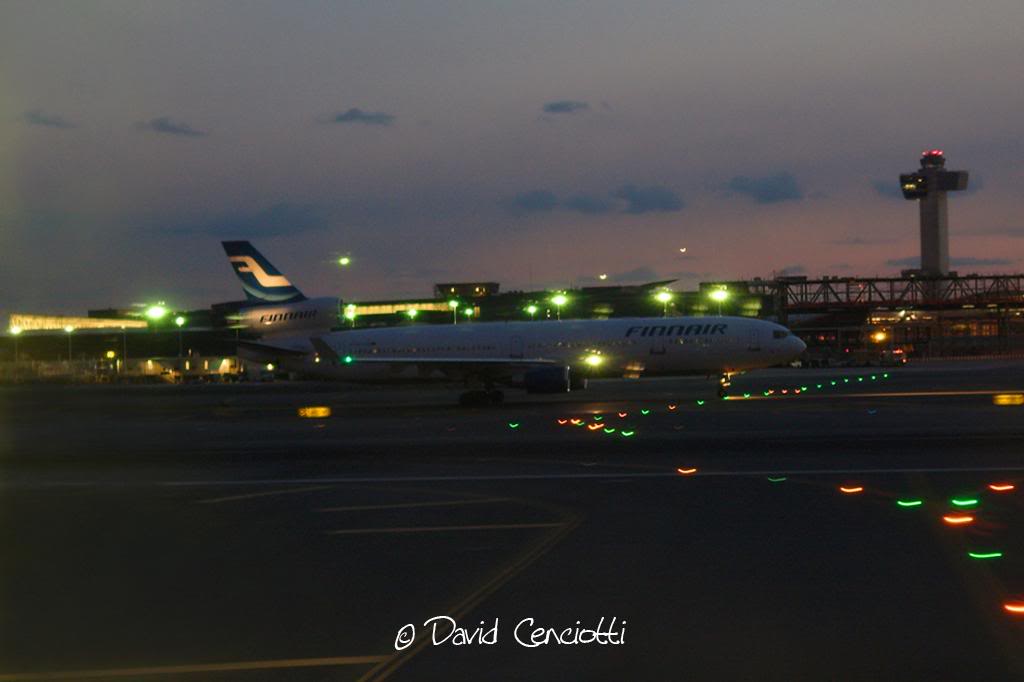 Immigration control was next step after a queue of about 30 minutes. The officer was very friendly and after leaving the digital finger print of my hands and being photographed, I could collect my luggage and pass through the customs. I was soon outside the terminal looking for my shuttle bus to Grand Central Station greeted by a temperature well below 0° Centigrades. My new adventure in NYC had just begun.
After some sunny and freezy days in NYC I took my flight back to Rome.
Sunday, 2 March 2008
New York John F. Kennedy (JFK) – Rome Fiumicino (FCO)
Flight: AZ 611
Scheduled departure time: 21:00
Type of aircraft: Boeing B 767-343/ER
Registration: EI-CRM "Amerigo Vespucci"
The return flight was definitely better even if the aircraft was the same and the air conditioning had again problems (I was on the right hand side of the aircraft window seat on row 16 this time). Crew was nice and pilot was very comunicative. The pilots warned us about the turbolence we were going to expect after 6 hours of flight because of a jetstream (less than on the first leg) and provided updates throughout the rest of the flight. The route flown by AZ 611 is the following:
HAPIE3 YAHOO DOVEY 4200N 06000W 4300N 05500W 4400N 05000W 4500N 04000W 4500N 03000W 4400N 02000W 4500N 01500W SIVIR UN460 RIVAK UN460 FOUCO UT187 LERGA UM728 SODRI UM728 BTA UL146 ELKAP
After a night oceanic flight I woke up while the aircraft was overflying France. Then we headed direct to ELB and followed the standard arrival procedure to Fiumicino, where we landed around 11.00LT on RWY 16L.