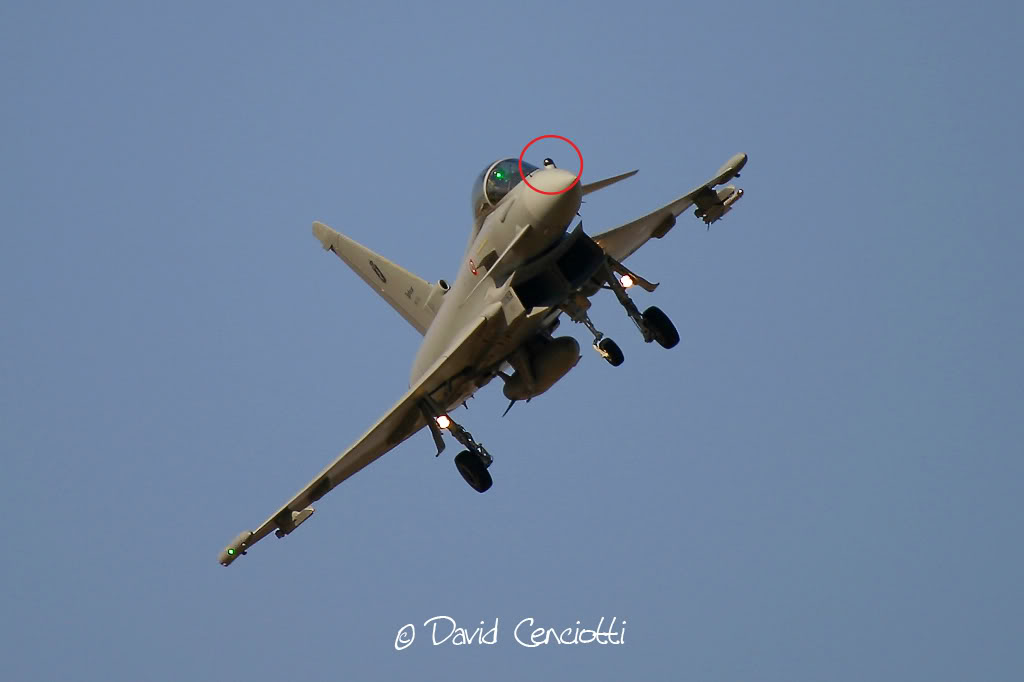 Claudio Carretta left an interesting comment on my post Eurofighter Typhoon activity at Grosseto advising that among the aircraft spotted on Aug. 6, MM7285 "4-16" was the first Eurofighter Typhoon Block 5 delivered to the Italian Air Force.
I consequently checked again the pictures and finally noticed the searching head of the IRST sensor, located on the left of the nose, just in front of the cockpit. I had a glance on that area of the aircraft for a few seconds during base turn and since the aircraft was still distant, I didn't notice the "distinctive sign" the first time I saw the images (in order to make them well visible, I had to crop sensibly the pictures below).
On the same day (Aug. 6), RAF took the first two Block 5 Typhoons on charge. The aicraft were delivered to the XI Sqn at Coningsby, a unit that on Aug. 17 launched its first genuine scramble since assuming Quick Reaction Alert (QRA) duties on Jun. 29, 2007, to intercept a Russian "Bear" over the North Atlantic Ocean.
The "close encouter" with the strategic bomber took place on the same day President Vladimir Putin said that Russia has resumed the long-range flights of its strategic bombers that were suspended in 1992. According to him, those tours of duty will be conducted regularly and on strategic scale and, as a consequence, Russian Tu-95s, Tu-160s and Tu-22s are expected to fly across the globe the same routes routinely flown during the Cold War.
The number of interceptions is already increasing:  on Aug. 8 two Tu-95 undertook a 13 hours round trip from Blagoveshchensk base to "visit" Guam, in the Pacific Ocean, for the first time since the end of the Cold War; and in May and July, British Tornado F3s and Norwegian F-16s were scrambled to intercept and escort Russian Bears flying in the international airspace next to the countries' airspaces.
4th Stormo Eurofighters took over air defense of the Italian airspace (along with F-16s of the 5th and 37th Stormo) since Dec. 16, 2005.
The first real interception took place on Mar. 13, 2007, when two Eurofighters (already in flight) were vectored by the Air Defense radar to identify and shadow a Tunisian A-320 flying in Southern Italy that had lost radio contact with the civilian ATC.
So far, they have never been scrambled to intercept any Russian bomber, something that was frequent during the Cold War, when ItAF F-104s were often scrambled to intercept the long-range bombers as described in the article Memories of a fighter pilot.