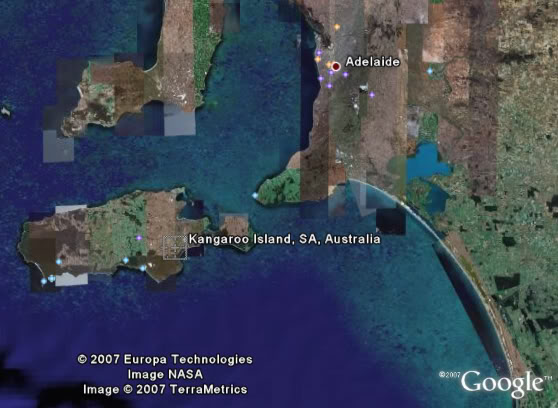 Kingscote Airport, located on Kangaroo Island (the third largest island of Australia), is probably one of the smallest airports I've ever reached. Its coordinates are 35° 42.8′ S 137° 31.3′ E, meaning some 67 miles off shore Adelaide, in South Australia. It's not the most Southern one I've seen since Melbourne Tullamarine is located a few hundred miles more South (37° 40.4′ S 144° 50.6′ E). 
I flew to Kangaroo Island on May 19th on board a Saab 340 (flight ZL4771) of the Regional Express Airlines (REX), one of the two airliners (the other is Air South) currently providing passenger services from Adelaide. Kingscote is a non-towered airport meaning that unlike towered aerodrome, it doesn't provide any sort of air traffic control associated with the flight operations in the vicinity of the airport. Until Nov. 25 2005, it was located within a Mandatory Broadcast Zone (MBZ) an airspace generally extending to a 15NM radius and up to 5.000 ft AGL of an uncontrolled aerodrome. Currently, it is designated CTAF (Common Traffic Advisory Frequency), an acronym no longer associated to the airspace surrounding the aerodrome but to a radio frequency that pilots use to make broadcast radio calls to inform other traffic of their presence and facilitate mutual separation. As a former MBZ, Kingscote is a CTAF(R) meaning that only aircraft equipped with a VHF radio can operate there. Aircraft using CTAF usually make broadcast calls when 10 nautical miles from the aerodrome; beginning a straight-in approach or before entering the downwind leg or base turn of the circuit pattern; taxiing for departure; engaging or vacating the runway or beginning the rolling run for take off. Even military aircraft that have to overfly non-towered aerodromes or have to cross airspaces in their vicinity contact CTAF VHF frequencies. As I have discovered searching for information on MBZs, F-111 of the RAAF often make radio calls on CTAF for deconfliction purposes before interesting airspaces of non-towered Australian aerodromes. Even Ayers Rock, that I visited flying with a B-737-838 of Qantas Airlines, another interesting airport in the red desert of the Northern Territory, used to visit the Uluru monolith, the main feature of the Uluru – Kata Tjuta National Park, is a CTAF(R) aerodrome.
In Kingscote, the only terminal, serving both airline and general aviation flights, is just a small building where arriving and departing passengers are provided some of the normal airport services: car rental, toilets, payphones, etc. Despite being a small aerodrome, Kingscote has three runways, 01/19, 06/24 and 15/33, even though only the asphalt tarmac 01/19 (1402 mt) is equipped with Visual Approach Slope Indicator (VASIS) lighting System, while the other two are gravel strips used only in case of emergency. Interestingly, Kingscote uses a PAL (Pilot Activated Lighting), a system used on non-towered aerodromes to control the runway and taxiway lighting by radio. PAL are operated by performing a certain number of clicks with the trasmit button of the microphone. As soon as the lighting is activated countdown starts: after 15 minutes the lights turn off unless a different command is issued by the pilot. The number of clicks performed by the pilot determines the intensity of the lighting system.
Pilots have to look carefully at animals and birds runway incursions during flight operations: Kangaroo Island is one of the world's most scenic wilderness destinations. It is home of kangaroos, koalas, wallabies, goannas, sea lions, penguins, seals, etc. Even if the majority of them live in conservation parks or on beaches, some of them move (I've met many kangaroos and wallabies at night around American River town) especially after dark.