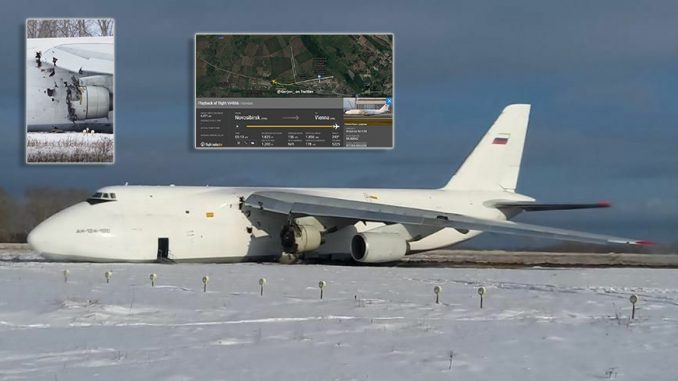 The giant Antonov An-124 Ruslan Condor suffered an uncontained engine failure after take off from Novosibirsk that forced the aircraft to perform an emergency landing.
An Antonov An-124 Ruslan (NATO reporting name: Condor), belonging to Volga-Dnepr Airlines, an airline based in Ulyanovsk, Russia, and specialized in air charter services, with 14 people on board, overran the end of the runway at Novosibirsk, Russia, on Nov. 13, 2020.
The aircraft, registration RA-82042, experienced what has been reported as an uncontained engine failure during the initial climb after take off from RWY 25 at Novosibirisk. The crew returned for an emergency landing on the same runway and performed a successful and seemingly normal touchdown but did not manage to stop the landing roll (the aircraft was loaded with fuel and probably the breaking action, if available following the failure, could not be used to slow down the heavy plane): the aircraft went off the tarmac by about 200 meters.
No one was injured but the aircraft was heavily damaged.
Images coming from Novosibirsk show substantial damage to the engine, wings, nose gear (that collapsed) and fuselage, that appear to have been penetrated by debris at multiple locations near the wing root. This may also explain why Mode-S data was lost at 05:10:09 UTC (12:10 LT), shortly after take off, as the RA-82042, flying as VDA4066, was on right hand turn climb through 1,825 ft.
Is this why Mode-S data ended suddenly while she had a great signal? Images suggest shrapnel flew right through the fuselage, apparently near the electrical systems. If there's no power, there's no Mode-S, I guess…@TheAviationisthttps://t.co/Ol73Loqoev

— Gerjon | חריון (@Gerjon_) November 13, 2020
Parts of the aircraft were recovered 5 km from the airport, according to the reports.
The following video shows the aircraft's landing and subsequent overrun:
Volga-Dnepr Airlines, LLC reportedly operates a fleet of twelve Antonov An-124, a type of aircraft also operated by the Russian Air Force and by the Ukrainian Antonov Airlines. In 2017, Volga-Dnepr Condor was used to deliver three pairs of partially disassembled MiG-29 Fulcrum jets destined to Serbia, while, Ukrainian An-124 aircraft have often been chartered by NATO forces  (including British, Danish, Dutch and Italian) and used to transport helicopters all around the world.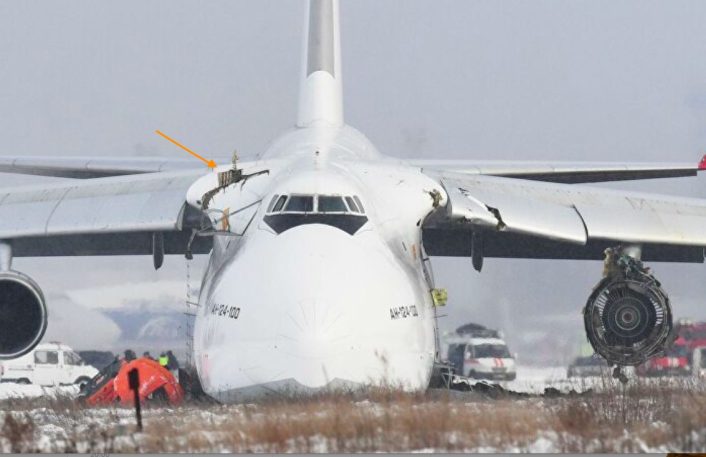 When the Americans developed C-5 Galaxy in 1968, the Soviets responded with AN-124 in 1972, entering the mass production in 1986 and, later the gigantic An-225 being constructed back in 1988, at the dusk of the Cold War. Until Jul. 26, 1985, the An-124 set 21 world records, e.g. took 171,000 kg of load to altitude of 10,700 meters, beating the preceding Galaxy record by 53%.