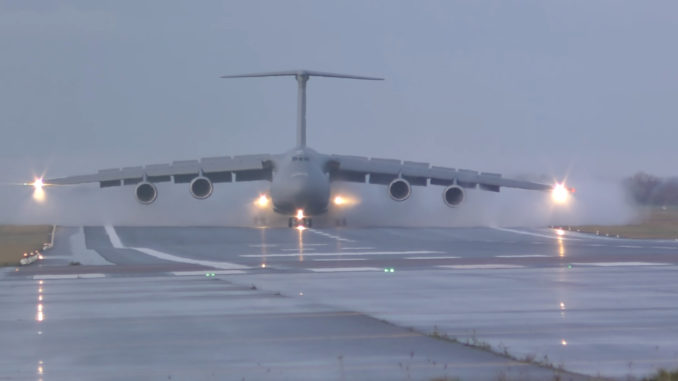 Awesome video shows C-5M Galaxy's landing, ground operations, taxi and short-take off during a recent visit to RAF Fairford, UK.
On Nov. 22, 2019, the C-5M Super Galaxy 86-0015, belonging to the 433d Airlift Wing, (433 AW), an Air Reserve component of the U.S. Air Force, visited RAF Fairford, UK. The massive cargo aircraft landed in the early morning, at 07.41LT, and took off again in the afternoon at 15.35LT.
The following video shows the Galaxy's landing, taxi and subsequent take off operations on Fairford's wet runway. The clip is also interesting because it shows the C-5 Galaxy's unique tricycle-type landing gear system consisting of a total of 28 wheels. As already explained in other stories published here at The Aviationist, this fine piece of machinery is made of four main units fitted in tandem pairs, each with a six-wheel bogie with two forward and four rear wheels. The Main Landing Gear rotates 90 degrees horizontally to be accommodated inside the gear bays when retracted after take off; furthermore, it is steerable for a 20 degrees left or right for taxi operations as clearly shown around 10:20 mark.
The video also shows the somehow unknown STOL (Short Take Off and Landing) capabilities of the C-5.
This is what we wrote about the take-off performance of the Galaxy in this past article about the video of a C-5 taking off from Ilopango airport, located on the eastern part of the city of San Salvador, El Salvador, in 2011.
Needless to say, technically speaking, the Galaxy is not STOL: according to Department of Defense Dictionary of Military and Associated Terms (JP 1-02) to be considered STOL the aircraft has to be able "to clear a 50-foot (15 meters) obstacle within 1,500 feet (450 meters) of commencing takeoff or in landing, to stop within 1,500 feet (450 meters) after passing over a 50-foot (15 meters) obstacle."

Still, the C-5 has what can be considered excellent field performance for its size and weight. Indeed, according to its aircrews, Galaxy jets can operate out of a 5,000 foot long runway as well as from unimproved surface with substantial fuel and cargo load to support a special operation, even though such missions are nowadays preferably undertaken by C-17 Globemasters.