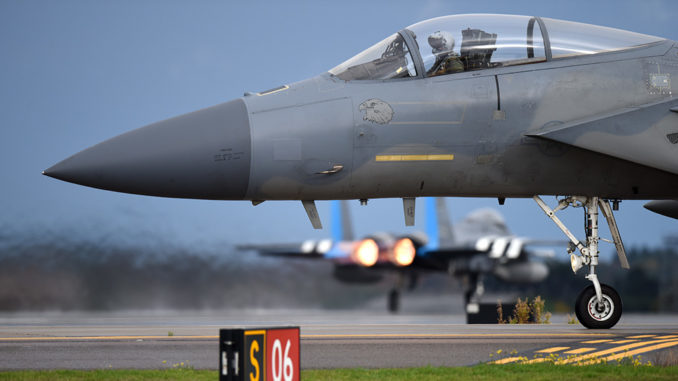 It's the fourth straight year that the trophy is awarded to one of the squadrons based at RAF Lakenheath.
The U.S. Air Force 493rd Fighter Squadron "Grim Reapers", the only F-15C squadron in Europe, has been recognized the 2019 Raytheon Trophy as top Air Superiority Squadron. The announcement represents the sixth time the Reapers win the trophy since it was established in 1953 and the fourth straight year that the trophy is awarded to one of the 48th Fighter Wing's squadrons, based at RAF Lakenheath, UK.
The latest editions were awarded to the Reapers in 2016, to the "Bolars" of the 492nd FS in 2017 and to the "Panthers" of the 494th FS in 2018. It's worth noting that the Bolars and the Panthers fly the F-15E Strike Eagle.
Congrats to the #Reapers! Just announced as the US's top Air Superiority Squadron for last year…the Raytheon Trophy stays at Lakenheath for the fourth straight year. They should just call it the #LibertyTrophy from here out! #WeAreLiberty! pic.twitter.com/Z6t3xvTZmb

— RAF Lakenheath (@48FighterWing) April 19, 2020

The Raytheon Trophy is awarded annually to the top air-superiority and air-defense squadron in the Air Force. Nominees are graded on air-defense and air-superiority mission performance, operational mission performance, organizational readiness inspection results, training exercise participation, unit and individual achievements and flight safety.
The trophy was instituted by the Hughes Aircraft Company in 1953 as Hughes Achievement Award and became soon known as the highest Air Force award for air defense units. The award changed name in Raytheon Trophy or Raytheon Achievement Award in 1997 after Raytheon bought part of Hughes' defense business.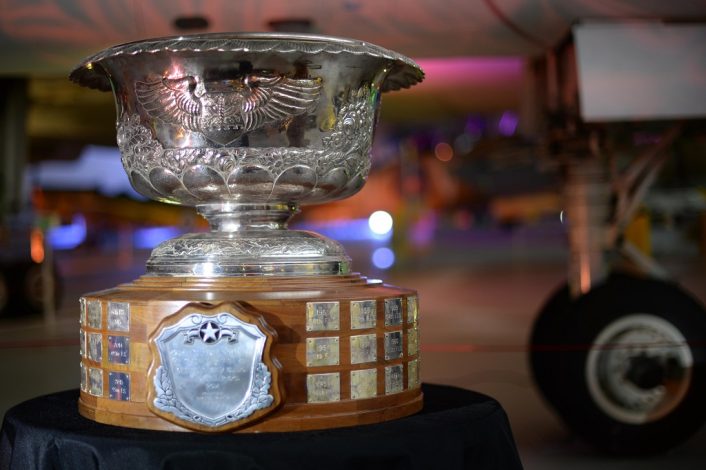 Initially, only Fighter Interceptor Squadrons were allowed to participate. In 1970 the competition was opened to any squadron performing air defense as their primary mission and finally, a few years ago, was opened to all fighter squadrons. The first editions of the award used different trophies every year. Since 1963 the hand-hammered silver trophy is retained for one year by the winner and is then passed on to the next one.
During the recent years, F-15 squadrons often celebrated the award with spectacular videos of their flight operations, giving aviation lovers all over the world a glimpse in their everyday life as they train with the mighty Eagle.