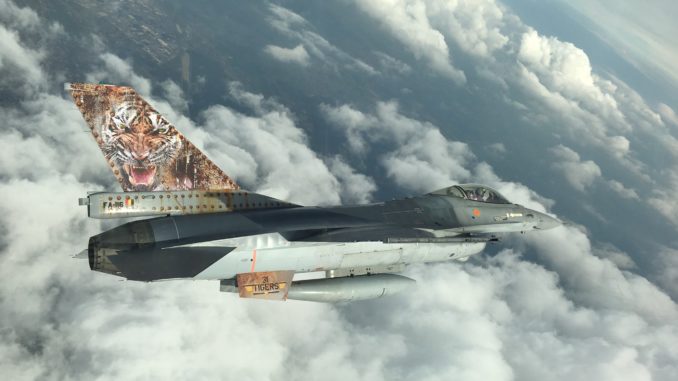 The aircraft will take part in NATO Tiger Meet 2019 at Mont-de-Marsan, France, next month.
NATO Tiger Meet (NTM) is a multinational mid-size exercise that gathers squadrons sporting Tiger (or feline) emblems, most of those attend the two-week drills, with aircraft of all types sporting brand new, flamboyant tiger color schemes. If you browse through our archive, you'll find many articles on NTM special-colored jets and helicopters.
On Apr. 16, 2019, the 31 Sqn of the Belgian Air Force, based at Kleine-Brogel, rolled out on an F-16AM, the example tail number FA-116, with the livery prepared for this year's NTM, that will be held in late May at BA 118 Mont-de-Marsan, France.
Today the #F16 @BeAirForce, tailnumber FA116, carrying a special designed tailsection @31tigersqn made its maiden flight. This aircraft will participate at the @NatoTigers
Meet 2019 at BA 118 Mont-de-Marsan. pic.twitter.com/Qd1sVTMeyW

— Belgian Air Force🇧🇪 (@BeAirForce) April 16, 2019
The aircraft tail was painted with a large tiger head on its right hand side and a Top Gun-inspired "31 Tigers" emblem on the left hand side. However, what makes the paint job really cool is that the artwork was made so that both the tail and the ventral fins (with the right showing a "31 Tigers" emblem too) seem to be rust-covered.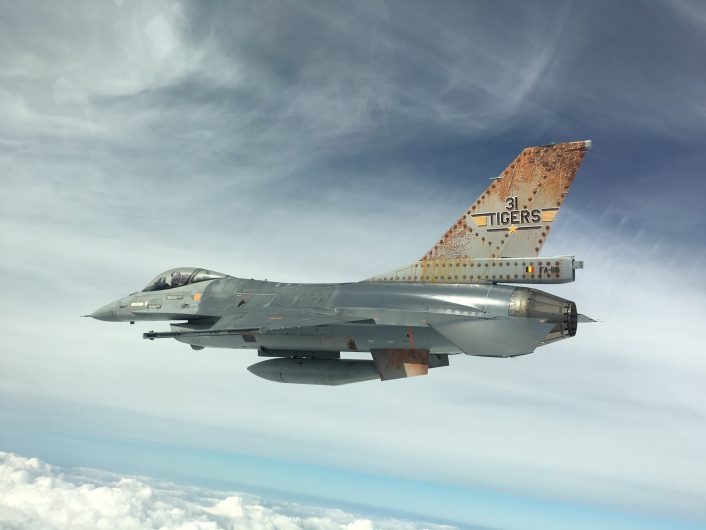 The aircraft made its maiden flight in the new color scheme on the very same day, accompanied by another F-16 that acted as a camera ship. The images that you can find in this post were taken from that Viper.
31 "Tigers"  Squadron is one of the five F-16 Squadrons of the Belgian Air Component. Flying the F-16 MLU, "three one" is a Multirole squadron able to perform a wide array of operational missions. The squadron is part of NATO's High Readiness Forces and "is permanently ready to fulfill these tasks in order to protect Belgian national airspace and territory, to support its NATO allies and to perform Peace Support missions under a United Nations mandate."