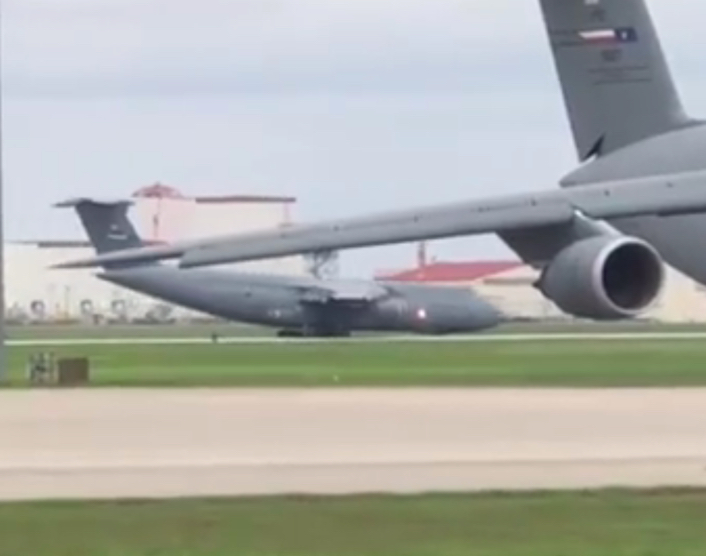 Video shows a C-5 performing a nose gear-up landing at JB San Antonio last March.
As you may remember, on Mar. 15, 2018, an Air Force Reserve Command C-5M performed nose gear up landing at Joint Base San Antonio-Lackland, Texas.
A video of the emergency landing has eventually emerged. It show the Super Galaxy with 11 personnel on board (none of those were injured) landing, keeping the nose up before the gentle touchdown and then skidding three-quarters of the way down the 11,500-foot runway before coming to a stop.
As we reported back then, this was the first incident of this kind for the 433rd Airlift Wing, but the second nose gear up landing for a C-5M lin less than one year (the previous incident occurred at Rota Air Base in Spain in May 2017).
Although this incident was an isolated event, we can't but remember the number of issues affecting the Galaxy's nose landing gear in the last couple of years. This is what we wrote in March:
As a consequence of a second malfunction of a C-5's nose landing gear (occurred on Jul. 15), the U.S. Air Force initially grounded 18 Galaxy cargo planes based at Dover Air Force Base (out of 56 flown by the Air Mobility Command) pending further investigation, on Jul. 18. But, on the very next day, AMC's Gen. Carlton Everhart ordered a fleetwide assessment of the command's 56 C-5s.

During the assessment, maintainers found that the ball-screw drive assembly was causing issues with the extension and retraction of the nose landing gear.

The ball-screw assembly was replaced for all C-5s in the fleet (including the aircraft involved in the latest incident) and the Super Galaxy cargo aircraft slowly returned to service: the grounding was lifted for 5 C-5s at the beginning of August; at the beginning of September 2017, 38 out of 56 aircraft were ready to fly again.  On Sept. 18, the first C-5M to ever land at Princess Juliana Airport in St. Maarten, as part of the Hurricane Irma relief efforts, was the example 86-0020, the same involved in a nose gear up landing at Rota Air Base, on May 23, 2017.
Top image: screesnshot from John Q. Public FB video