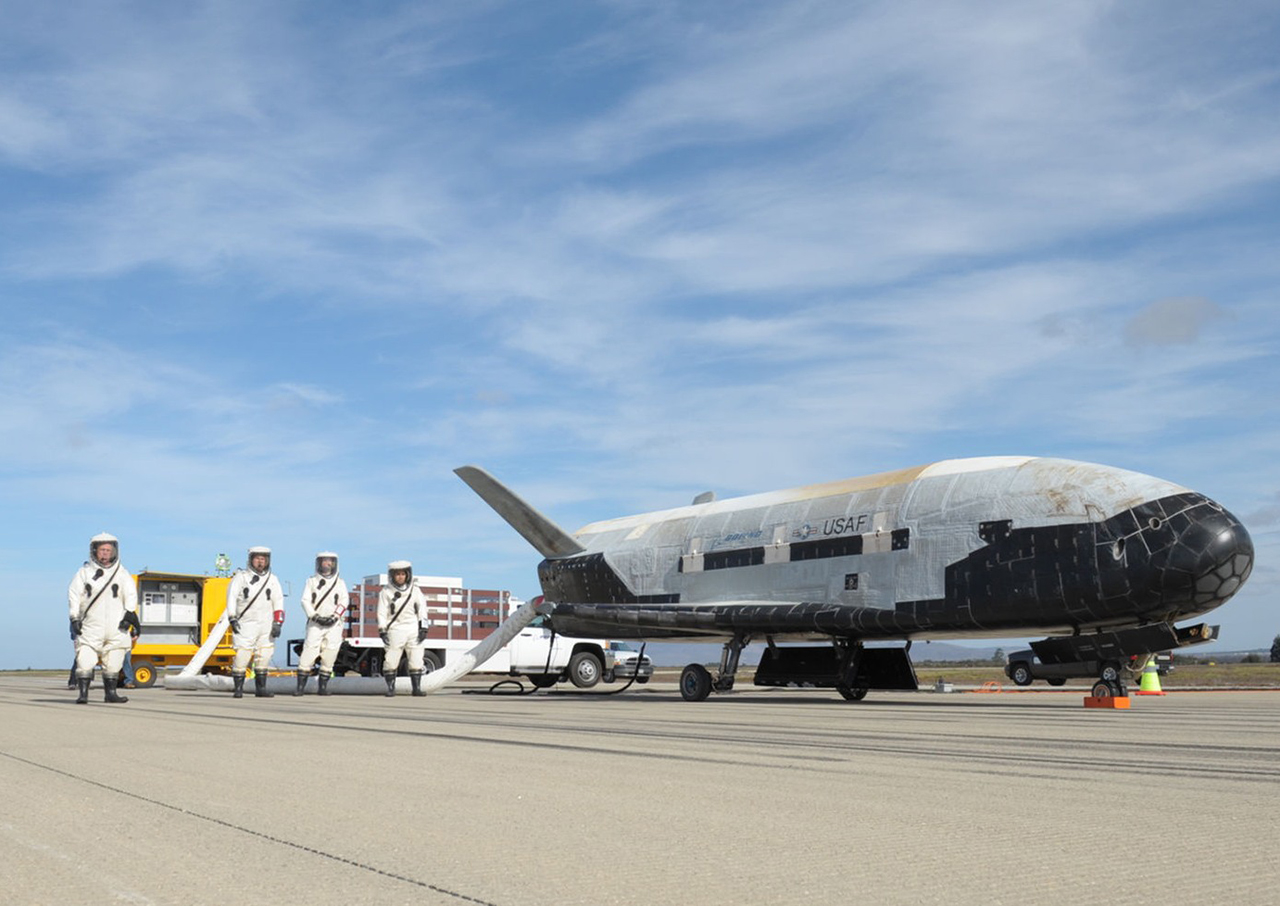 SpaceX launched the Pentagon's mysterious X-37B orbital space drone just before the Hurricane Irma hit Florida.
While people prepared for Hurricane Irma, the 45th Space Wing successfully launched a SpaceX Falcon 9 launch vehicle from Kennedy Space Center's Launch Complex 39A at 10 a.m. on Sept. 7.
The Falcon 9, a two-stage rocket designed by SpaceX for reliable and cost-efficient transport of satellites and SpaceX's Dragon spacecraft, carried into orbit a U.S. Air Force X-37B Orbital Test Vehicle (OTV), marking the fifth space flight for the unmanned orbital vehicle program and its first onboard a Falcon 9.
The X-37B program completed its fourth classified mission on May 7, 2017, landing after 718 days in orbit and extending the total number of days spent in orbit to 2,085.
Approximately eight minutes after the launch, SpaceX successfully landed the Falcon 9 first-stage booster back at Landing Zone 1 on Cape Canaveral Air Force Station.
"I'm incredibly proud of the 45th Space Wing's contributions to the X-37B program," Brig. Gen. Wayne Monteith, 45th Space Wing commander, said in a public release. "This marks the fifth successful launch of the OTV and its first onboard a Falcon 9. A strong relationship with our mission partners, such as the Air Force Rapid Capabilities Office, is vital toward maintaining the Eastern Range as the World's Premiere Gateway to Space."
Whilst the "OTV is designed to demonstrate reusable spacecraft technologies for America's future in space and operate experiments, which can be returned to and examined on Earth," the details of its mission remain classified.
Since its first flight in 2010, several theories about the role of the X-37B have emerged: according to someone, the orbital drone is a space-based weapons platform carrying a weaponized re-entry vehicle that could be released over or near a specific target; others believe the OTV is a space ISR (Intelligence Surveillance Reconnaissance) platform able to carry a wide variety of sensor packages in its internal cargo bay; some analysts believe that the X-37B is *simply* a research platform used to perform tests in space environment.
OTV-5 was launched by Launch Complex 39A (LC-39A) at Kennedy Space Center, a historic pad that has been used to support U.S. space programs since the early 1960s: originally built to support the Apollo program, LC-39A supported the first Saturn V launch (Apollo 4), and many subsequent Apollo missions, including Apollo 11 in July 1969. Beginning in the late 1970s, LC-39A was modified to support space shuttle launches, hosting the first and last shuttle missions to orbit in 1981 and 2011, respectively.
In 2014, SpaceX signed a 20-year lease with NASA for the use of Launch Complex 39A. Extensive modifications to LC-39A have been made to support launches of both the Falcon 9 and Falcon Heavy launch vehicles.
LC-39 along with the rest of KSC facility's buildings built after Hurricane Andrew in 1992 are supposed to withstand winds between 130 and 135 miles per hour.