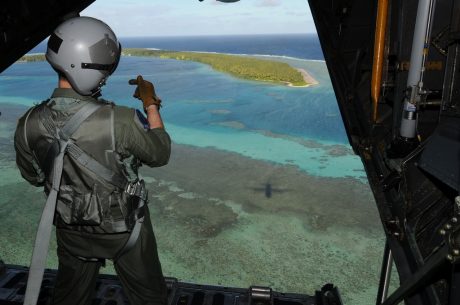 The following video was recorded on Dec. 14, from a C-130 with the  36th Airlift Squadron from Yokota Air Base, Japan, as the cargo plane (departed from Andersen Air Force Base, Guam) delivered humanitarian aid boxes to six locations in the Federated States of Micronesia as part of Operation Christmas Drop 2012.
Noteworthy, wheareas most of the boxes land on sort-of WWII airport's runways, some are air dropped into the water making it a bit difficult to pick up.
Each year Operation Christamas Drop provides aid to more than 30,000 islanders in Chuuk, Palau, Yap, Marshall Islands and Commonwealth of the Northern Mariana Islands.
This year is the 61st anniversary of OCD, making it the longest running humanitarian mission in the world. Started on Dec. 10, in total, there are eight planned days of air drops, with 54 islands scheduled to receive humanitarian aid.
Image credit: U.S. Air Force
Related articles