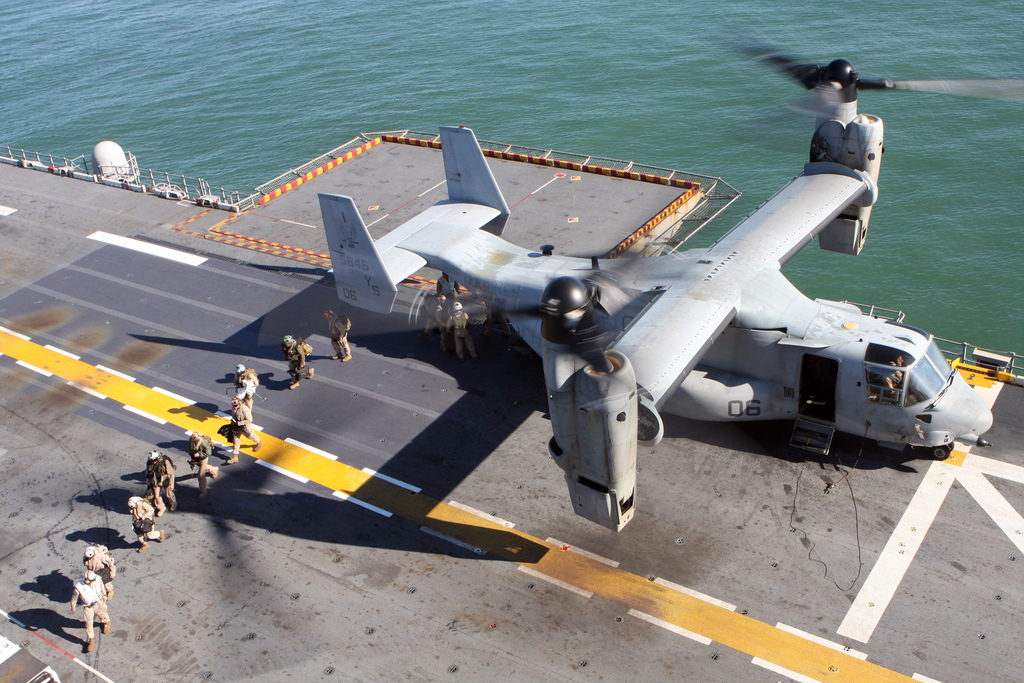 Two marines were killed and two others severely injured in the crash of a USMC MV-22 tilt rotor aircraft in the southern province of Tan Tan, Morocco, on Apr. 11, 2012.
The Osprey, belonging to the Marine Medium Tiltrotor Squadron 261 (VMM-261) based at MCAS New River, NC, was operating from the amphibious assault ship USS Iwo Jima (LHD 7) and taking part to the fifth edition of the African Lion joint exercise.
About 1,200 U.S.  service members are currently in Morocco for African Lion, the largest annual bilateral military exercise on the African continent, a partnership between Marine Forces Africa and the Royal Moroccan Armed Forces, sponsored by U.S. Africa Command with the aim to prepare participants to successfully conduct a mechanized, motorized, helo-born, combined arms assault.
Participating units include 3rd Battalion, 14th Marines, 4th Combat Engineering Battalion, 4th Light Armored Reconnaissance Battalion, 1st Battalion, 24th Marine regiment infantrymen, 4th Combined Anti-Armor Team and 4th Marine Logistics Group, plus multiple sub-units. More than 900 Royal Moroccan soldiers will join U.S. military personnel in the exercise.
Noteworthy, another Osprey had suffered an emergency on Apr. 11, when a VMM-263 MV-22 was compelled to perform a successful emergency landing in a field in Amarillo, because of a mechanical problem.
Image credit: U.S. Marine Corps
Related articles