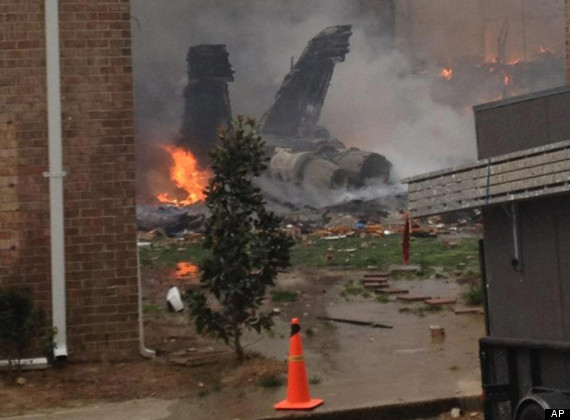 An F-18D Hornet, belonging to the VFA-106 "Gladiators" crashed on Apr. 6, 2012 at around into 12.15 LT into apartments at Fleming Circle, Virginia Beach causing at least 6 injuries and damaging or destroying five buildings. The exact location of the crash should be a complex located here: 36°51'4.37″N 75°59'34.28″W
Both pilots ejected safely, even if one of the pilots was reportedly recovered still in his seat.
Image credit: AP
Image of the crashed VFA-106 Hornet shows right engine nozzle fully open, and left nozzle closed: this could be a sign that, while the right engine was working properly providing max thrust, the left one was not (hence the closed engine nozzle).
Based at Naval Air Station (NAS) Oceana the VFA-106 serves as the East Coast Fleet Replacement Squadron whose mission is to train Navy and Marine Corps F/A-18 Replacement Pilots and Weapon Systems Officers (WSOs) to support fleet commitments.
The Squadron serves also as the U.S. Navy East Tactical Demo team and a soloist F-18C of the team performed at the recent Sun n' Fun.
Image credit: Flickr/Nick_Thomas
According to reports, some loud bangs were heard: this could be a symptom of a compressor stall.
"A compressor stall is a situation of abnormal airflow resulting from a stall of the aerofoils within the compressor. Stall is found in dynamic compressors, particularly axial compressors, as used in jet engines and turbochargers for reciprocating engines. Compressor stalls result in a loss of compressor performance, which can vary in severity from a momentary engine power drop (occurring so quickly it is barely registered on engine instruments) to a complete loss of compression (compressor surge) necessitating a reduction in the fuel flow to the engine" (Wiki).
A particular kind of stall is the so-called compressor surge that is a complete breakdown in compression that occurs when compressor's blades stall (airfoils) just like an airplane wing stalls, because the flow is disrupted or the angle of attack gets too high, forward flow through the compressor can no longer be maintained, air piles up in the rear stages of the compressor without being compressed and a momentary reversal of flow causes a violent expulsion of previously compressed air out (sometimes) through the intakes too. The excess air can cause a loud bang a flames (because of the high temperatures).
Unless blades are damaged because of FOD (Foreign Object Damage) or birdstrike, the compressor will usually recover to normal flow once the engine pressure ratio reduces to a level at which the compressor is capable of sustaining stable airflow. Some engines have automatic recover functions even if pilots experiencing the surge can be compelled to act on the throttle or, in some cases, relight the engine.
On Dec. 9, 2008, a similar accident happened on the West Coast, when another F/A-18D Hornet, belonging to the VMFAT-101, crashed into a residential area of San Diego.