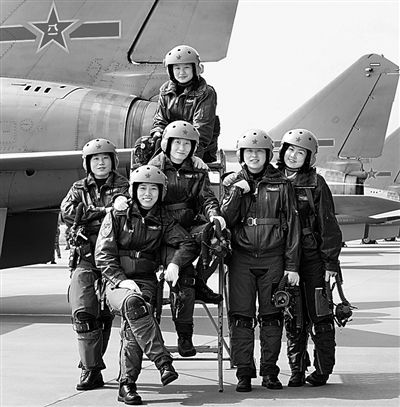 According to a Xinhua News Agency article the first six ""loyal and fearless" female pilots flying with the Xian JH-7 fighter bomber have just finished the training required to perform all-weather air-to-ground missions and are now able to attack and destroy targets located on unfamiliar ground, hidden by fog, using precision munitions.
The female fighter pilots, currently assigned to a PLAAF (People's Liberation Army Air Force) Regiment, were selected from more than 20 million girls graduated from high school in Sept. 2005. After attending the flying school, they were assigned to a front line squadron in Mar. 2011, where they conducted advanced training that included formation flying, low altitude attack, live firing exercises using conventional weapons.
The Xinhua article depicts the female pilots as "skilled" "loyal" and "fearless" and provides also a group shot of the six JH-7 pilots with flight suits and helmets. Wow, not bad for a totalitarian state where the information on women (and women's rights..) is usually hidden or classified as secret.
Image credit: Xinhua News Agency