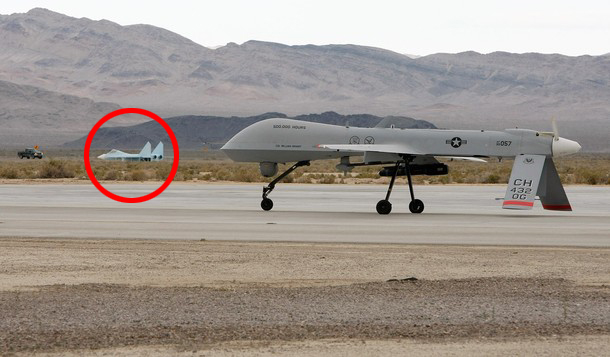 Update, Jan. 11 13.00 GMT
Look at the following image Lazygranch.com has found on Imageshack.us.
Taken by Ethan Miller/Getty Images on Apr. 16, 2009, the photograph depicts an MQ-1B Predator at Creech Air Force Base, in Nevada, taxing with a Sukhoi Su-27 in the background.
Actually, the Russian plane (whose shape seems to be a mix of a Su-27 and a Mig-29 with a Russian Flanker's color scheme) is one of the few mock-ups believed to be used at the former Indian Springs Auxiliary Air Force Base for drone crews' target recognition training.
Such decoys were first spotted inside the airbase in 2002.
Here are the coordinates for at least two of such decoys clearly visible on Google Earth recently released imagery:
36°37'20.54″N 115°39'42.64″W
36°35'46.14″N 115°40'55.84″W
Image credit: Ethan Miller/Getty Images (highlight mine)