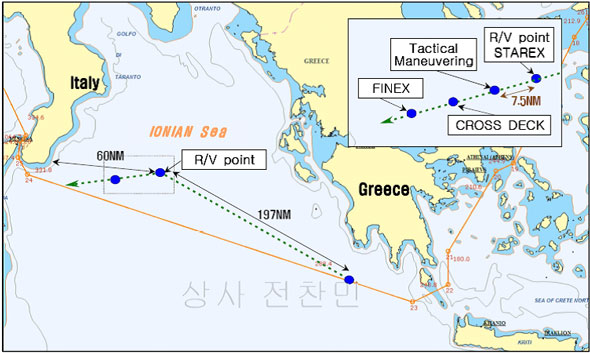 On Oct. 29, two warships of the Republic of Korea Navy or ROK Navy (ROKN) involved in a training campaign in the Indian Ocean and the Mediterranean met with the Italian aircraft carrier Cavour in the Ionian Sea, 60NM from the Italian coasts, in what has been the first Passex (Passage Exercise) between the two navies.
Image source: Marina Militare
The South Korean naval group was made by the Kang Gam Cham, a class Chungmugong Yi Sun-sin destroyer, and by the Cheonji, a Fast Combat Support Ship of the same class.
After a first radio contact on the radio, the ships have performed a series of tactical maneuvers which included take off and landing operations on both vessels by an Italian helicopter.