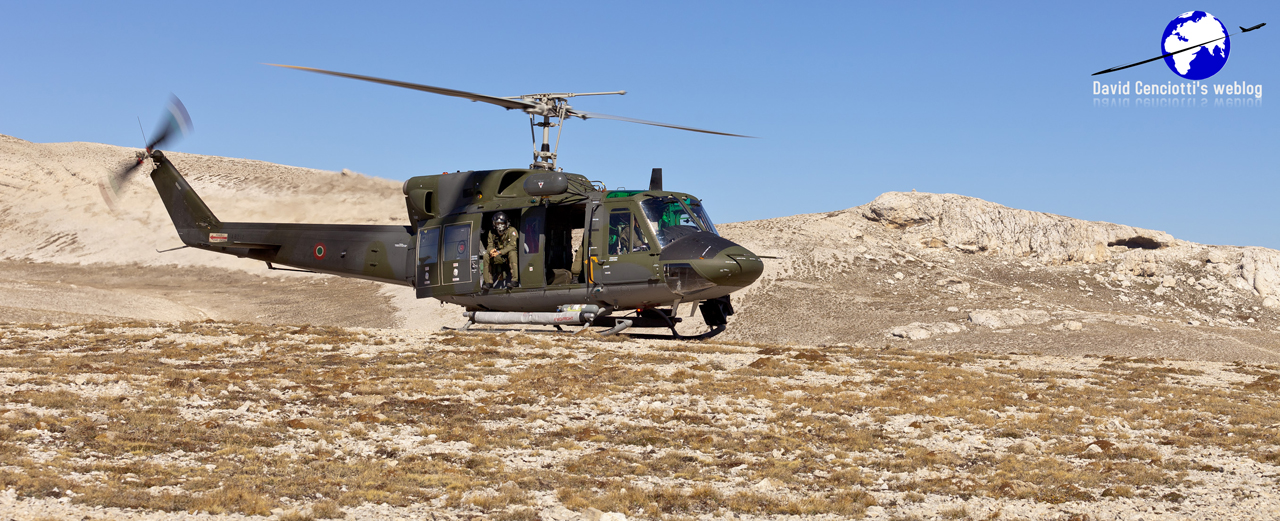 The first Italian aircraft to be deployed in Afghanistan has been a Bell UH-1N Twin Huey helicopter in a version built under license by Agusta and designated AB-212. Both the Aeronautica Militare (Italian Air Force) and the Marina Militare (Italian Navy) have been called to support ISAF (International Security and Assistance Force) multinational force with the AB.212, that can fulfil a wide variety of tasks, from MEDEVAC, to reconnaissance, to personnel transportation, to special forces ops.
The 21° Gruppo of the Italian Air Force has conducted several Tour of Duty in Afghanistan. Since 2005, it is equipped with the AB.212ICO (Implementazione Capacità Operative – Operational Campabilities Implementation) a retrofitted version of the previous AMI-SAR model that was upgraded in anticipation to the deployment to Kabul and surrounding areas, where the high-altitude environment is not suitable with the other CSAR helicopter in ItAF inventory, the old fashioned HH-3F that suffered a tragic incident in 2008. The AB.212ICO is equipped with two manually activated Flares dispensers for self-protection and can carry two MG 42/59 caliber 7.62 mm NATO machine guns on both sides of the fuselage. It wears an armored cockpit and fuselage to protect the 2 pilots and 2 gunners from small arms; noteworthy, the rudder area, vulnerable to bullets shot from the ground because of the observation windows, has been shielded with 3 inches of kevlar.
The new outfit has cost the aircraft half of its original endurance, currently limited to 1 hour and 40 minutes,  and the increased weight, in Afghanistan, at an average height of 7.000 feet AMSL (Above Mean Sea Level), with ground temperature often above 40° Celsius, makes the AB.212 unable to recover a survivor from the ground with the hoist.
To board people, the Twin Huey has to land. A minor problem as the following pictures taken by Capt. Giacomo Andreotti at 9,100 feet, on top a mountain in central Italy, during a routine mission of the 21° Gruppo a proud member of the NATO Tiger Association, based at Grazzanise.
High-altitude can be tricky for rotary wings: first, because of the loss of engine power; second for the loss of rotor lift caused by the thin air. That's why helicopters suitable for high altitudes need plenty of excess power that can be spent to overcome the reduced lift and engine performance.
The AB.212 will be employed until 2014-2015 when it is expected to be replaced with a CSAR version of the AW-101.