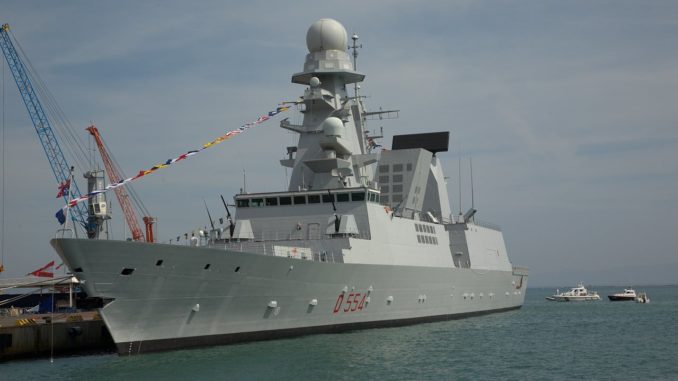 According to the US DoD, the term "Anti-Air Warfare" is used to indicate the action required to destroy or reduce to an acceptable level the enemy air and missile threat. It includes measures such as the use of manned interceptors, bombers, AAA and guns, SAM (Surface-to-Air Missile) and air-to-air missiles and electronic attack needed to destroy the incoming threat or to reduce its effectiveness.
Do you remember the missile that exploded 2 km from the frigate "Bersagliere" 15 miles off Libya, on Aug 3? Or the the four Scud missiles fired in the Sirte area towards Misratah and intercepted before they were due to impact on the city by missiles fired by a USN cruiser operating in the Gulf of Sirte? These episodes show that vessels can be targeted (even by accident) by missiles and that the presence of AAW warships is extremely important in current maritime operations.
The "Caio Duilio" is a brand new Anti-Air Warfare destroyer belonging to the Horizon Common New Generation Frigate (CNGF) programme, which involves cooperation between Italy and France for the construction of two vessels for the fleet of each national Navy. The ship was taken on charge by the Marina Militare (Italian Navy) on Apr. 3, 2009 and is equipped with a Sylver vertical launcher for 48 Aster 15 and 30 missiles, autonomous Command and Control capabilities, LRR S-1850 M long range radar, and PAAMS (Principal Anti Air Missile System) based on Windows 2000 software with an EMPAR multi-function radar. Interestingly, it was designed with straight lines that give the unit some stealth (low observability) capabilities.
The ship is named after Gaius Duilius  a Roman politician and admiral involved in the First Punic War, who lived in the 3rd century BC and gave the Ancient Rome the dominion of the sea.
On Sept. 22, 2011, at Gaeta, the "Caio Duilio" AAW frigate received the battle flag, which marked its official entry into the fleet. The ceremony was attended by the Italian Joint Chief of Staff, Gen. Biagio Abrate; by the Italian Navy Chief of Staff, Adm. Bruno Branciforte; by the Mayor of Rome, Gianni Alemanno; and by the ship commander, Capt. Paolo Pezzutti.
The first ship of the same class, the "Andrea Doria" has been already employed in the enforcement of the maritime embargo in Libya and in anti-piracy operations.
Giovanni Maduli attended the ceremony at Gaeta and boarded once again the "Caio Duilio" AAW destroyer to take the following pictures.