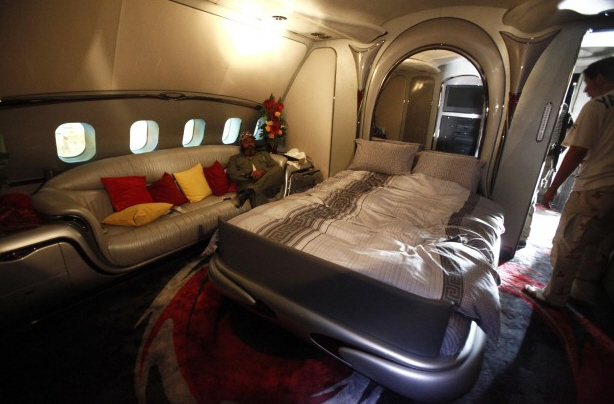 As I've explained in my last Debrief about the war in Libya Operation Unified Protector (was Odyssey Dawn) explained (Day 138 – 161) after fighting hard for Tripoli IAP (International Airport), on Aug 25 rebel forces took possession of one of the most famous Libyan planes: the Afriqiya Airways VVIP Airbus A340-213, MSN 151, registration "5A-ONE", ex HZ-WBT4.
The wide body was Gaddafi's preferred transportation means for both short trips and State Flights. However the plane was not always large enough to carry all his entourage. In Aug. 2010, his official visit to Italy was supported by the Airbus 340 (that arrived at Rome-Ciampino airport) and 3 other aircraft (two of which had to land at Fiumicino)!
As you can see from the above video and images (published today by LaRepubblica.it website), Gaddafi's plane had luxury interiors worthy of an over-the-top billionare. Like Donald Trump.
Trump's jet is a Boeing 757 registered N757AF, an aircraft that could normally accommodate some 200 passengers. The customized version used by the American business man can carry 43 passengers and has been decked out with 24-carat gold-plated accessories (seat belts comprised).
Take a virtual tour of "Trump Force One" and tell me if you prefer the Gaddafi's Airbus 340 space age cabin, or the gold-plated Boeing.
[thanks to @AeroManouch and @Marguer_d for the links ]