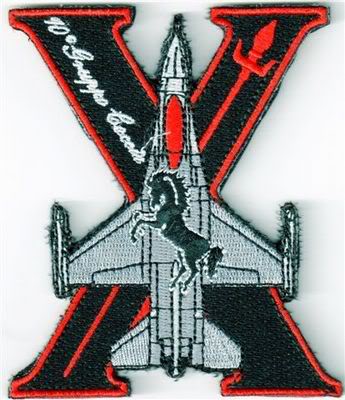 Since a lot of visitors of this website are interested in Italian Air Force Heraldry, I've decided to publish images of the new patches produced by the various operative units of the Aeronautica Militare (Italian Air Force, ItAF) and to provide some information about them.
The following 3 patches, come from Trapani. From left to right: the new "diamond" of the 18° Gr and two new 10° Gruppo patches (cloud and X)
From left: the patch made by the X Gruppo for the Spring Flag 2008, an exercise in which the squadron was part of the Red Air; a patch made within the Cervia based 5° Stormo for passengers of the F-16B; a new F-16ADF roundel
From left: the patch made for the Italian crews of the NATO Airborne Early Warning & Control (NAEW&C) Force; a patch made for the Italian JSF (Joint Strike Fighter); a patch, most probably theatre-made, worn by crews operating in Afghanistan (I've seen that patch worn by the AB.212ICO pilots of the 21° Gruppo, even if it could be used also by others).