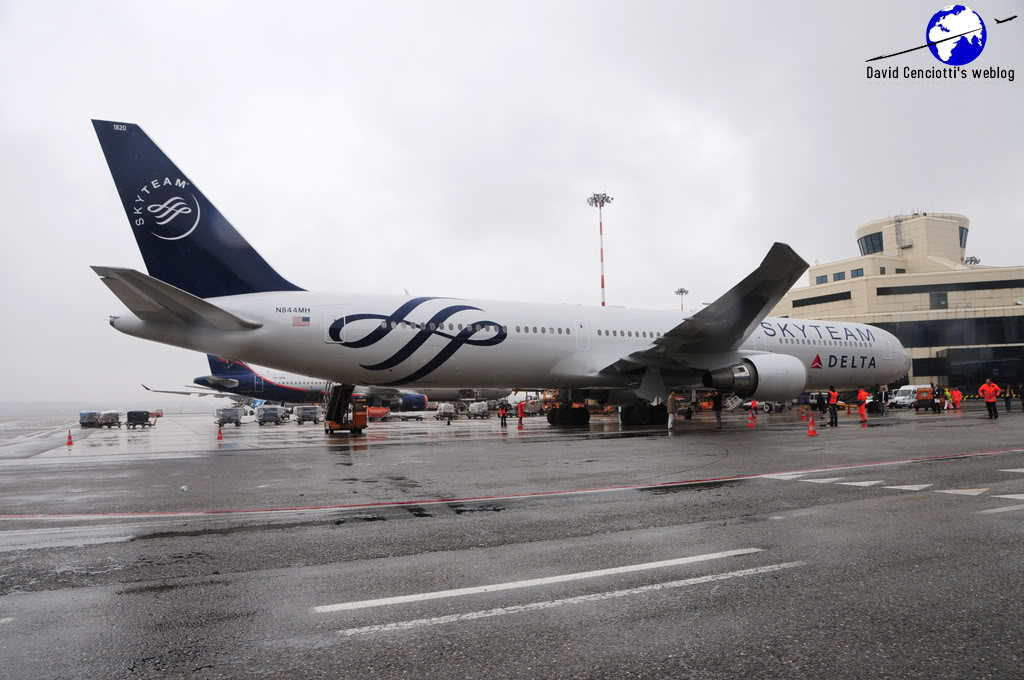 On Apr. 1, flight Delta DL74, a B764ER with registration N844MH, from Atlanta to Milano Malpensa was the first commercial flight of a plane sporting the new Sky Team livery. The livery, designed by Brandimage-Desgrippes & Laga was inspired to the alliance logo and is made by a silver fuselage with a dark blue tail with the SkyTeam logo in white. Between the wing and the tail there's large dark blue "lace" slighlty angled (goes from top to bottom). In the forward part of the fuselage, between the cockpit and the leading edge of the wings, above the row of windows there's a large "SKYTEAM" text in blue; below the windows there's the red Delta logo and "DELTA" text in dark blue.
Delta was the first company to wear the new livery but all the SkyTeam fleet will introduce an aircraft with the new livery before the end of 2009. Nine aircraft will get the new livery with the following timeline:
Delta B767-400 Mar. 2009
Aeroméxico B767-200 May 2009
Alitalia B767-300 Apr. 2009
Czech Airlines ATR42 Apr. 2009
Air France B777-300 Jun. 2009
China Southern B777-200ER Jun. 2009
KLM B777-300 Aug. 2009
Aeroflot A330-200 Nov. 2009
Korean Air A330 Oct. 2009
It takes 10 days, on average, to customize the aircraft with the new livery. Each aircraft gets 3 layers of paint: base, color and finish. The B767-400 required 265 lt. of paint (of which, 151.5 silver colour for the fuselage, 75.5 lt. of grey for the wings and 7.85 lt. of dark blue colour paint for the lace and SkyTeam logo). The aircraft made its debut on the day the alliance, at the end of the Steering Commitee, announced a new centralized management organization (based in Amsterdam and responsible for marketing activities, sales, relationships, cargo, advertising, branding finance, corporate communication), a new product, "SkyTeam Italy Pass" (that enables passengers flying to Italy with intercontinental round-trip tickets to have advantageous fares on Alitalia and AirOne domestic routes) and an update about the London Heathrow Terminal 4 project (with the expected dedicated lounge and renewal of the check-in area).
Picture courtesy of Ketchum Italy