In this page you can find some of the most interesting panoramic pictures I created using the techniques explained heret: https://theaviationist.com/2007/07/27/panoramic-photography-part-4/. This page will be often updated, as I have many panoramic pictures ready to be uploaded and others will be in the future as soon as I take new images during base visits, exercises, airshows, flights, etc., so I suggest you to bookmark it and visit it frequently.
If you are interested in buying a high resolution version or a print of one of them (up to some meters wide), send me an email.
Civitavecchia harbour November 2008 The Italian aircraft carrier Cavour


Indian Ocean 19.10.09 Two pictures of the flight deck of the USS Nimitz nuclear supercarrier



Frosinone 07.04.09 Two AH-64 Apache of the KLU deployed to Frosinone for mountain training


Vigna di Valle 15.02.09 Inside the Italian Air Force Museum


Grazzanise 17.12.03 Grazzanise boneyard at the end of Year 2003


Axalp 12.10.06 A Swiss F-5 Tiger overflies the control tower during the morning firing activity in the Axalp range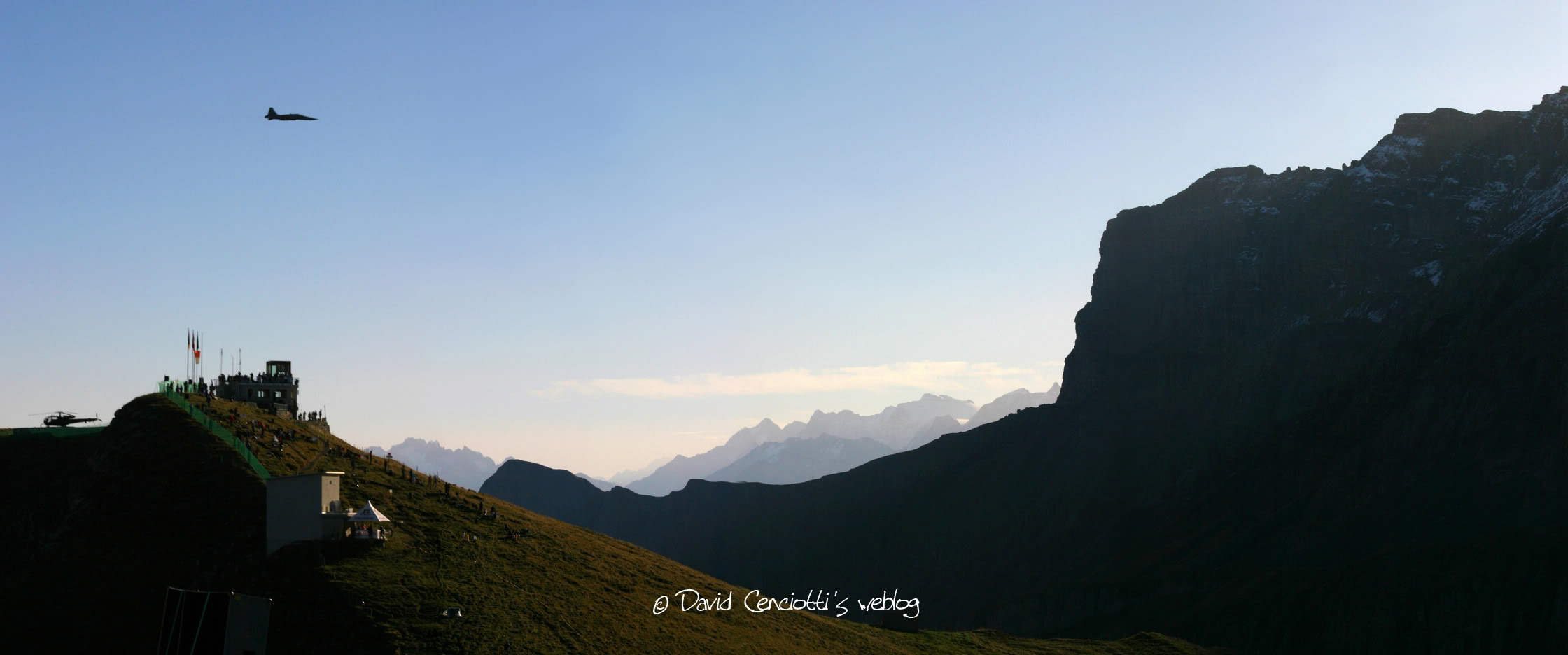 Axalp 12.10.06 Axalp range with the targets on the mountains behind the control tower


Rome 07.08.07 Bentivoglio scrapyard with plenty of retired aircraft


Grazzanise 07.10.04 TuAF F-16s parked on the 10th Gruppo apron during Ex. Destined Glory 04

Grazzanise 07.10.04 HAF Phantoms in the 609th Squadriglia Collegamenti apron during Ex. Destined Glory 04


Grazzanise 07.12.04 37St F-16s parked in the 609 Sq. apron at Grazzanise


Grosseto 19.08.04 The last F-104s of the 9th Gruppo on alert during one of the last QRA shifts


Los Angeles International 04.06.07 Many wide bodies at the LAX Terminal


Pratica di Mare 29.05.04 9 F-104s prepare for take off during Starfighter farewell


Pratica di Mare 29.05.04 F-104s line-up during on the taxyway during Starfighter reunion


Pratica di Mare 29.05.04 An F-104 of the 9th Stormo attends the Starfighter reunion


Pisa 13.10.07 G.222 and C-119 during a tactical airlift event


Rome 09.10.07 The Red Bull Flugtag location


Grazzanise 07.04.04 The famous 9-99 rests in front of a shelter in the 10th Gruppo area of the Grazzanise airport. Two AMX of the 32nd Stormo are visible on the background


Grosseto 19.08.04 Close up of the cockpit of the last TF-104G-M Special Colour of the 20th Gruppo. This is my very first "panoramic close up" picture of an aircraft.


Vigna di Valle 16.09.07 360° view of the Italian Air Force Museum on the Bracciano Lake


Grazzanise 17.12.03 Grazzanise boneyard at the end of Year 2003


Furbara 17.05.05 3 HH-3Fs of the 15th Stormo operating from Furbara airfield during Ex. Joint Raid 05


Gioia del Colle 22.09.04 One of the last Tornado ADVs of the 12th Gruppo getting out of the shelter before departing for a training mission with the Squadron's MB-339CDs


Grazzanise 04.03.04 SF-260 of the 70th Stormo, deployed to Grazzanise lined-up in the 609th Squadriglia Collegamenti apron next to the Squadriglia's AB.212AM


Grazzanise 04.03.04 A lone TF-104G of the 20th Gruppo, temporary operating from Grazzanise, sitting in the 10th Gruppo ramp


Grazzanise 07.04.04 Two AMX from Amendola, deploying to Grazzanise for firing activities inside Sardinia ranges


Pratica di Mare 27.04.04 At the end of a training mission "Agip 25" sits in the 14th Stormo apron next to a G.222RM