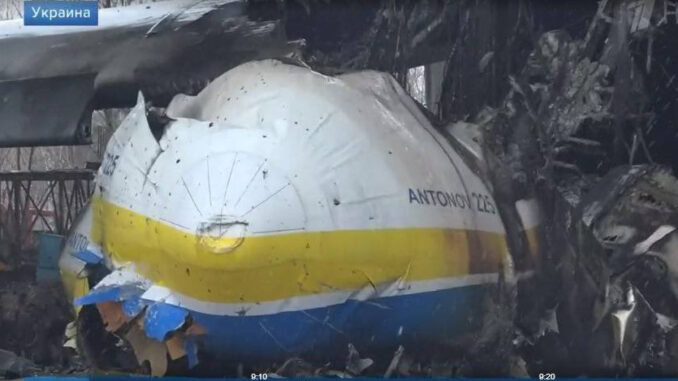 If you needed more evidence that the world's largest cargo plane was almost completely destroyed, here it is.
Yesterday we posted an article with a video, filmed last week, on Feb. 25 or 26, at Hostomel (or Gostomel) airport, near Kyiv, that provided a glimpse at the hangar of the only An-225 Mriya, the world's heaviest aircraft. The footage left little space to hope: although not in HD, the footage was clear enough to show that the nose section of the iconic cargo aircraft had been destroyed.
Although the official the statements of the Ukrainian Government and the subsequent footage emerging from Antonov Airport, backed by satellite imagery proving that the roof of the Mriya hangar had been struck, were more than enough to affirm that the An-225 had been at least heavily damaged or partly destroyed, someone still believed (or dreamed) that the giant 6-engine aircraft might have survived.
A Russian state TV visited the airport and their images, showing also the inside of the hangar, eventually provide the final proof that the An-225 has been almost completely destroyed: as we assessed yesterday, at least the front section of the aircraft has gone.
Russian State TV report from Gostomel Airport in Kyiv. Sadly An-225 completely destroyed. pic.twitter.com/9kN04Gkz91

— Aldin 🇧🇦 (@aldin_ww) March 4, 2022
The rest of the fuselage, the left wing and possibly the tail appears to be intact to some extent, at least from distance, although we don't have a clear view of those parts that were possibly damaged as well by shrapnels, fire etc.
The remains of Antonov An-225 Mriya, destroyed on February 24th at Hostomel airport (photos + info via @DAlperovitch). @JacdecNew @AviationSafety @airlivenet pic.twitter.com/rj58zfbzbF

— Aeronews (@AeronewsGlobal) March 4, 2022
As you already know since we have talked about the An-225 in several previous articles, the Mriya (NATO reporting name: Cossack) was designed at the end of Cold War and its purpose was to carry the Soviet "Buran" space shuttle and parts of the "Energia" rocket on its back. It operated as the primary method of transporting the Buran-class orbiters from 1988 to 1991. After remaining unused for some years, it was put back in service by Antonov Airlines, a Ukrainian cargo airline, a division of the Antonov aviation company, operating international charter services in the oversized-cargo market with a fleet that included also An-124 Ruslan cargos.
The aircraft held multiple records which included being the heaviest aircraft ever built, the largest wingspan of any aircraft in operational service and the largest cargo in operational service.