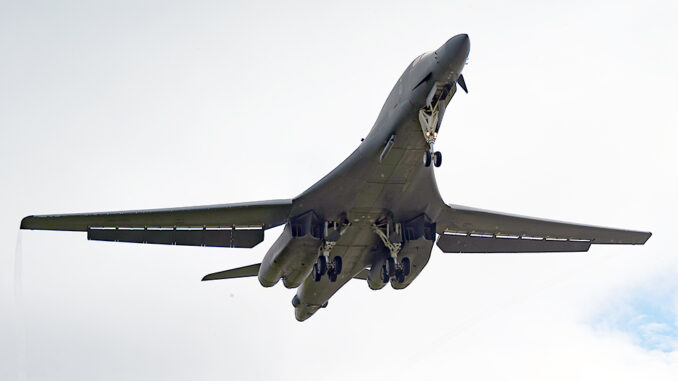 As expected, the B-1 Lancers deployed to the UK have started to carry out missions across Europe.
On Oct. 11, 2021, two B-1B bombers, deployed to RAF Fairford in support of U.S. European Command's Bomber Task Force 22-1 mission series, carried out a mission during which they trained with Allied Joint Terminal Attack Controllers over Lithuania ahead of their hot pit refueling at Spangdahlem Air Base, Germany.
Two B-1s leaving #RAFFairford early this morning a spectacular sight 🔥 and sound. These are some stills from the video which will follow later today👍 #B1s #Flames pic.twitter.com/8V39Cl452z

— Saint1 (@Saint1Mil) October 11, 2021
The two aircraft, 86-0110/DY and 86-0140/DY "345 BS", belonging to the 9th Expeditionary Bomb Squadron of the 7th Bomb Wing from Dyess AFB, Texas, integrated with coalition JTACs from Lithuania and Air Force Special Operation Command's 352nd Special Operations Wing at RAF Mildenhall that marked the simulated ground targets to the bomber aircrews. According to the U.S. Air Forces in Europe – Air Forces Africa, "the mission focused on enhancing readiness and interoperability for the controllers responsible for coordinating airstrikes to support ground forces."
After operating in the Baltic region, the B-1s headed to Spangdahlem, Germany, home of the 52nd Fighter Wing, where the Lancers landed for the very first time.
Spangdahlem's personnel executed a hot-pit refueling: the hot pits are routinely conducted as they allow aircraft to rapidly refuel without powering down their engines, which increases operational readiness and reduces the amount of time needed to get the aircraft back into action. In this case, the 52nd FW airmen employed the new Versatile Integrating Partner Equipment Refueling (VIPER) kit. The VIPER kit system, an Agile Combat Employment capability, functions as a universal fuel adaptor: it enables the bombers' ability to land and operate from austere airfields at any forward staging location.
Along with the B-1's first landing at Spangdahlem AB in Germany, the use of the VIPER kit, a top-five finalist in the AFWERX Spark Tank that received $1.2 million in funding to complete the project in February this year, marked the first time the refueling system was used outside of F-16 Fighting Falcons in the U.S. Air Forces in Europe – Air Forces Africa theatre.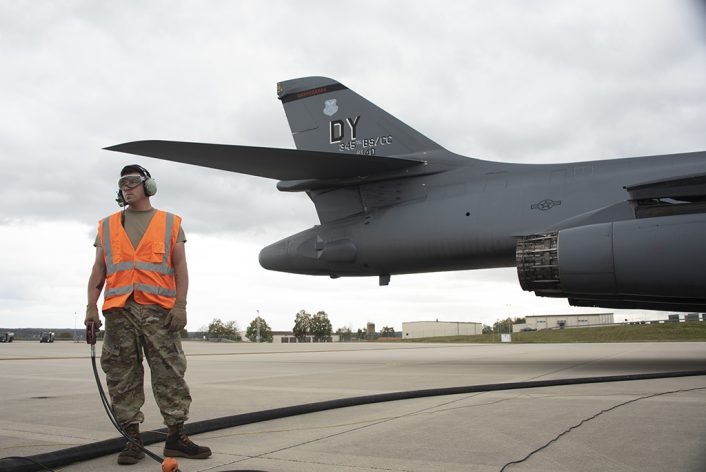 After the hot-pit refueling, the two BONEs departed again to RAF Fairford.
"BTF rotations allow our coalition to closely integrate and employ new and advanced tactics across two continents," said Gen. Jeff Harrigian, USAFE-AFAFRICA commander. "Our joint and multinational forces must be ready to respond to any threat in order to maintain the global security environment."