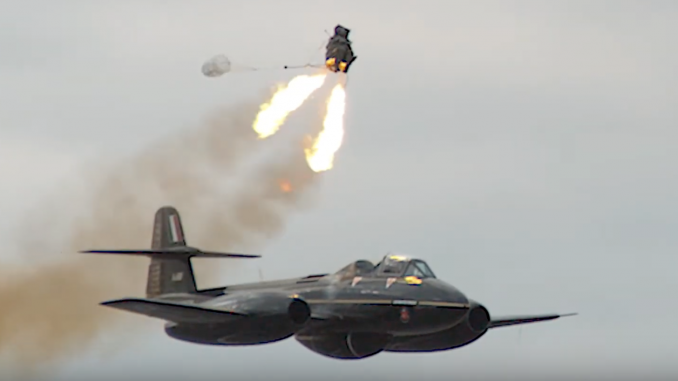 Interesing video shows the Mk14 ejection seat, more commonly known as SJU17A and NACES (Navy Aircrew Common Ejection Seat), in service in the F/A-18 and T-45 Goshawk, at work.
Martin-Baker is a very well known brand in the world of aviation. Established by Sir James Martin as Martin Aircraft Works in 1929, and initially manufacturing aircraft, the UK company changed to Martin-Baker Aircraft Company Ltd. at which point ejection seats became Sir James' focus, with the first ejection seat tests occurring in 1946 and the first life saved in 1949.
Throughout the years, Martin-Baker (MB) has become "the world leader in the design and manufacture of ejection and crashworthy seats".
Currently, over 17,000 seats are in service with 54 different aircraft types in 84 countries. The company products have saved 7,632 lives to date. To keep such high standards, MB continuously test its ejection seats.
The interesting video below shows a NACES ejection test out of the Martin-Baker Meteor test aircraft at Chalgrove Airfield in Oxfordshire, UK. Designated Mk14, but more commonly known as SJU17A and NACES, this ejection seat is in service in the F/A-18 and T-45 Goshawk. NACES contract with the U.S. Navy dates back to May 1985. Back then, the company started developing a high-performance, high-technology ejection seat which would integrate with several aircraft types, thus providing a significant commonality benefit for the customer.
The first production standard Mk14 flew in an F-14D Tomcat in February 1990. Since then, deliveries have continued at regular rate, for both Legacy and Super Hornets. There are currently 2,200 Mk14 ejection seats in service today with the U.S. Navy as well as the Finnish, Kuwaiti, Royal Malaysian and Swiss Air Force.
As with any other sensor or weapon system, ejection seats are continuously improved, to increase their capability to save the aircrew lives. Such tests are no longer carried out with humans.
According to the company website, back in the 1940s and 1950s, Martin-Baker used live volunteer test pilots for both zero-zero ejection tests as well as live ejection tests out of a flying aircraft (our famous Gloster Meteor test aircraft). Benny Lynch carried out 31 live ejection tests, of which 17 were out of a moving aircraft.
Nowadays, all tests (including those at the High Speed Test Track aerospace ground test facility) are carried out with full-scale hi-tech mannequins, dubbed ATDs (Anthropomorphic Test Devices) that simulate the dimensions, weight proportions and articulation of the human body, and embed sensors that record data about the dynamic behavior of the ATD in simulated ejections. The collected data is then analysed and complemented with high-speed imagery and footage  so that scientists can assess the outcome of the test.