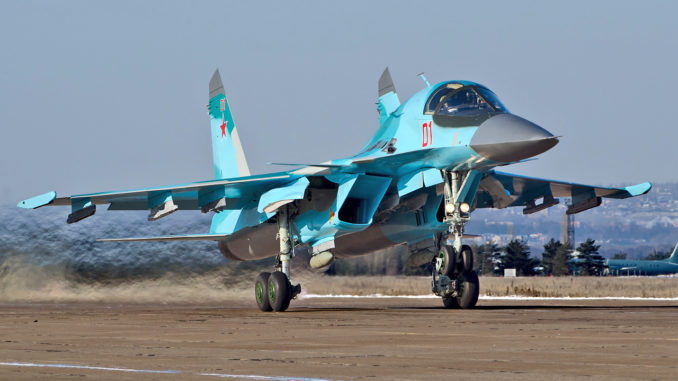 Conflicting Reports Suggest One Aircraft Landed, One Crewman Rescued at Sea. Other Reports Suggest Both Aircraft Lost: Story Developing.
Russian news agencies are reporting the midair collision of two Sukhoi Su-34 (NATO codename "Fullback") aircraft approximately 35 miles off the Russian Coast in the Sea of Japan.
According to some reports one of the two aircraft involved in the collision recovered to a Russian airfield successfully on a single engine following the reported midair collision. TheMoscowTimes.com says that crewmembers of one of the aircraft have been rescued from the Sea of Japan.
According to reports on the Russian news agency TASS.com, "The Russian Defense Ministry reported that the incident occurred at 08:07 Moscow time when the two planes performing a planned training flight over the Sea of Japan 35 kilometers off the coast 'touched each other in the air.' The ministry added that they carried no weapons."
Sputnik News reports that "Both crews (of two pilots each) ejected, but only one pilot has been rescued so far, while the first body was found earlier in the day floating in an individual life-support raft."
The Russian Sukhoi Su-34 is a two-seat, twin-engine, all-weather strike aircraft. It has a successful safety and combat record with extensive service over Syria. Its unusual side-by-side crew arrangement is one of several differentiating features from U.S. and NATO two-seat strike aircraft like the F-15E Strike Eagle and the soon to be retired British Tornado.
An Interfax report went on to say the Russian Defense Ministry released a statement saying they believe "pilot error" is to blame for the crash. The statement from the Defense Ministry contrasts with western media norms for statements following military aviation accidents that normally refrain from citing a specific cause pending the outcome of an official investigation.
Several Russian media sources are also reporting that the entire fleet of Sukhoi Su-34 aircraft have been "grounded" following the accident. Russia operates approximately 127 of the Sukhoi Su-34 aircraft. The reported grounding of the aircraft contrasts with the official news release of the accident being caused by pilot error.
Grounding an entire aircraft type following an accident is usually done when a technical problem with that aircraft type may have been a suspected factor in the accident. It is unusual both for any government to make such a quick statement attributing a cause to the accident and to ground an entire aircraft type if the suspected accident cause was "pilot error". Because of its capabilities and the number of aircraft in Russian service, the Su-34 is a critical type in modern Russian strike capability.
Weather reconnaissance satellites over the region report strong west-northwest winds in very choppy seas. Waves are running west-northwest at 5-feet in 6-second intervals from winds between 19 and 27 knots (21-31 mph). Water temperatures are reported at 52-59° Fahrenheit.