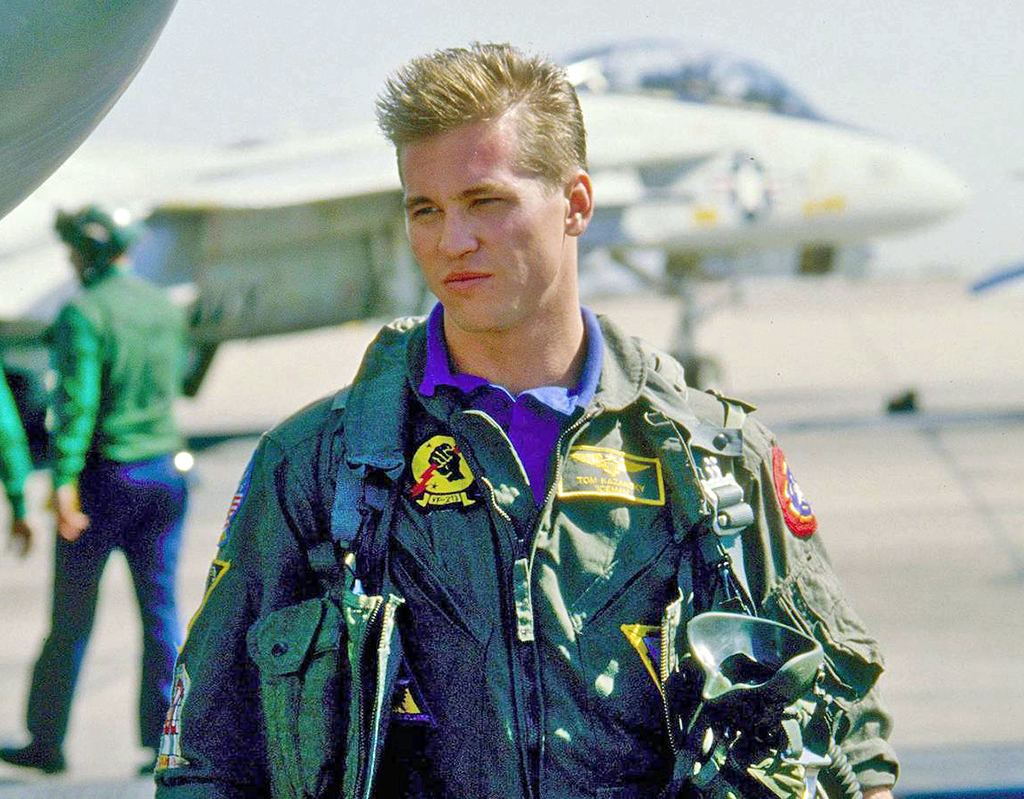 Studio Leaks Say Kilmer Will Join Tom Cruise in Anticipated Sequel Titled "Top Gun: Maverick"
Every Hollywood entertainment news outlet lit up on Wednesday night with the news that actor Val Kilmer would return in the highly-anticipated sequel film "Top Gun: Maverick". Kilmer played U.S. Navy Lt. Tom "Iceman" Kazansky in the original 1986 "Top Gun" film and will return in the same role.
The return of Val Kilmer as Iceman in the new film follows a two-year battle with throat cancer for the actor. Kilmer is also known for his role as Simon Templar in the 1997 film "The Saint" and for his role as Chris Shiherlis in the cult classic 1995 bank robbery film "Heat", directed by Michael Mann. Val Kilmer was also widely recognized for a standout performance as singer and front-man Jim Morrison in the 1991 film "The Doors".
Kilmer leaked his presence in "Top Gun: Maverick" with a post on his FB page, that appeared shortly after Tom Cruise published the first image of the sequel on Twitter on May 30, 2018. But Kilmer's post remained online for just a few hours before it was cancelled (for unknown reasons).
According to Hollywood insiders the new film may focus on the emergence of remotely piloted aircraft (RPAs) like the Navy's X-47B and MQ-4C Triton and the end of the dogfighting era even though Tom Cruise responded "there gonna be jets" when asked about drones in a recent interview . And, as reported, the very first image about the new movie seems to suggest a major role for the USN F/A-18F Super Hornet.
Original "Top Gun" director Tony Scott told reporter Gregory Ellwood of HitFix in an October 2010 interview that, "This world fascinated me, because it's so different from what it was originally. But I don't want to do a remake. I don't want to do a reinvention. I want to do a new movie." Director Tony Scott committed suicide in August 2012. The new film will be directed by Joseph Kosinski. Kosinski is a relative newcomer as a director with three major films to his credit, "Tron: Legacy" from 2010, "Oblivion" from 2013 and "Only the Brave" from 2017.
In contrast to the late director Tony Scott's 2010 remarks about the direction of any new sequel to the original film, lead actor Tom Cruise, Lt. (now Capt. based on the image published on Day 1 of production work) Pete "Maverick" Mitchell in the movies, told Hollywood media that, "Aviators are back, the need for speed. We're going to have big, fast machines. It's going to be a competition film, like the first one…but a progression for Maverick."
Lead actor Tom Cruise is a pilot himself, having earned a private pilot rating in 1994 and a commercial license in 1998 according to FAA records. He recently flew a helicopter (and performed a HALO jump from a UAE AF C-17) in the upcoming sequel film "Mission Impossible: Fallout" slated for U.S. release on July 27, 2018 in U.S. theatres. Cruise also clung to outside of an Airbus A400M Atlas in the 2015 film, "Mission Impossible: Rogue Nation". In the 2017 film "American Made" about real-life drug running CIA pilot Barry Seal, Tom Cruise actually was piloting an aircraft in all of the scenes that show him as pilot according to a 2017 article by Julia Bianco on looper.com. The film's production was marred by a fatal crash during production that Cruise was not involved in.
The "Top Gun" sequel likely can't come soon enough for U.S. military pilot recruiting. The frequently reported pilot shortage in all branches of the military continues to strain existing air crews. Author David Robb wrote in his 2004 book, Operation Hollywood: How the Pentagon Shapes and Censors the Movies, that "After the film's release, the US Navy stated that the number of young men who joined wanting to be Naval Aviators went up by 500 percent."
Production for "Top Gun: Maverick" began on May 30, 2018 at NAS North Island near San Diego, California. The release date for the film, being distributed by Paramount Pictures, has been projected as July 19, 2019.
Top image: Actor Val Kilmer will return in "Top Gun: Maverick" along with Tom Cruise. (Photo: Paramount)