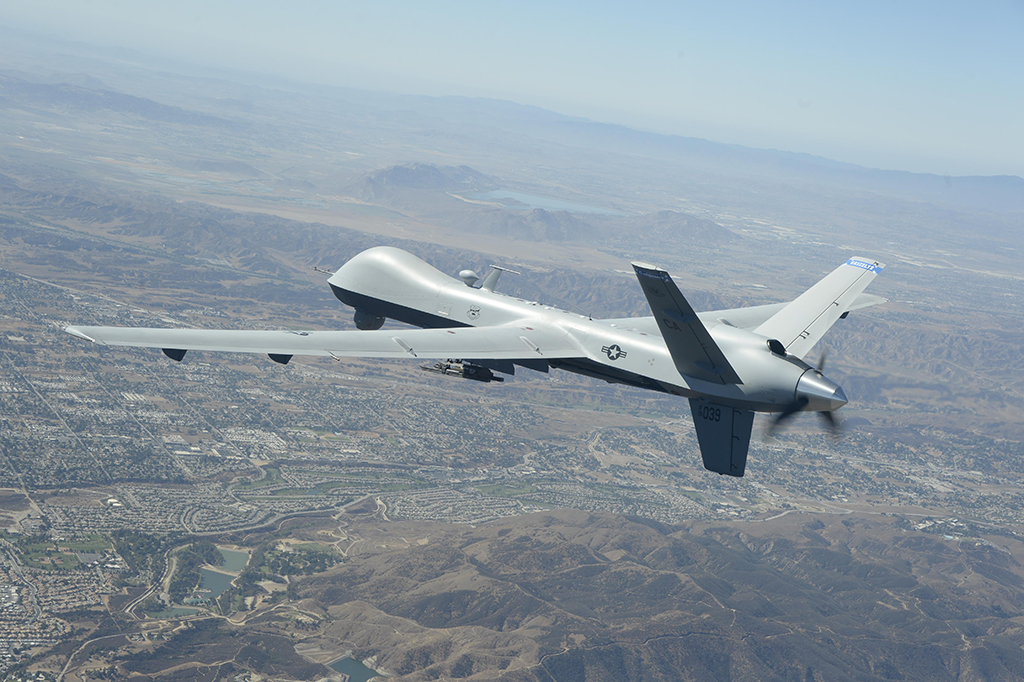 All Available Airborne Fire Fighting Assets Pressed into Service, Fires Continue.
A massive combined military and contract air operation has been flying over the U.S. state of California this week in attempts to contain and put out wildfires raging across the entire state. Earlier in the week, U.S. President Donald Trump's declared the California wildfires as an official Federal Emergency Management Act (FEMA) National Disaster.
Military and contract fixed wing aircraft and helicopters have been launching a constant stream of fire-retardant strikes since the fires began over a week ago. A massive air armada has also been conducting rescues, inserting firefighters into remote areas and conducting fire surveillance since the fires began. This is likely the greatest combined military and contract air fire suppression operation in history, and one of the first to employ military remotely piloted vehicles (RPVs).
California Governor Jerry Brown told media in a press conference earlier this week that, "We have had big fires in the past. This is one of the biggest, most serious, and it's not over."
In all, Governor Brown's office reported that 22 major fires are still burning across the state, an increase over the 17 fires earlier this week. As of late Friday, October 19, some of the fires have finally been declared as "contained", but not extinguished. The death toll has climbed to 42 people with many more still missing. Over 3,500 homes have been destroyed by the fires, but many more people have been displaced due to preemptive evacuations.
The State of California reports that a massive military and private air force of 73 helicopters and at least 30 fixed-wing aerial tankers are fighting the fires, conducting rescues and performing reconnaissance of the affected areas. The Governor's office also mentioned that two MQ-9 Reaper drones are performing the reconnaissance role over fire areas.
Global SuperTanker Service President and CEO Jim Wheeler told CBS News correspondent Mark Strassmann during an interview in July that, "We can drop a line of retardant about three kilometers long or, if you will, about a mile-and-a-half."
The California Air National Guard's 163rd Attack Wing from March Joint Air Reserve Base, that operates the MQ-9 Reaper remotely piloted aircraft (RPA), is flying active sorties in support of the firefighting effort. The operation of the MQ-9s over this U.S. air space required special authorization from the FAA. Two MQ-9 Reapers have been rotating continuous 12-hour sorties over critical fire areas, aiding in the direction of firefighters on the ground and with aerial fire suppression strikes.
Commander of the 163rd Attack Wing, Air Force Maj. Jason Flowers, told reporters, "Firefighters want to know the perimeter of the fire so they could compare how it's spread since the last time they checked and where it spreading." The fire reconnaissance missions also make use of the MQ-9 Reapers' Synthetic Aperture Radar, an aerial sensor never before used in firefighting efforts in the U.S. Major Flowers went on to suggest that fighting the fires at home with the MQ-9s will help the wing fight future wars abroad, by increasing operators' expertise at employing these sensors effectively.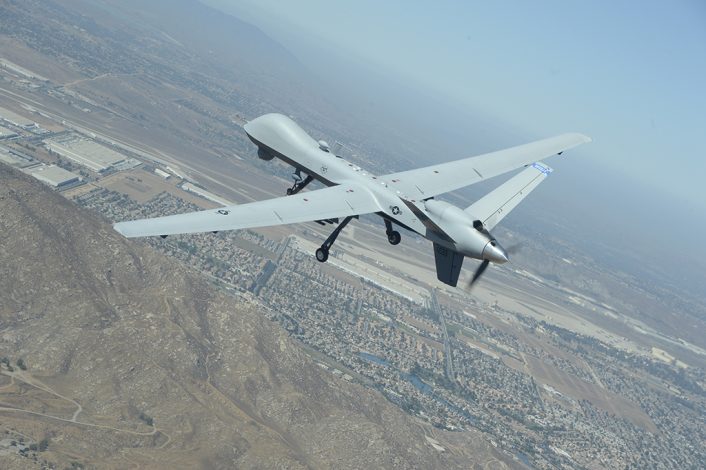 More than 700 members of the California National Guard have been deployed in the firefighting mission with an additional 1,800 soldiers tasked with the mission on Wednesday. These units include the state's 49th Military Police Brigade, California's only Army National Guard military police brigade based in Fairfield, California. Even prisoners have been pressed into firefighting service.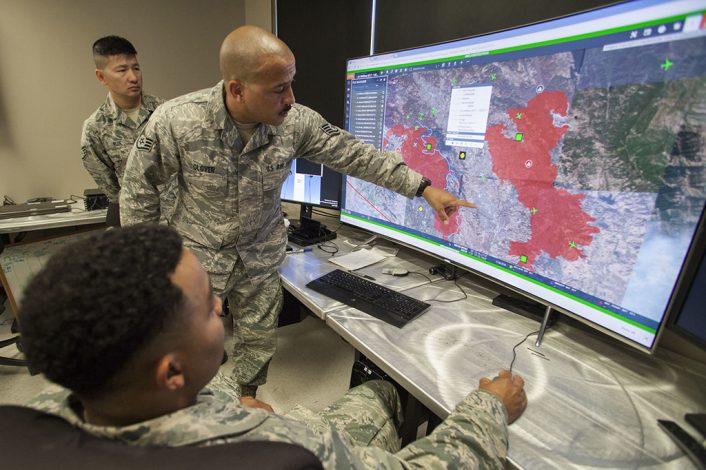 The aerial firefighting mission is extremely dangerous due to dense smoke, powerful, rapidly shifting winds from rising heat, debris being floated into the air by the flames and the extreme low altitude that firefighting aircraft must fly over rolling terrain to accurately deliver their large payloads of fire-retardant. Additionally, the handling characteristics of the tanker aircraft change dramatically as they drop the heavy liquid fire-retardant.
Among the 30 fixed-wing aircraft fighting the fires are modified DC-10s, S-2 Trackers, P-3s and the largest-ever aerial firefighting aircraft, the Global Supertanker Services Boeing 747-446, N744ST. The enormous 747 firefighter was at McClellan AFB near Sacramento, California early in September on deployment from its home in Colorado Springs, Colorado. During the aircraft's first operational mission in the U.S. at the beginning of September it made two massive drops of 8,500 gallons each of fire-retardant on the leading edge of wildfires.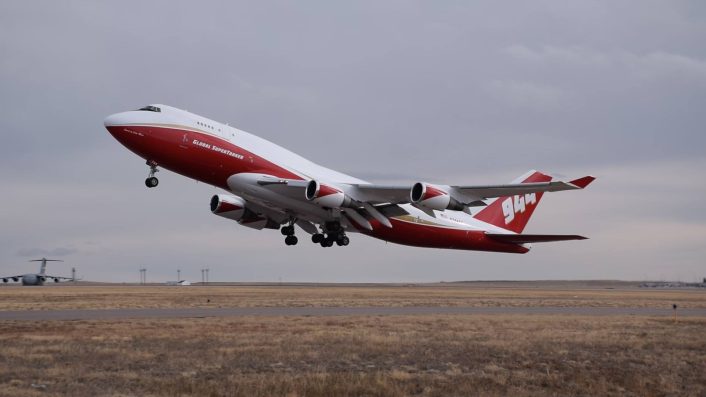 As firefighting efforts continue on Thursday, October 19, the fires have been contained in several locations. Weather forecasts for Northern California are for cooler, more humid conditions and will likely assist in firefighting efforts going into the weekend as the combined air operations continue. No official announcements have been made about when they may be brought under control.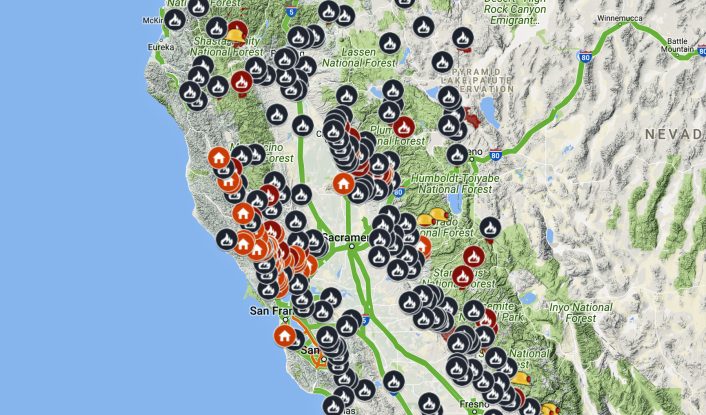 Top oimage credit: Global Supertanker