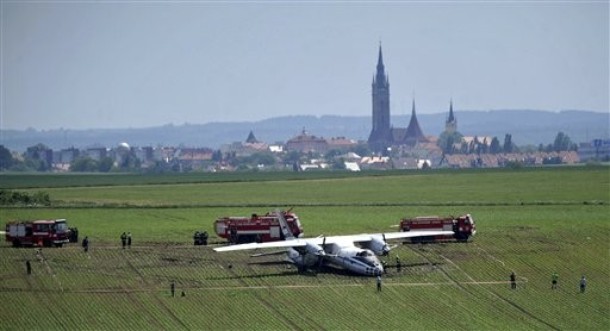 On May 23, at 11.50 LT, a Russian Air Force An-30B (registration 04 black) took fire after skidding off the runway on landing at the Czech air force base in Caslav, 20 miles east of Prague.
Of the 23 people on board (14 Russians and 9 Czechs), five Russians and one Czech national have suffered injuries, mostly burns. The plane and Russian officials were in the Czech Republic on a regular monitoring mission.
Indeed, the aircraft was involved in a mission in the skies of the Czech Republic under the Open Skies Treaty. Signed in 1992, at the initiative of President Bush, the Treaty established a regime of unarmed observation flights over the territories of its 34 member states to promote transparency of military forces, installations and activities.
During such flights, that feature the typical OSY (Oscar Sierra Yankee) radio callsign, Russian/US and local officials on board the plane monitor the implementation of agreements on the use of technical equipment for the observation.
Aircraft involved in such monitoring missions (An-30, Tu-154, C-130J etc.), carrying special cameras and sensors, may be provided by either the observing or observed nation (at the latter's choice).
Image credit: AP Photo/CTK, Josef Vostarek