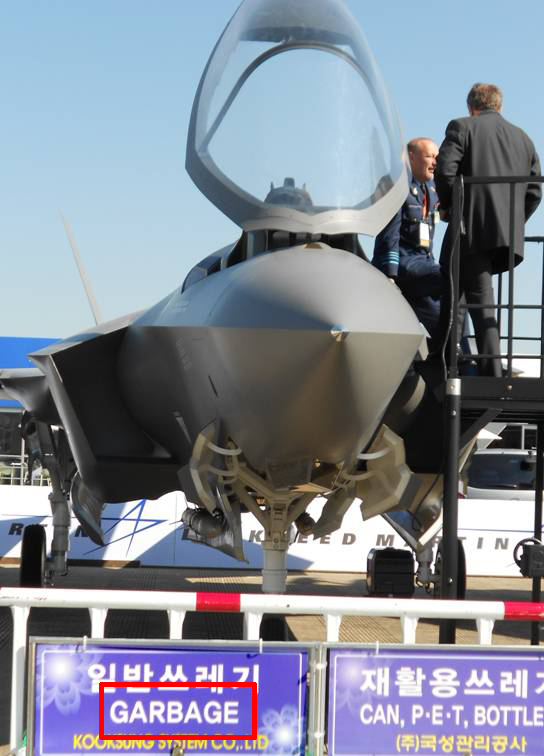 I find the following picture rather funny. It was taken at Seoul Air Show and shows a Lockheed F-35 Lightning II….with a "garbage" sign posted on the barrier in front of the plane. Obviously it's only a matter of perspective, but I must admit that the signs seems to be an explainatory panel like the ones you can find next to the airplanes in static display. The person who took this picture and sent it to me has a sense of humour (and knows how to tease a competitor).
The F-35 is in fact among the candidates for S. Korea's next generation fighter, known as FX-III project with a budget of 8.29 trillion won (7.86 billion USD) for 60 jets. It competes with the Eurofighter Typhoon, the Boeing F-15SE and Sukhoi T50 PAK-FA (yes, the Russia's 5th generation fighter plane, that was forced to abort take off after at MAKS 2011 air show on Aug. 21, at Ramenskoye air base, near Moscow.
Initially seen as the favorite candidate, the F-35 has been recently questioned because of the delays and the high unit cost. As reported by the Seoul Daily on Sept. 16, a high raking DAPA (Defense Acquisition Program Administration) recently said "A fighter, which is not detected by the radar system, but low in strike capability, will not be effective. We will not necessarily insist on stealth function", a remark that undermined one of the cornerstones of Lockheed's appearant advantage over competitors.
Competitors that didn't miss the chance to take a picture that ridiculed the still dangerous opponent.
PS Please don't send me tons of emails to tell me why I'm against the F-35. It's just a humorous picture.