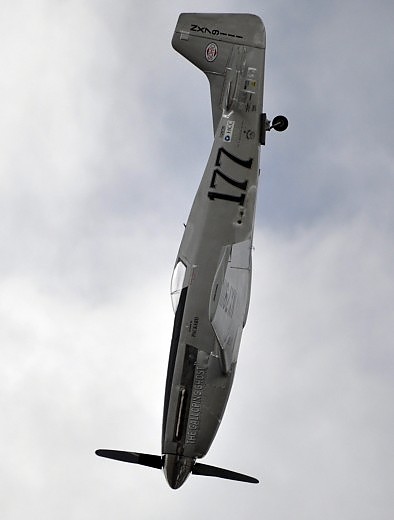 On September 16, 2011, during the National Championship Air Races, that take place each year since 1964 at the Reno Stead Airport, near Reno, Nevada, a P-51D Mustang, piloted by Jimmy Leeward, crashed near the stands during the second lap of the Gold Heat of the race, killing the pilot and 10 spectators and injuring 69 people.
Reno air races are multi-lap races between aircraft (many of those are WWII warbirds) flying wingtip-to-wingtip on closed oval paths around pylons. Even if there's a certain amount of risk when high performance aircraft fly so close each other as low as 15 meters off the ground, the one occurred during 2011 edition is the first mishap with spectators being killed.
I initially thought that the pilot could not be seen because he was huddled (after illness) but, even if unconscious, at least a part of his helmet would be visible through the cockpit canopy as his body should be retained by the seat belts.
The photograph published in the following hours suggested that a missing elevator trim tab could be the root cause of the incident.
Noteworthy, as I've written on Twitter on Sept. 20, even if the trim tab is missing, the elevator seems to be more or less neutral during the first seconds of flight of the P-51D.
I think that both details are strictly related. My theory is that the collapse of the trim tab at around 400-500 MPH has induced a sudden hard climb under extremely hi-G loads. Because of the sudden accelerations, the seat may have broken or become dislodged rendering the pilot invisible in the pictures and unable (if still conscious) to react.
I also believe that the tailwheel (clearly visible in the above AP picture) come out uncommanded, as a consequence of the hi-G loads.
The crash has raised alarm on Reno Air Races (that were cancelled for the rest of 2011) and, in general term, on airshows safety. Actually, those held in Reno are races, somethingmore similar to an Indianapolis 500 or a Formula 1 race rather than a traditional airshow. When aircraft flying at that speed compete one another, there's an inherent risk for both pilots and spectators: such risk is probably no different than a NASCAR or F1 event, but it is higher than a normal airshow where solos and display team perform aerobatic maneuvers.
Competition brings men involved in races to their limits (and maybe beyond) rendering errors more likely. There can be fatal errors during displays but there can't be competition-induced errors during traditional airshows. That's why considering air races and airshows exactly alike is wrong.