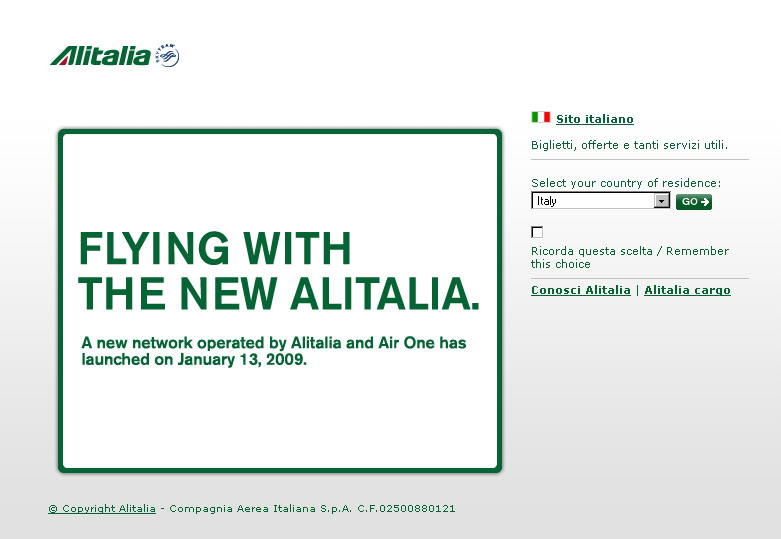 On Jan 13, AP 2853, an Air One A320 from Palermo Punta Raisi to Rome Fiumicino and AZ676, a B777 from Milan Malpensa (MXP) to San Paolo in Brasil, both taking off at 06.10 were the first revenue flights of the "new" Alitalia owned by CAI (Compagnia Aerea Italiana), that integrates both the obsolete state-run airline and Air One. The old company ended in bankruptcy on Jan 12, after 63 years of operations: the last flights were the two shuttle flights between Rome and Milan while the last landing in Fiumicino was AZ329 from Paris. The last flight of the old Air One was the AP2956 from Milan Linate to Fiumicino taking off at 21.50LT. The new company (newco), that has received Air Operator Certificate numbered 130 as the previous one, AOC 1, was revoked since the previous company disappeared) is owned by a group of 25 Italian investors that bought the company in a deal worth around 1 billion Euro.The new privatized airline that has in Air France-KLM a "minority" partner with a 25% share in the "newco" (worth 322 million Euro) will have its main operating base in Rome Fiumicino airport, that will become one of the hubs of the AF/KLM group. Fiumicino should take the routes to the Mediterranean, the Far East and South America while Malpensa, should a sort of multi-hub approach in Italy will be applied, should become a major hub for intercontinental North bound routes. Actually, the future of Malpensa is not clear now as it is tied to that of Milan Linate airport. The newco has hired 12.500 employees out of the 23.500 of the combined of the two airlines. 70 destinations will be served, 13 of which will be intercontinental.
So far, the entire fleet has been operating with the previous liveries, meaning that the aircraft previously belonging to Air One, at least for the moment, will keep their current colour scheme and markings. The logo is the same, flights use the old radio callsigns, the crew uniforms will not change: there main differences between the old and the new era concern the personnel (12.628 instead of about 23.500) and the fleet that, according to the released figures, is made of 148 aircraft from both airlines: 25 less than the old one. The new company
The following pictures show the last night of the old Alitalia (comprising leafleats of a mock funeral held by the personnel) and the dawn of the new one at Fiumicino airport of Jan 13, with the flights arriving into Rome using the old airline codes. Interestingly, the first flights of the new Alitalia were postal flights and not revenue ones.