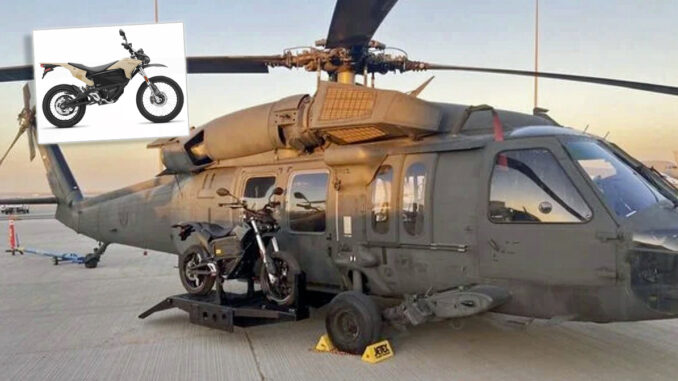 Near-Silent Electric Recon Motorcycles Seen on Special Ops UH-60s.
Journalist Andrew White of Janes spotted an interesting new idea at the recent Dubai Airshow 2021 when he photographed a United Arab Emirates UH-60 Blackhawk helicopter with a set of special side-mounts to carry stealthy electric-powered all-terrain motorcycles for use by special operations teams.
The configuration is intended to help insert covert special operations and/or long range surveillance units into denied areas by helicopter. The mission concept hopes to subvert the often extremely long distances that reconnaissance and special operations teams have had to cover on foot, as in Desert Storm during the hunt for Iraq's Scud missile launchers.
Several UH-60 Black Hawk Special operations helicopters could insert small 2-6-man reconnaissance or direct action teams at the outer perimeter of their target area's defensive surveillance capability. Then, instead of the special operations team having to walk long distances into their patrol area, they would use the near-silent electric powered motorcycles to ride to the patrol area. From there, the reconnaissance mission could be conducted by the mounted patrol, or the recon team could establish a covert observation post in a hide site and conduct long term surveillance on an area of interest.
The small motorcycles, according to a report by Micah Toll for electrek.com, are likely to only cost somewhere between $8,500 and $10,000 USD.
Toll wrote that, "The electric motorcycles in question appear to be Zero FX models, specifically designed for off-road riding in rugged conditions. The bikes feature 34 kW (45 hp) peak-rated electric motors and top speeds of around 80 mph (130 km/h)."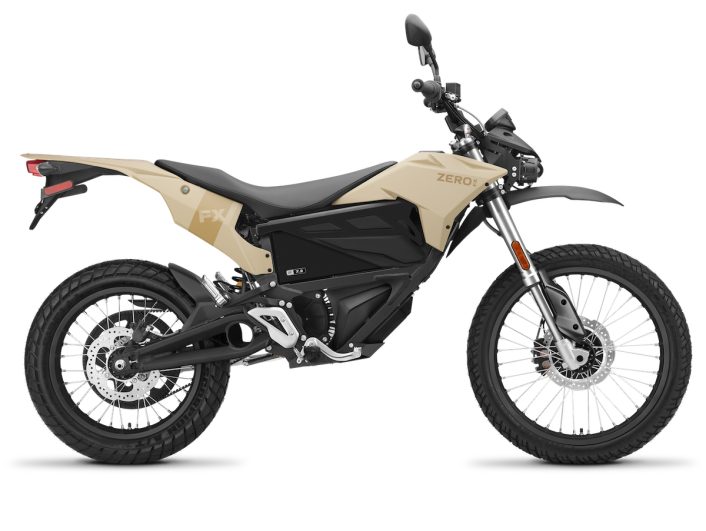 The use of motorcycles for scouting operations goes as far back in military history as the motorcycle itself, but deploying light motorcycles from aircraft for special operations use is a fairly recent trend that has gained traction since the early formation of modern tier one special operations units like the U.S. Army's Special Forces Operational Detachment-D (SFO-D), often referred to as "Delta" and the British Special Air Service long range teams.
During the ill-fated Operation Eagle Claw mission to rescue U.S. hostages in Iran on April 24-25, 1980, U.S. Army Delta operators and Army Rangers used Yamaha gasoline powered off-road motorcycles. In a key part of the raid on the ground at Desert One, the scene of the collision between an MC-130 and an RH-53D helicopter, one of the motorcycles used by U.S. Army Capt. Wade Ishimoto failed to start after three attempts when he tried to pursue an Iranian truck that happened upon the staging area where the aircraft were supposed to refuel on the ground. The delay in getting the motorcycle started allowed the occupants of the Iranian truck to escape in another vehicle, although they may not have posed an immediate security threat.
The incident underscored the necessity for any motorcycles used by special operations teams to be absolutely reliable. New, electric-powered motorcycles may provide an enhanced level of mechanical dependability, although they are subject to the restrictions of battery charging. However, some provision for using small, portable solar panels to recharge the motorcycle batteries could be possible for very long missions.