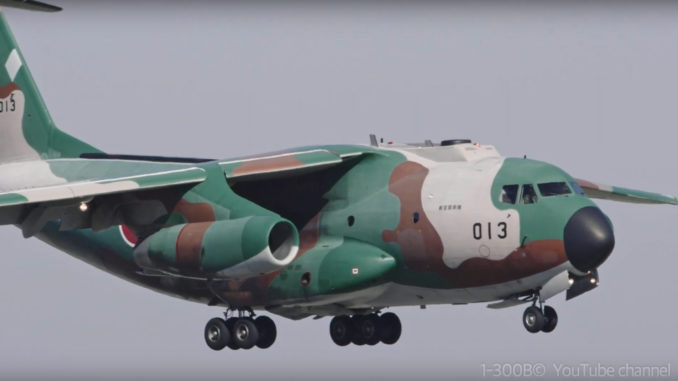 The JASDF transport aircraft at work at Iruma Air Base.
Developed beginning in 1966 with production started in 1971, the Kawasaki C-1 is a twin-engined short-range military transport aircraft in service with the 402nd Tactical Airlift Squadron of the 1st Airborne Brigade Japan Air Self-Defense Force (JASDF) at Iruma Air Base, north of western Tokyo, Japan. Between 1971 and 1981, the JASDF was delivered 31 C-1s that served with three squadrons: the 401 Hikotai at Komaki, 402 Hikotai at Iruma and 403 Hikotai at Miho.
Since the successor C-2 has started mass production, the number of C-1s has been reduced as the JASDF prepares to withdraw the type from active service. Dealing with the C-2, is worth remembering that in 2018, the first Kawasaki C-2 Electronic Intelligence variant (also dubbed "RC-2"), a heavily modified baseline C-2 tactical transport aircraft with a modified nose section and large fairings top of the tail, fuselage and sides of it, as well as several antennas underneath the fuselage, was first spotted undergoing taxi tests and first flights at Japan Air Self-Defense Force base at Gifu, home of JASDF's Air Development and Test Command and Kawasaki Heavy Industries facility. The C-2 ELINT is going to replace the obsolete JASDF's YS-11EB ELINT aircraft.
Back to the C-1, the following video shows the last tactical cargo aircraft, with their cool, quite exotic camouflage color scheme, as they taxi, take-off, air drop paratroopers and land at Iruma AB. The footage also shows the airlifter's maneuverability.