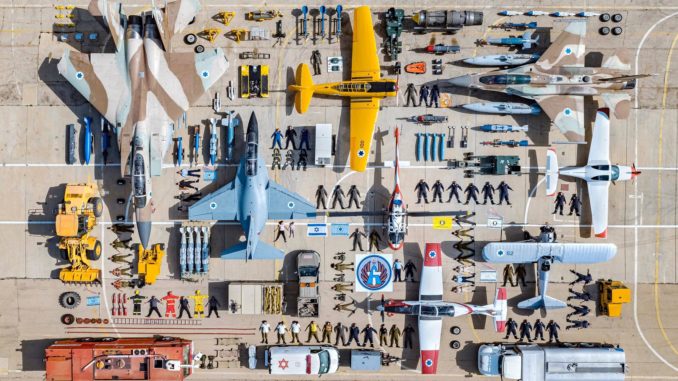 The Tetris Challenge has a new winner.
Since September 1, 2019, when Zurich police published a photo on social media of two officers lying on the ground, surrounded by the contents of their car, laid out in a geometric pattern and pictured from above, police departments, firefighters, first responders as well as air force squadrons and other military units from all around the world have joined in, photographing their work equipment (and even service members) in this peculiar way.
The Tetris Challenge has since then conquered the Internet making the rounds across all the social networks. The challenge is inspired to the "knolling" a term that dates back to 1987, and it involves organizing objects and tools on the floor at right angles, allowing you to see every item clearly in a photograph. This has often been done ahead of travels, by photographers and journalists, collecting all their stuff in the same place to organize the trip. In the last few weeks, Tetris Challenge has become a way to showcase all the pieces of hardware (and personnel) that make up a service or system.
If you google "Tetris Challenge", you will find many examples of interesting shots taken from the above. Here you can find an interesting post by our friend Tyler Rogoway at The War Zone.
But, the Challenge, when it deals with military aviation stuff, has probably a brand new winner: the Israeli Air Force.
The IAF has published on Twitter a shot taken by Rotem Rogovsky and Daniel Levatovsky from SKYPRO at Hatzerim Air Base with a Tetris Challenge image that gathers the F-15I Ra'am of the 69 Sq; the F-16I Sufa of the 107 Sq, the M-346 Lavi of the 102 Sq, as well as the G-120A Snunit, the OH-58B Saifan and the T-6A Efroni of the Flight Training Shool. Not only are the aircraft worth a look, but also their accompanying weapons, including the Israeli-developed, SPICE 2000 EO/GPS-guided bombs. Interestingly, even the only airworthy PT-17 (Stearman Model 75) of the Israeli Air Force maintained at the museum in Hatzerim can be seen in the photo.
H/T Guy Plopsky for the heads-up!