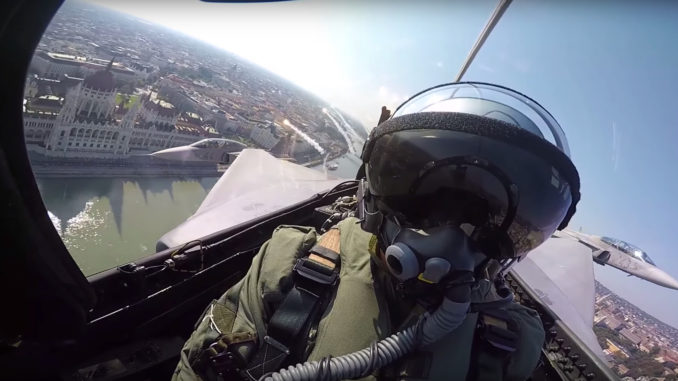 Interesting clip shows Hungarian Air Force Gripens flying (and releasing flares) over Budapest. The Kecskemét Squadron is currently supporting NATO BAP mission in the Baltic region too.
August 20th is a national holiday in Hungary that celebrates Hungary's first Christian king, St. Stephen, and the foundation of the Hungarian state
The following video was filmed on Aug. 20, 2019, during the ceremonial fly-by over Budapest performed by the JAS 39 Gripen jets belonging to the 1st Vadàszrepülő Szàzad "Puma", part of MH 59. (59th Tactical Fighter Wing), based at Kecskemét.
The footage shows a formation of 3x Gripens (a single C and two D two-seat models) flying over Budapest: the aircraft can also be seen releasing flares low approaching the Parliament. Another segment of the same footage shows a different pass with 5x Gripens performing a tactical break over the banks on the Danube.
The flyover was conducted as the HunAF Gripens are also stationed in the Baltics to support NATO BAP (Baltic Air Policing) misssion. It's the second time the Hungarian Gripens deploy to Lithuania since 2015.
According to an article released last week by the Hungary Journal, the Hungarian JAS 39s have been alerted over 40 times with a total of over 370 take-offs and 400 flight hours since the aircraft have been deployed to support BAP mission in May this year.
The HuAF Gripen fighters, assisted by the RAF Eurofighters and the SPAF Hornets, have so far intercepted multiple Russian aircraft, including those shown in the following video, such as Su-27, Su-30SM, Tu-95, Il-38 etc.