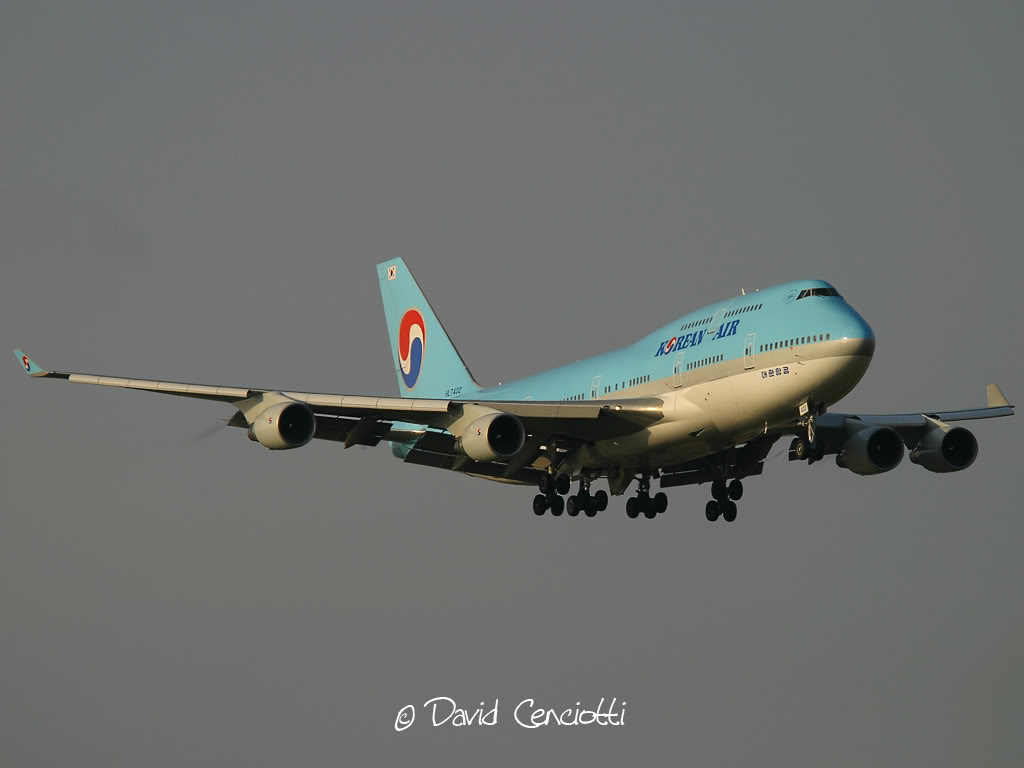 On Sept. 16th 2007 I went to Rome Fiumicino airport since I wanted to photograph the arrival of the B-747-400 of the Korean and China Airlines. These wide-bodies are common sight at Fiumicino and, on Sunday, they both land around 6 PM, followed some 1 hour later by the JAL Jumbo. I had seen a lot of pictures of these aircraft landing and I was able to locate an interesting spotting point next to the RWY 16R where most of the pictures had been taken. I went there, parked my car, waited for some 20 minutes and took the pics I wanted (not only 747s, but also a 737, an A-340, an A-319 and a 757).
Maybe it was because I had my camera with a big 400 mm lens but many drivers looked at me suspiciously. Someone must have thought I was trying to conceal a SAM launcher not considering that Stingers and SA-7 launchers are long, heavy and despite being easy to use it requires extensive training to be used proficiently. And they are not available on eBay (yet). This episode made me think about what I have read on many forums and mailing lists: every now and then to many spotters and aviation enthusiasts found taking pictures around Italian airports and removed by the public safety authorities. Instead, they could be used as part of a sort of neighborhood watch program helping police identifying suspect activities nearby airports as happening is some airports in US and UK:
Plane spotters recruited for anti-terror work
By Paul Stokes
Last Updated: 3:00am BST 19/07/2007

Plane spotters are being recruited as police look-outs in the fight against terror attacks on Britain's airports.

Detectives have called a meeting with the aircraft enthusiasts to discuss plans for their help in surveillance at Durham Tees Valley Airport.
The "anoraks" often occupy vantage points around the terminal building and are being considered as "extra eyes and ears" for security purposes.
Det Supt Neil Malkin, of Durham Police, said: "We have thought for some time the plane spotters may be a very useful source of information.
"They are at the site on a regular basis and could potentially be the first to spot any suspicious activity.
"This idea has worked in other areas and if there are sufficient numbers interested, it could be just as effective up here."
The force stressed the idea was raised long before the recent attack at Glasgow airport's terminal building using a blazing vehicle.
Plane spotters will meet police at the airport next week to consider introducing an Airport Watch scheme similar to one introduced at Bristol Airport.
Nicola Baines, Durham Tess Valley airport services manager said: "Such a scheme will allow the police and other agencies to share information more easily and effectively."
Passengers using the airport, near Darlington, to head to Tenerife yesterday were less enthusiastic about the use of volunteers in the sensitive area of security.
Danielle Newport, 20, a call centre worker from Sunderland, said: "I can't believe some geeks in bobble hats are supposed to protect us from hardened terrorists.
"The police might live to regret this because they'll be getting hundreds of calls from the spotters.
"If terrorists have targeted a plane and you are on it there is nothing a plane spotter can do to help you. It's a crackpot plan."
David Mercer, 24, a tattoo artist, from Hetton-le-hole, Co Durham, who was awaiting a flight to Tenerife, said: "It's stupid – what exactly is a plane spotter going to do?
"If that is our protection against terrorists then I am worried. The terrorists would never stop me flying but I would like to see more security at the airport."
Steven Doherty, 38, a care worker from Glasgow, said: "It sounds a bit like desperate measures to me.
"What are we going to have – vigilante plane spotters attacking potential terrorists at airports?
"Realistically, if something is going to happen there is very little anything can be done to stop it. The only reason the attack failed at Glasgow airport was because the terrorists messed up – it wasn't the police that stopped them."
Ashok Kumar, Labour MP for Middlesbrough South and East Cleveland, said: "At first sight it seems a bit odd, but then we do have neighbourhood watch, and that does help the police in their work.
"However it can be no substitute for proper policing and tight and tough security from professionals, who know the kind of threat they and we could be up against."
A Bristol International Airport spokesman said its Airport Watch was introduced in March and used many aviation enthusiasts who regular watched aircraft from around the perimeter.
He said the scheme is about making them aware what they should look out for and who to contact if they have any concerns.
Even if the improvement to airport and local security is one of the measures that can be taken to mitigate the risk of shoulder fired SAMs, it must be considered that aircraft are vulnerable to attack not only in the vicinity of the airport but many miles away and at higher altitude. Should someone want to use a missile against a landing aircraft, he could fire a SAM from a hidden position located along the glide path of the approach procedure flown more frequently by that airline.   
In February 2003, in the aftermath of the SAM attack against an Arkia B-757, I wrote an article dealing with the problem of the SAM threat for the civilian aviation; if you want to read it (it is in Italian) just visit the following link: http://cencio4.wordpress.com/works/al-centro-del-mirino/. You will understand why a B-747 (or the bigger A-380 that, according to a statement by Aeroporti di Roma, Rome airport system manager company, with 3 pads at the Satellite West for intercontinental flights and other 3 more available elsewhere, could be serviced at Fiumicino) it is probably not so vulnerable as one might think…