Five Companies Interested In Poland's Next Generation Fighter Program "Harpia"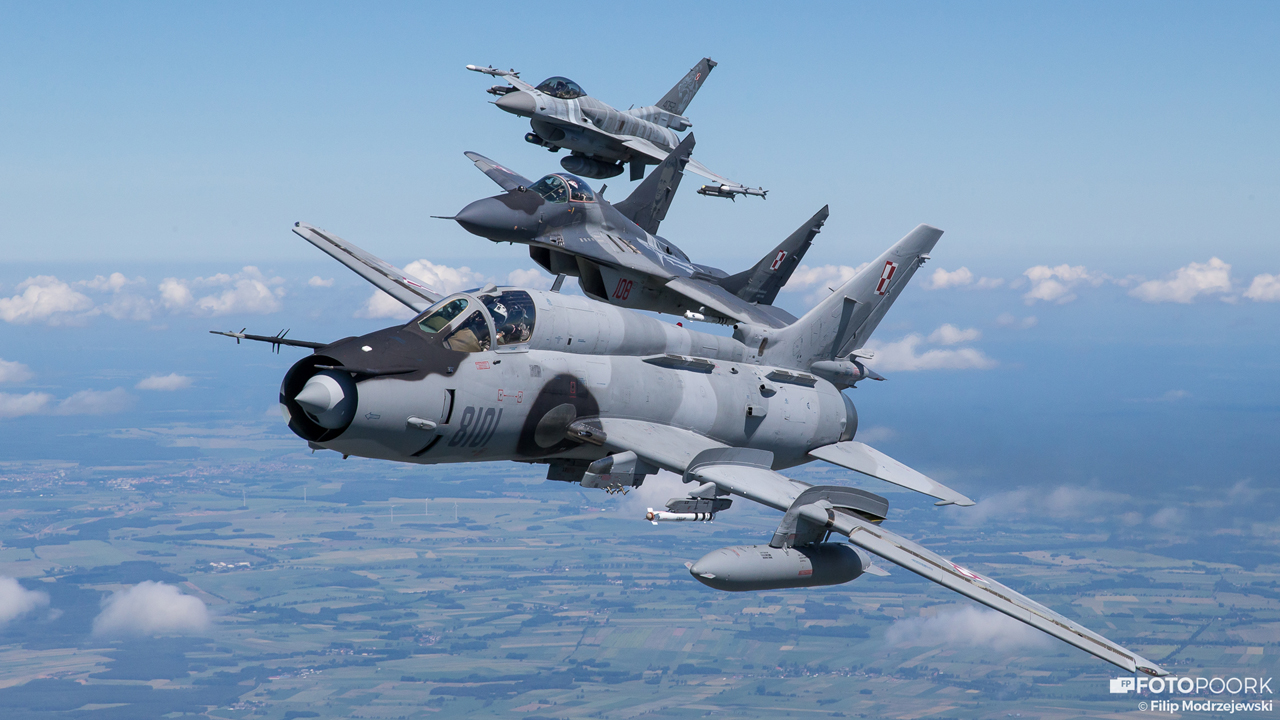 Contenders could be F-35, Eurofighter Typhoon, Gripen, Advanced Super Hornet and second-hand F-16 jets.
According to a news piece published by Dziennik Zbrojny today, five entities have expressed their will to participate in the market analysis initiative concerning the potential procurement of new fighter aircraft, referred to as "Harpia" (harpy eagle).
The operational requirement for this program is defined as "Enhancing the capability to carry out missions within the framework of offensive and defensive combat against the enemy air power, as well as missions carried out for the purpose of supporting land, naval and special operations – "Multi-Role Combat Aircraft" and "Airborne Electronic Jamming Capabilities."
The companies that expressed their interest in the Multi-Role Combat Aircraft portion of the initiative include: Saab AB, Lockheed Martin, Boeing Company, Leonardo S.p.A. and Fights-On Logistics. Meanwhile, the Airborne Electronic Jamming segment of the procurement would see involvement in case of three potential contractors: Saab AB, Elbit Systems EW and SIGINT – Elisra Ltd., and Griffin working together with Elta Systems Ltd, as Tomasz Dmitruk of Dziennik Zbrojny reports.
When it comes to multi-role combat aircraft, the only true versatile platform operated by the Polish Air Force is the F-16: 48 jets of this type have been used by Poland for more than a decade now; MiG-29 Fulcrums are used primarily in an air-to-air role, while Su-22 Fitters are tasked with air-to-ground missions. Dziennik Zbrojny suggests that the new aircraft sought by the Armament Inspectorate of the Polish MoD (Polish armament procurement organ), would replace the legacy Soviet designs heading towards the ends of their life-cycle, with replacement of the Su-22 being more critical.
It seems that the participants would offer the following designs to the Polish Air Force: F-35 (Lockheed Martin), Advanced Super Hornet (Boeing), Eurofighter (with Leonardo leading the consortium bid), Gripen (Saab AB), and second-hand F-16s.
However, putting the matter into a wider perspective, we cannot think of procurement of new fighter aircraft to be certain in Poland. The Polish military still needs to enhance its air/missile defense systems, within the scope of Wisła, Narew and Noteć programs, for instance. Wisła program has a price tag of whooping 10.5 Billion USD, defined as the maximum procurement value by the US DSCA agency which deals with the FMS (Foreign Military Sales) procedure management.
Furthermore, the Polish MoD is also looking forward to acquiring Orka next generation submarines, Homar rocket artillery systems, attack and multi-role helicopters – even though no procurement has been launched with regard to these requirements, this does not mean that the need disappears.
If one adds Płomykówka (SIGINT) and Rybitwa (Maritime Patrol Aircraft) procurements to the list, it seems that the priority shall not go first to the multi-role combat aircraft. And the above programs are just the tip of the iceberg – as land forces and newly-established Territorial Defense service of the Polish military also have significant equipment-related requirements.
Taking all of the above factors into account, it remains probable that Harpia would be significantly delayed, and we will not be seeing new fighter assets in the Polish Air Force anytime soon. If acquisition of new multi-role combat aircraft is accelerated, then this should be done with the use of funding provided outside the Polish defense budget (as happened in case of the F-16s a decade ago), or priorities ascribed to the ongoing procurement initiatives shall be redefined and evaluated once again. For instance, Warsaw would have to resign from acquiring helicopters or submarines, to have funds that would be sufficient to procure the new jets.
Image Credit: Filip Modrzejewski / Foto Poork