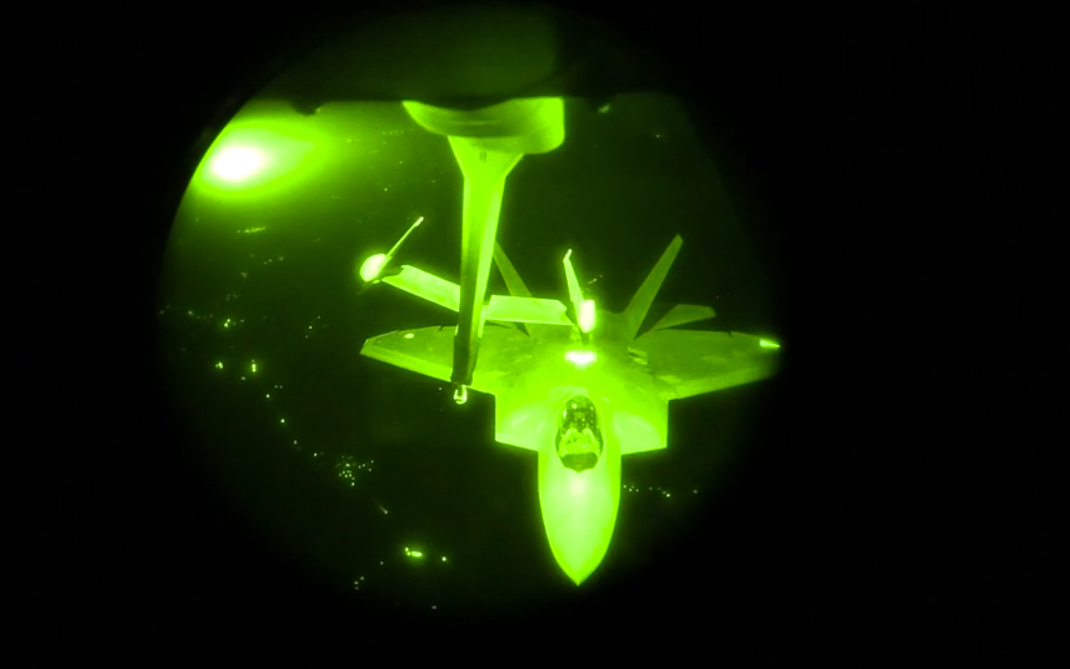 Here's how the F-22s that take part in the air war on ISIS look at night through the Night Vision Goggles.
The clip in this post shows airmen assigned to the 908th Expeditionary Air Refueling Squadron prepare their aircraft and refuel U.S. F-22 Raptors using a KC-10 Extender tanker during an aerial refueling mission in support of Operation Inherent Resolve on Jul. 13, 2016.
The above image was posted by the  helicopter serving the South West of England.
Although we have recently posted an image taken from the thermal camera used by the EC-135 of the British National Police Air Service, based at Filton Aerodrome, of one of the U.S. Air Force F-22 Raptor jets that deployed to RAF Fairford to take part in the Royal International Air Tattoo airshow, you don't happen to see this kind of footage too often.
You can even spot the vapors of the fuel coming out of the dorsal refueling receptacle used by the Raptor multirole jet after the AAR (Air to Air Refueling) operation.
The F-22 refueled in the video are the most up-to-date Raptors in service with the U.S. Air Force. Assigned to the 90th Fighter Squadron from Joint Base Elmendorf-Richardson, Alaska, the modernized Raptors brought extended capabilities in the fight against Daesh since their arrival in theater back in April: the Alaskan Raptors can now drop 8 GBU-39 small diameter bombs while previously they were limited to carry two 1,000-lb GBU-32 JDAMs (Joint Direct Attack Munitions) in the internal weapon bay.
Furthermore, among the other things, the aircraft were also given a radar upgrade that enhanced the capabilities of the aircraft in the realm of the so-called "kinetic situational awareness": whilst they are rarely requested to attack ground targets, the Raptors use advanced onboard sensors, such as the AESA (Active Electronically Scanned Array) radar, to gather valuable details about the enemy targets, then share the "picture" with attack planes as the F-15E Strike Eagles.