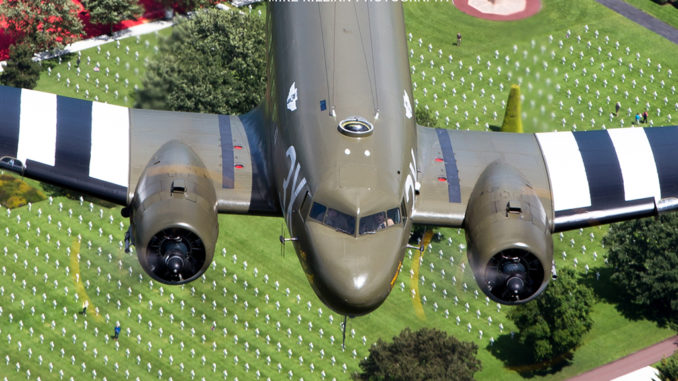 D-Day Dakota flies again over Normandy.
The first week of June across Normandy, France was all about paying tribute to the 75th anniversary of D-Day and remembering those who gave all at a critical turning point in WWII, where Great Britain, Canada & America joined forces to take control of Normandy back from the Nazis to begin the liberation of France and Europe from Hitler.
In an event not seen since the invasion, a fleet a C-47s from around the world (or Dakotas as the Commonwealth referred to them) returned to Normandy to conduct mass flyovers and paratrooper jumps to reenact the airborne invasion which was so crucial is preparing for the beach assault on D-Day, and one organization, America's D-Day Squadron, sent 15 aircraft from the states to participate, and pay tribute to the few veterans who are still with us today. A couple D-Day veterans even conducted tandem jumps from the C-47s!
And it was all the more special because this was the last major anniversary any living veterans will still be alive for, because at their ages we are losing them fast.
Needless to say, many events were set up to make the 75th as special as possible. After crossing the Atlantic in May, following the original "Blue Spruce" route, the D-Day squadron not only flew from Duxford, UK into Normandy on June 5 with "Daks over Normandy" to conduct a mass arrival flyover and parachute jumps from their many true D-Day veteran planes, and conducted a flyover and jumps in front of the President and other Heads of State, but also conducted one very special flyover on June 8 in cooperation with the U.S. Air Force.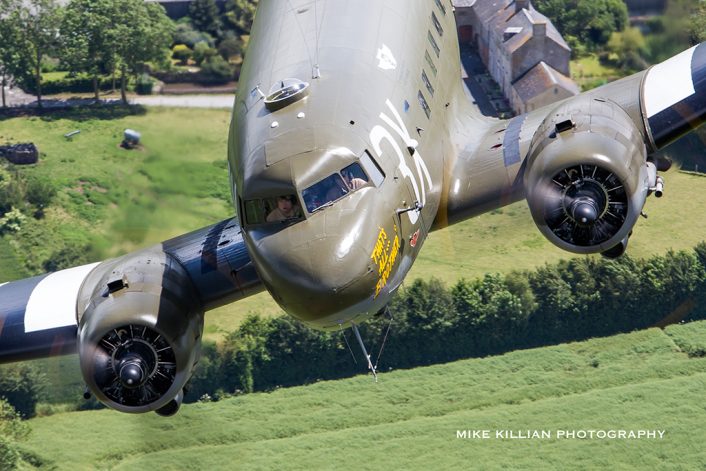 One plane of the D-Day Squadron, owned by the Commemorative Air Force (CAF) Central Texas Wing and named "That's All, Brother", not only flew in the airborne invasion on D-Day, but was part of the first wave of the 800+ that flew behind enemy lines, under cover of darkness, to drop men and supplies into hell on Earth and prepare for the beach force assault which would arrive on the shores of Normandy at sunrise. And it is safe to say, that without their help, D- Day may very well have been a German victory.
The U.S. Air Force 86th Airlift Wing & 37th Airlift Squadron, based at Ramstein AB, Germany, also traces their lineage back to D-Day, so they painted D-Day stripes on several of their C-130 Hercules transports and conducted many flyovers of Normandy all week long. The 37th Troop Carrier Squadron, the legacy squadron to the 37th AS, wore the "W7" or "Whiskey 7" markings.
So naturally, as the official photographer for D-Day Squadron in Normandy, I wanted to get them together for a truly remarkable and symbolic dissimilar formation.
After weeks of pending approvals, and with the full enthusiasm & support of both the U.S. military, France officials and the D-Day Squadron, the Air Force approved the mission and conducted a "practice" of the planned formation flight to ensure they could do so safely, since each plane's performance is vastly different from the other, and with the all clear given it was time to bring both crews together and fly the mission.
It was quite windy on the morning of June 8, so jumps that day were cancelled, but our flight remained GO. The mission staged out of Cherborgh, France, and after "That's All, Brother" arrived from Caen the crews finally met face to face, took some photos, and spent an hour thoroughly briefing the mission. We were to conduct formation flyovers of Pointe du Hoc, Omaha and Utah Beaches, and the American Cemetery & Memorial where 9,387 Americans who died in the Battle of Normandy are laid to rest.
Once airborne the weather just got better and better, and with Normandy shining beautifully in the sunlight the mission began, with "That's All, Brother" once again leading the U.S. military into Normandy, 75 years after her finest hour.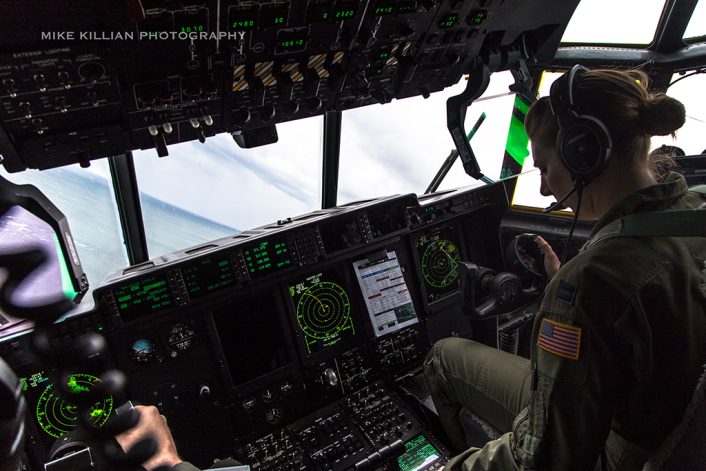 Sitting on the edge of the ramp at the rear of our C-130J, both planes joined directly behind in order for us to produce the imagery, with myself dialed into coms with my flight crew, who then relayed my requests for formation changes, altitudes, positions, angles and etc to the two photo subject aircraft.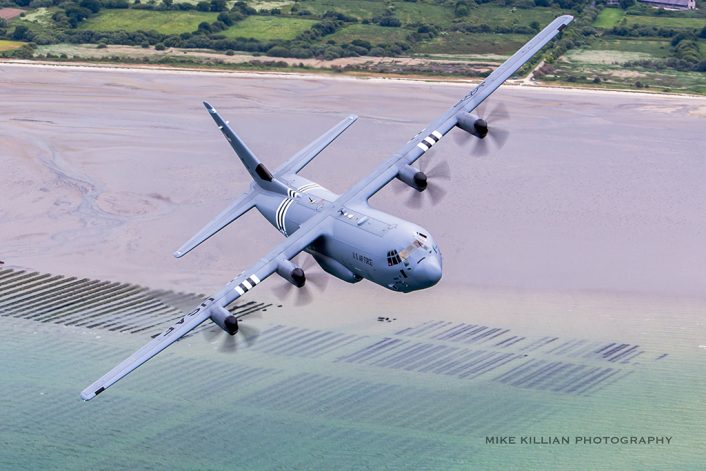 Several active duty Air Force personnel who were key in planning and organizing the military's flyover events that week were honored to fly on "That's All, Brother" for the mission too, a truly once in a lifetime experience for them, and one which they surely deserved.
Thousands of people on the ground were waving as flew by repeatedly for about an hour, before going our separate ways, with "That's All, Brother" returning to Caen while both C-130s continued with flyovers for another two full hours, before returning to Cherborgh.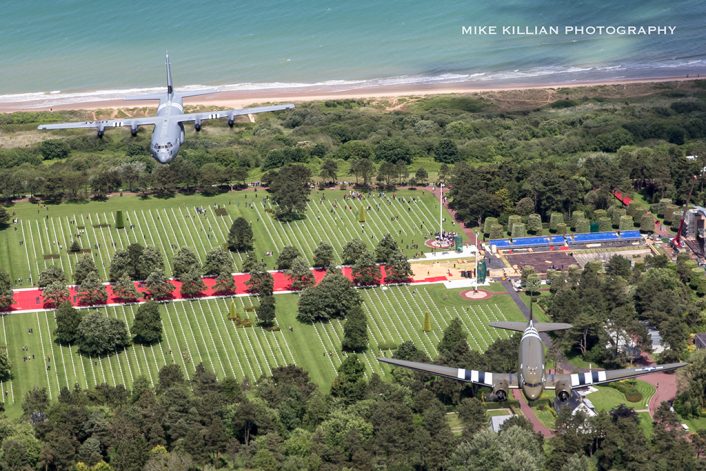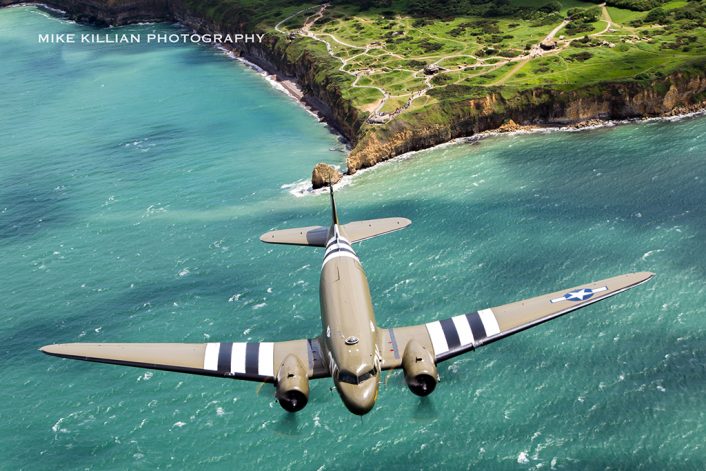 We hope you enjoy the imagery as much as we enjoyed producing it, and hope our efforts help keep the memory alive of what so many sacrificed in Normandy.
75 years ago for freedom, and hope their example will continue to live on and inspire for generations to come.